Types of Clothing for a Kayak Tour Near Las Vegas
Posted on:
May 19th, 2017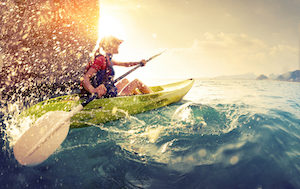 The summer months in Nevada are known for being hot, which is the perfect reason to tour the Colorado River in a kayak. While it is tempting to dress to impress when you head out on a kayak tour in Las Vegas, the truth is that your guides care more about your safety and comfort than whether or not you are wearing the latest designer label. As you get excited about your upcoming adventure, use this guide to pick out the right types of clothing for a day filled with fun.
Dress to Get Wet
One of the reasons why people love kayak tours in Las Vegas is that the warmth of the desert sun combined with a river that is 55 degrees year-round creates the perfect environment to take a dip to cool off. Even if you don't plan to swim, you should still be aware that it's always possible for you to get wet, and you will be getting at least knee deep in the water. Swimsuits work great along with water-friendly trunks and shirts. Just remember to avoid wearing cotton since it gets heavy when it's weighed down with water and takes forever to dry.
Layer It Up
When in doubt, layer up. For all day trips, you will quickly notice that the cooler temperatures in the morning are often followed by heat come mid-afternoon. Wear a lightweight top over your swimsuit, and consider wearing a hat and sunglasses to shade your eyes. You can also find convertible hiking pants that allow for more control over your comfort since they are lightweight and can be converted from pants into shorts. Each kayak has a dry compartment where you can store your personal belongings as you remove layers, but you may also want to bring a dry bag if you are worried about what will fit or how to replace the cap properly.

Choose the Right Footwear
A natural river is full of sharp rocks and slippery spots both in and out of the water. Although you should never wear flip-flops on your kayaking tour, any other type of closed-toed water shoe is perfectly fine. You can even wear your old sneakers if you want, but water shoes will be the most comfortable since they retain less water and are designed with non-skid soles.
When you're ready to make memories that last a lifetime, book a kayak tour with Blazin' Paddles where it's a guarantee that the most important thing that you will be wearing is a smile. Book online with us!