Half Day Tour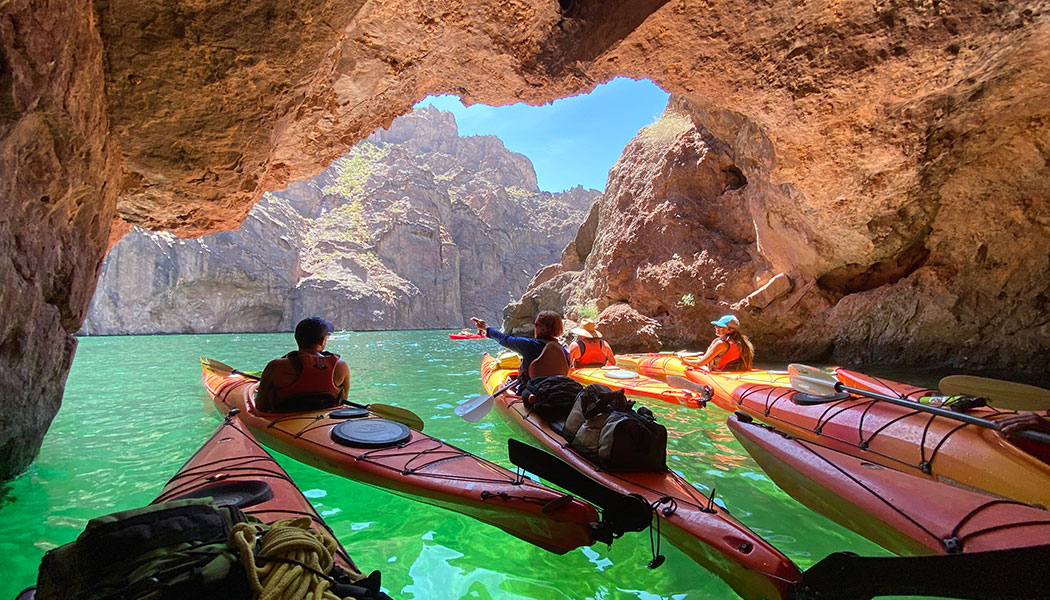 Half Day Kayak Tour - Komodo Health

|

Guided Tour

Duration: 3 Hours on the water, 5/6 Hours with pick up and drop off (approx.)

Departure Time: 9:30 AM - What Is This?

Pickup Locations: Click Here To Find The Closest Pickup Location

Athletic Ability: Easy to Moderate
$125.00 per person
Description
Join Blazin' Paddles on a guided 4 mile round-trip tour of the beautiful Black Canyon. Enjoy our optional round-trip shuttle service from the Las Vegas Strip hotels in our comfortable Mercedes Sprinter. You will arrive at Willow Beach where your guide will get you prepared for the day ahead and fitted into your kayaks!
When paddling the Colorado River upstream into Black Canyon scour the banks to be the first to spot Desert Big Horn Sheep, or look above and see if you there are any Bald Eagles. Your first stop will be one mile upstream at a historical overlook, that will give you awe-inspiring views of the legendary Colorado River. Your guide will explain the history of what the river was used for close to 100 years ago and provide you with complimentary snacks!
Finally, enjoy the beautiful green waters of Emerald Cave before your group kayaks back to Willow Beach.
Features
Professionally Guided Kayak Tour

4 Miles Round-Trip

3 Hours on the Water

Shuttle Service from the Las Vegas Strip

All Necessary Kayaking Equipment Included

Approx. 5 Hours Total with Drive Time

Wildlife Spotting

Emerald Cave

Willow Beach

Historical Sites

Cliff Views

Snacks and Bottled Water
Trip includes
Complimentary round-trip transportation from select Las Vegas Strip/Downtown Hotels or the Company Office. All necessary kayaking equipment, such as kayak, paddles and personal flotation device. Complimentary snacks and bottled water. Park permits except when customer chooses to meet the tour at the Willow Beach Marina departure area, the customer must pay for their own vehicle to enter the National Park.
Trip does not include
Personal items: clothing, shoes, sunscreen, dry bags, and park permit when the customer chooses to meet the tour at the Willow Beach Departure area.
Additional Terms:
No child rates. Must be 8 years and older with parental permission.
There is a full refund with no penalty for changes or cancellation with a minimum of 48 hours notice.
Changes or cancellations with less than 48 hours notice will incur a 100% cancellation fee. This includes no shows for the complimentary shuttle.
The Company will refund 100% of your payment if the Company cancels for any reason.