Willow Round Trip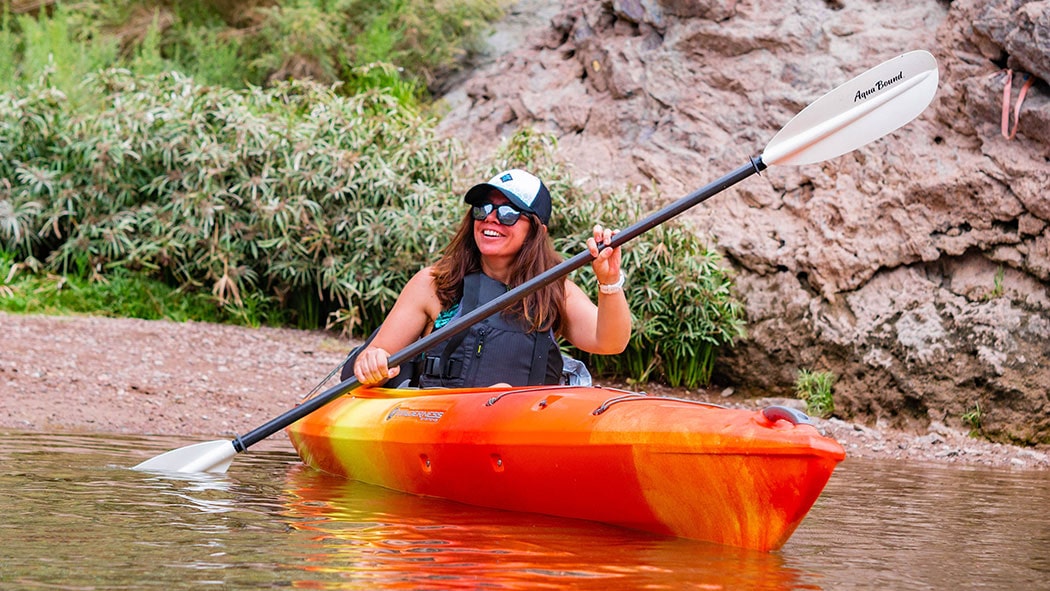 Willow Round Trip

|

Self-guided Tour

Duration: 4 Hours on the water

Departure Time: 11:00 AM - What Is This?

Athletic Ability: Easy+
$70.00 per person
Description
If you're looking for a way to stay cool, the waters of the Colorado River might be exactly what you're looking for. Paddle around the Willow Beach area in your Wilderness Systems Pungo or Pamlico or take a short excursion up to Emerald Cove and the gauging site. Spend all four hours in your kayak exploring the Black Canyon or find a hidden beach to stop, swim, and have a bite to eat. However you choose to spend your time is up to you.
This tour is done on your own time, and without a guide. If you're a beginner at kayaking and are looking for instruction, then check out our Guided Half-Day Tour. At 11:00, your Blazin' Paddles attendant will fit and launch you from the Willow Beach primitive craft launch beach. At 3:00, you will meet up with your attendant at the launch point and return your kayak. This tour is rated as easy+ because you can go out as far, or stay in as close to the beach as you'd like, depending on your skill level.
Features
4 Miles Round-Trip

4 Hours on the Water

Adventure at your own Pace

Wildlife Spotting

Emerald Cave

Historical Sites

Cliff Views

All Necessary Equipment Included
Trip includes
All necessary kayaking equipment, such as kayak, paddles, map, and personal flotation device.
Trip does not include
Personal items (clothing, shoes, sunscreen, dry bags), park entry fee (paid directly to the park upon entry), lunch, snacks, water and guide.
Additional Terms:
No child rates. Must be 8 years and older with parental permission.
There is a full refund with no penalty for changes or cancellation with a minimum of 48 hours notice.
Changes or cancellations with less than 48 hours notice will incur a 100% cancellation fee.
The Company will refund 100% of your payment if the Company cancels for any reason.
A $50 per person fee will be applicable if boat and equipment are not returned to Blazin' Paddles at the Willow Beach pick-up location by the specified time.
This tour DOES NOT provide for enough time to visit any of the hot springs. If you wish to see any of the Black Canyon's hot springs, please check out our Full Day Guided or Hoover to Willow Self-Guided tours.