A Great Date for Couples: Going on a Kayak Tour
Posted on:
May 23rd, 2017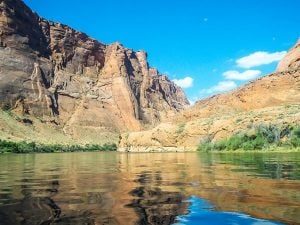 There are a number of reasons why kayaking in Las Vegas makes a great date for couples. When you take a guided tour to a place like Black Canyon, kayaking in Las Vegas gets even better. This is an opportunity to do something original as a couple, rather than the cliché dates you've both been on a dozen times already. When you kayak Black Canyon as a couple, you'll be making beautiful memories together that will resonate with you both for a lifetime.
When you book a kayak tour, the guides will know where all the enchanting areas are located along the way. They will be happy to give you a heads up so you can be on the lookout for these must-see points of interest as you move along the Black Canyon Water Trail. Some of the most notable sights along the way include the unique wildlife, the Hoover Damn, Emerald Cave and Willow Beach.
You can also enjoy the majestic overlook of the Colorado River provided by the cliff views located nearby. Take your kayak to the 100-degree hot spring pools, a great place to relax and kick back amidst the scenic views provided by Mother Nature. There are also plenty of waterways to explore in the Emerald Cave. Whether you decide to set out in the morning, noon or under a romantic sunset, there are a number of great spots to head to on your date.
The kayaking tour is also a great idea if you are planning for a fun double-date. A round-trip up Black Canyon, between Hoover Damn and Willow Beach, is four miles on the water, or a three to five-hour trip. Kayaking tours are perfect for spending a full day or a half-day out on the water, whichever you prefer. If you head out for a twilight paddle under the full moon, you can stop halfway through the trip to relax on the beach and roast marshmallows by the fireside.
Leaving at sunset allows you and your date to enjoy the stars shine under the moonlight as you return. The peaceful trip is great opportunity to enjoy quiet intimacy and new experiences together without the overwhelming degree of clutter we deal with on a daily basis. Taking your date on a kayaking tour can be the perfect ice-breaker or a great way to celebrate a special occasion.
If you want to get started on planning the perfect kayaking date in the Black Canyon area, schedule a tour with Blazin' Paddles today.