Tips for Creating the Perfect Outdoor Adventure Bucket List
Posted on:
September 29th, 2017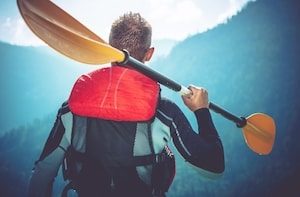 Often referred to as a life list, a bucket list is a collection of things you want to accomplish during your lifetime. For an outdoor enthusiast, there is a great big world to explore and plenty of heart-thumping activities to choose from. If you haven't brainstormed yet to compile your own personal list of must-dos, consider these ideas in Nevada to begin your adventure.
Paddle the Upper Colorado River
The Colorado River is one of the most endangered rivers in America. It is also one of the most picturesque. With towering red cliffs, a variety of wildlife, warm springs, and beautiful waterfalls, it's no wonder millions of travelers make the trek to the area every year. Over 60 percent of the river is used to fill homes, businesses, and for irrigation. Just a single Colorado River kayaking trip will leave you searching for ways to help conserve water and save the waterway.
Hike the Grand Canyon
One of the most popular hikes in the Grand Canyon is a trip to the bottom of the canyon via the South Rim. The journey is strenuous but completely worth it. Enjoy spectacular views of the inner walls of the canyon and then choose to set up camp and spend the night under the stars.
Go Mountain Biking in Goodsprings
Cottonwood Valley Road, also called Goodsprings Road is a major area for mountain bikers. It offers over 10 miles of unpaved and unmaintained dirt roads to the north and approximately two miles of pavement on the south end. You'll traverse through canyons, sharp curves, and through a historic western town. The experience of being alone with nature is a major plus for those who want to escape the hustle and bustle of city life.
Go Mountain Climbing in Red Rock
An endless sea of in cut edges awaits you along the canyons of the Red Rocks. Whether you are a first-time climber or a seasoned mountaineer, you'll enjoy the steep moderate climbs that offer the most magnificent views. Go with a guide or bring a friend and enjoy the scale together.
Start your bucket list off by visiting Blazin' Paddles' website to schedule a Colorado River kayaking trip—the adventure of a lifetime. We offer a variety of tours to choose from and for kayakers of all fitness levels and skills.