The Thrill of a Nevada Kayak Adventure
Posted on:
April 24th, 2017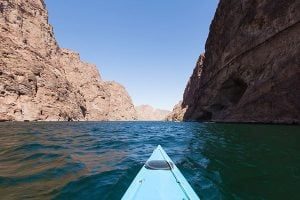 Kayaking adventures down Black Canyon are the ultimate way to dive into nature while enjoying a thrilling glimpse of one of the most beautiful places in the world. Whether you are new to water sports or an experienced adventurer, kayaking in Las Vegas lets you discover another side of this bustling city that you might not ever get to see if you only spend your time wandering down the Strip. From scheduling your tour to exploring the gorgeous sites at the stops along the way, here is what you should know about embarking upon the ultimate kayaking experience.
Choose Your Own Adventure
People often think that kayaking in Las Vegas is only for the trained outdoors crowd. However, anyone can enjoy a tour down the river, and you can choose from several options to make sure that everyone has a good time. A tour beginning at the Hoover Dam to Willow Beach takes a full day of paddling to complete, yet beginners can choose a shorter, half-day trip that offers many of the same beautiful views but only requires half the time. You can also choose to go in a two-person kayak and even ride with a guide if you are unsure of your paddling abilities. Just let your team know when you set up your tour, and they'll make sure everything is in place for a picture-perfect ride down the river.
Benefits of a Guided Tour
When you go on a wilderness adventure, you never know what is going to happen. On a guided tour, you benefit from traveling in a group that includes water safety professionals that are trained in first aid and swift water rescue. You also benefit from being able to spend the whole day traveling down the Colorado River without having to worry about snacks or hitching a ride back to your original location. With arranged transportation, everyone in your party gets to enjoy the real adventure.
Discover Nevada's Natural Beauty
Getting away from the lights and sounds of Las Vegas opens the door to discover the true beauty of Nevada. On your tour, don't be surprised if you sight a bald eagle flying overhead or get a glimpse of big horn sheep grazing along the riverside. You can also arrange a tour that allows you to relax in the perfect temperatures of the Hot Spring pools and even discover how the Emerald Cavern got its name.
When you are ready for an adventure that you won't find on the streets of Las Vegas, schedule a tour with Blazin' Paddles! It is guaranteed to be one Vegas memory that you can't wait to tell everyone about.