The Beauty of Kayaking the Colorado River
Posted on:
April 26th, 2017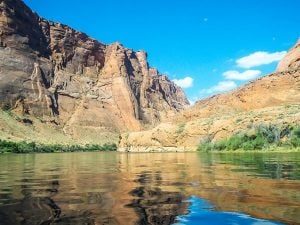 For those lucky enough to have encountered it, the Black Canyon is a beautiful 12-mile stretch of the Colorado River that starts just below the Hoover Dam. The water is a cool 55 degrees Fahrenheit year-round as a result of being drawn from the bottom of Lake Mead, which makes it the perfect way to cool off in the summer. The canyon also features an abundance of hidden trails, coves and hot springs that can only be accessed by boat or by scheduling Las Vegas Colorado River tour. Mile markers are noted along the beaches, so you can refer to a map of the Black Canyon to locate points of interest.
Drop-in points offer smooth rock beaches that are ideal for kayaks and canoes. As you begin your trip, you'll note the peaks that line both sides of the water and eventually get taller as the trip progresses. Gazing down in many spots, you can see straight to the bottom through the crystal-clear water, which sometimes makes it appear like you're floating on glass. Turn your eyes upward to see the birds soaring in the sky and the rocks and shrubs dotted with wildlife, including bighorn sheep. The scenery in the Black Canyon is extremely awe-inspiring and intense.
When your legs and arms get achy, at some point you can reward yourself with a soak in the Arizona hot springs by climbing a 20-foot ladder installed by the National Park Service up to a small waterfall. Enjoy the natural minerals while feeling the world fade into the distance. Approximately five miles away, the Emerald Cave is a shallow and low cave with water the color of sparkling emeralds. This makes for some very interesting pictures.
During your tour, you'll spot a variety of birds and other wildlife. If you look close, you can also see cactuses lining the walls of the canyon and an array of purple flowers and other colorful bouquets dotting the landscape.
Narrow passages, majestic waterfalls and some towering precipices make the Black Canyon an incredible place to explore. Whether you are a beginning kayaker or a seasoned pro, a tour down the Las Vegas Colorado River is the perfect way to spend your vacation. Schedule a trip online with us to ensure your spot!