Things to Remember When Kayaking with Kids
Posted on:
October 7th, 2017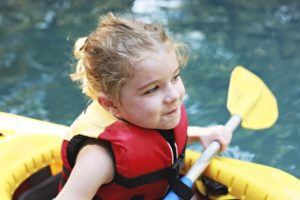 Regardless of how old you are, kayaking is a great way to reduce stress, enjoy nature, and get some exercise. Las Vegas kayaking is a perfect activity for families with children, but there are a few things to keep in mind as you prepare for your trip.
Safety First
Regardless if you are traveling in a tandem kayak or your older child is paddling alone, make sure they understand the safety rules before stepping into the boat. A personal floating device must be worn at all times while on or around the water. Make sure they know to remain seated and do not lean over the side of the kayak. Closed-toed sandals or water shoes allow for proper traction, and sunblock is also a plus to prevent burns. Model the same safety lessons you want your child to follow.
Learn How to Paddle
Teach the first paddling lessons while on land. Make sure they know how to hold the paddle and the basics of the forward stroke. Once on the water, allow them to paddle on their own to gain confidence if you are sharing a kayak.
Choosing a Kayak
Whether you are considering a full-day or a half-day tour, children 16 years of age and older may be fine when paddling on their own, but it's important to consider coordination level, physical ability, maturity level, and confidence. Half-day tours are best suited for children 14 and younger, and you should opt for a double kayak.
Getting Ready for the Trip
Before you head out on the water, familiarize your child with the sites along the trek. Educate them on animals to look for and places of interest. Older children also like to be in charge of their own packing. Get them interested in the adventure before the day arrives.
Kayaking is a rewarding pastime for families with children. To get started on your next Las Vegas kayaking adventure, visit Blazin' Paddles online to schedule a kayak tour and learn more about your options for your next river trip.