How To Extend Your Outdoor Activities to the Fall Season
Posted on:
October 10th, 2017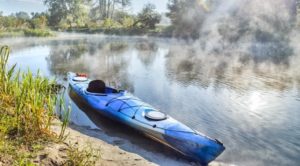 Just because the temperatures start to drop, doesn't mean you need to submit to winter hibernation. With the crisp autumn air and beautiful colors, fall is one of the most enjoyable times to spend outdoors. This is especially true if you love kayaking. By following a few tips and tricks, you can still spend plenty of time enjoying Black Canyon kayaking.
Dress for the Weather
Water temperatures in the Black Canyon are around 50 degrees Fahrenheit year-round. As it gets colder outside and as the cooler wind picks up, it can make it quite chilly when you get wet. While it's not necessary to wear a wetsuit, it's a good idea to choose warm layers to keep you comfortable. You can always remove layers if you get warm. Opt for wicking wool or synthetic base layers that keep moisture off the skin. It's also a good idea to wear waterproof or quick-drying pants and water shoes. Also, pack some dry clothes in a waterproof bag.
Consider the Add-Ons

Most sit-in kayaks accommodate a spray skirt that prevents water from sloshing inside the boat. These are quite helpful to keep you dry on windy days.
Fuel Your Body
When you're having fun on the water, it is easy to forget your hunger. By keeping your body well fed and properly hydrated throughout your trip, you maintain the energy you need to paddle. Pack along some carbohydrates and foods high in fat to snack on, like string cheese, nuts, and granola.
Cooler temperatures don't mean an end to the Black Canyon kayaking season. Just remember to follow these basic guidelines for safety and preparation. To schedule your next adventure, visit our tour packages page and see the available options.