What Makes Kayaking in the Southwest US Unique?
Posted on:
August 30th, 2017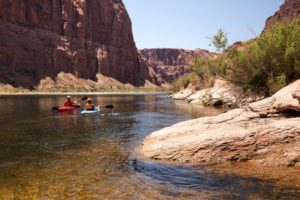 The Southwest is a popular travel destination that is known for its rich history and hot spots such as the Las Vegas Strip where the night comes alive. When researching kayak tours, you will notice that the Colorado River often comes up as one of the hottest destinations to hit the water. While you can kayak in rivers, lakes or even the ocean, you will find that kayaking in the Southwest is unique from any other boating experience for these three reasons.
Discover Abundant & Unique Southwest Wildlife
Imagine watching as a bald eagle or hawk soars overhead and catching a glimpse of a big horn sheep or coyote. Taking advantage of Las Vegas kayak packages allows you to experience nature in way that you simply cannot on a tropical beach or on the lake of a Midwest forest. Since floating along the Colorado River puts you close enough to view the desert wildlife, this is one adventure that is bound to result in beautiful photographs and memories that you won't get anywhere else.
See a Landscape Unlike Any Other
The Southwest is home to some amazing and unique landscapes. Take the Hoover Dam and the nearby Black Canyon area for example. When you enter that canyon, you'll enjoy the awe-inspiring view of the massive canyon walls and cliffs that tower over you. You'll even be awe-struck by the beauty of the reds and browns of the Southwest desert rocks. It's truly a magnificent scene out of a great Western film.
Take a Kayak Trip Designed for Everyone
For many people, kayaking on open and unpredictable ocean waters is intimidating. However, the calmer currents of the slowly winding Colorado River in Black Canyon make kayaking this body of water easier for everyone. Almost all ages and skill levels can enjoy kayaking this desert area. For those who want a challenge, full-day tours that span from the Hoover Dam to the beautiful Willow Beach allow you to test your kayaking abilities.
At Blazin' Paddles, you can blaze your own trail through the scenic Southwestern climate to enjoy a kayaking adventure of a lifetime so go on and book your tour today.