Why Raise Your Kids to Embrace the Outdoors
Posted on:
September 1st, 2017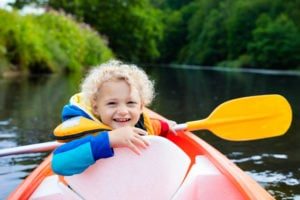 Helping your kids foster a personal relationship with the great outdoors is one of the best things you can do for them. It's a relationship that will last a lifetime, and it's such a deeply fulfilling one. In fact, human beings have a bone-level connection with the natural world, and the only reason many of us don't feel it is because we haven't made the time or effort to open ourselves to that ancient bond.
Kids today have a wealth of modern distractions vying for their attention, and they often need a helping hand to broaden their awareness of the bigger, older, wilder world around them. Parents can make the introduction to nature, which will help kids start to embrace the outdoors and enjoy the many benefits of a close relationship with nature.
Here are three major pluses of getting kids out into the natural world—such as kayaking in Las Vegas, for instance!
1. It's Wholesome Physical Exercise
With the digital and online realms gluing kids to screens and couches, it's all the harder these days to get them moving. Given the fresh air and scenery, it's hard to beat outdoor recreation as an antidote. Kayaking in Las Vegas and traveling through the natural wonders of the Colorado River are types of outdoor exercise that any kind of kid, sporty or not, will enjoy.
2. It's Mentally Stimulating
It's not just muscles and lungs getting a workout on a paddle or hike, it's also the brain that gets a boost. Engaging with the wild landscape and seeing plants and animals, massive cliffs, and weather is all wonderfully stimulating at a cognitive level.
3. It Fosters Environmental Consciousness
The outsized and often detrimental impact humanity has on planet Earth requires us all to be good environmental stewards. A child who's regularly and directly exposed to the natural world is almost assuredly going to be a more conscientious and ecologically oriented grownup.
And here's a bonus benefit that definitely shouldn't be overlooked—kids have a blast in the great outdoors! Need some outdoor ideas to get started? Try our family-friendly kayaking in Las Vegas! Our Blazin' Paddles tours are great fun—with some long-lasting memories and value. Book your Las Vegas kayak trip with us today!