How to Launch a Kayak from the Hoover Dam
Posted on:
November 15th, 2017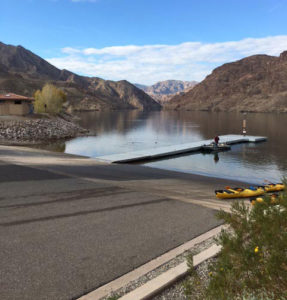 The Black Canyon of the Colorado River is a marvel of geology, carved over millions of years by the Colorado River's patient flow. Meanwhile, Hoover Dam, which impounds the river in the canyon to form Lake Mead, is a marvel of engineering, the product of several years of construction during the Great Depression (and decades of planning prior).
Hoover Dam kayaking—launching at the dam and paddling down into the steep-walled gorge—shows off both the manmade and geological wonders of the Black Canyon.
Hoover Dam Kayaking: The Nuts & Bolts
Because Hoover Dam is a security zone, the Bureau of Reclamation requires boaters launching here to obtain a permit, a limited quantity of which are issued for a given day. A number of area outfitters provide those permits.
Furthermore, only authorized vehicles can access the Hoover Dam launch site, so if you're doing an independent paddle here you'll have to use a designated livery service to get your boat in the water.
Black Canyon Kayaking at its Easiest & Best: A Trip With Blazin' Paddles
You can avoid the hassle of obtaining paddlecraft launch permit and arranging transportation by signing on to a guided kayak tour from Hoover Dam along the Black Canyon Water Trail with us here at Blazin' Paddles.
We're one of the select vendors authorized to launch at Hoover Dam, and we'll bring you to the launch site in our super-comfy Mercedes Sprinter shuttles. We've taken care of the launch permits, so you don't need to worry about any of the logistics.
And our expert guides are happy to lead experienced kayakers and total newbies alike, so beginner paddlers who might otherwise balk at a Black Canyon exploration can rest easy with the Blazin' Paddles team! With our topnotch services, you can admire the grandeur of Hoover Dam, the rugged glory of the Black Canyon, and the beauty of native wildlife, from bald eagles to desert bighorns.
Get in touch with us today to join one of our Hoover Dam kayaking tours through the Black Canyon of the Colorado!