Kayaking Tips for Beginners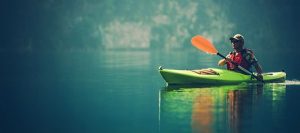 While experience is not a necessity for kayaking in Las Vegas with Blazin Paddles, there are a few things you should bear in mind before hitting the water to make your trip more enjoyable.

Your kayak gear is designed to keep you safe while you are on the water. We provide everything you need when it comes to safety, including life jackets and paddles. Your life jacket should have low fit arms to provide you plenty of room to move freely while padding. It should also sit comfortably on the waist to avoid rubbing on your legs when steering.
The length of your paddle depends on how tall you are, your paddling style and how wide your boat is. They are usually a little over 6-feet long and weigh a little under 2-pounds, which makes them easy to maneuver. Also, when choosing a kayak, consider your level of athletic ability. It can take a good deal of strength to paddle when the winds pick up, so a two-person kayak can help ease the burden when you are fatigued. You will enjoy your trip far more if you aren't completely exhausted a few miles into the tour.
When dressing for a kayak tour, be sure you are dressing for the water and not necessarily for the weather. You will get wet, and the water temperature in the Black Canyon is around 55 degrees Fahrenheit year-round. Dress in layers to help stay comfortable throughout your trip. Wear durable and comfortable shoes, and carry along sunglasses, a hat and sunscreen.
The majority of all kayaks are very stable on the water, so the chance of tipping is unlikely. If you are in a double kayak, you risk is lowered. Pay close attention to the instructions at the beginning of the tour before hitting setting out on your expedition. You'll learn how to safely exit the kayak and how to rescue yourself should you tip. Getting started kayaking is fairly easy. Get ahead by watching several videos on the how-to's of turning and paddling, and then sign up online for our kayaking tours in Las Vegas.