Ways to Make Kayaking a Romantic Date
Posted on:
February 9th, 2022
If you're looking for a more creative alternative for a date than dinner at a restaurant, or if you are simply searching for a fun and safe outdoor activities in Las Vegas, kayaking makes a great choice. There are many good reasons to enjoy a journey out on the boat with your date, including the fact that you'll have beautiful views to admire in an intimate setting surrounded by nature. If kayaking in Vegas sounds like something you'd like to try for Valentine's Day, or any other date night, Blazin' Paddles has you covered.
Take a Twilight Tour
One of the most memorable and romantic Nevada kayaking experiences you can have is kayaking by moonlight. Fortunately, you can easily book a star-filled evening kayaking excursion with your date by signing up for the Twilight Paddle tour. The Twilight Paddle tour is a nighttime tour that starts at either 5 PM, 6 PM, or 7 PM, depending on the season. No matter when the tour starts, it lasts about four hours in duration. Since the tour goes for quite some time, you will want to be in decent shape before you head out on the water. Therefore, the tour is recommended for people with at least moderate athletic ability. The tour starts at the same location, which is the scenic Willow Beach. The tour is designed so that you reach the Black Canyon while the sun is still up. The Black Canyon is a picturesque location along the Colorado River. It is one of the most popular destinations in the world for the Emerald Cave, a small but charming part of the Black Canyon that has emerald green waters. The Vegas kayak tour starts off with a two-mile leisurely paddle out to the canyon. Along the way, you'll stop at a secluded beach to watch the sun set over the river as you enjoy toasting marshmallows by the campfire. You'll have the chance to sit and relax by the fire for a bit before paddling back downstream. As you leave the beach, you'll notice that the stars start to appear and the river becomes calm and quiet. While traveling the Colorado River has its share of beautiful moments in the daytime, traveling the river by night is especially dramatic and alluring. The kayaks you travel in are also cast in a soft glow provided by the moon and stars, making for an especially romantic experience. Going with an experienced kayaking guide also means that you will get to learn about significant historical sites along the way, and you may even get a glimpse of wildlife as you go.
This exceptional Vegas kayak tour offers many benefits, starting with ease of pickup. If you are staying in Las Vegas on vacation, rest assured that getting to the tour site is easy with Blazin' Paddles' complimentary transportation that starts from several different hotels in downtown Las Vegas. Transportation is also provided to the launch site starting from the company's main office. Along with transportation, you will get the kayak, paddles, a personal flotation device, and all snacks and water included in the cost of the tour.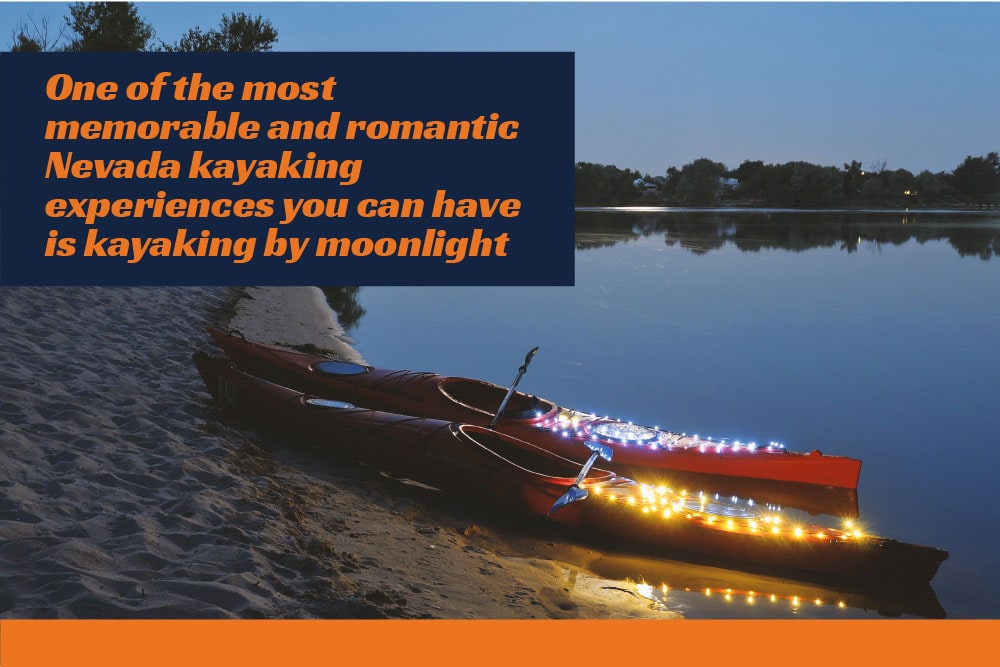 Why go Kayaking on a Date?
There are hundreds of things you can do on a date. For many people, kayaking might not be the first that comes to mind. However, there are many great reasons why kayaking should be at the top of your list for romantic date ideas.
The many benefits of kayaking include:
Exercise
Being prepared
Wallet-friendly
Comfortable setting
If you are personally into fitness and staying in shape, having a date who feels the same way is likely an important factor. Therefore, scheduling a moonlight kayaking expedition is a subtle but good way to see if your date is in relatively good physical condition.
Another aspect of kayaking is that it requires some degree of preparation. Kayaking requires you to have specific accessories and equipment. While a kayaking outfitter can provide many of the kayaking equipment, you and your date will need to provide other accessories such as the right clothing, supplies, and even the mentality. Having the element of preparation involved means you'll get to see how well your date prepares for the kayaking journey.
Whether or not you have budget in mind, the cost is likely to be considered when planning your kayaking date. Therefore, having a budget-friendly activity is important to many people looking to have a good time and save money as they get to know someone else. Fortunately, kayaking in Vegas is a relatively affordable activity, especially compared to other date options that can cost much more.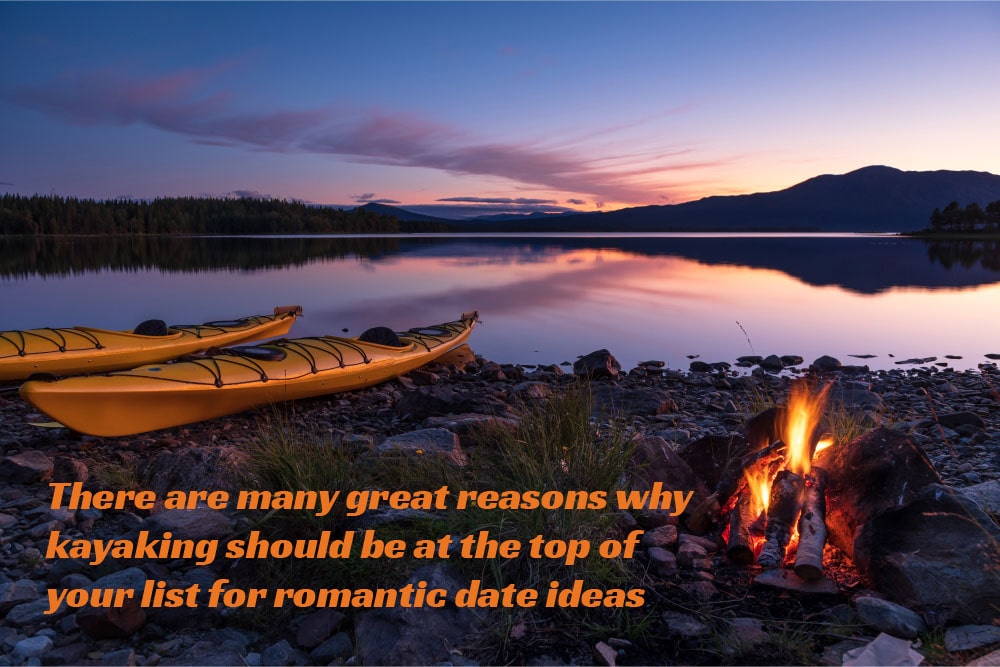 What About a First Date?
Kayaking in Vegas might be right up your alley if you're a seasoned pro who generally spends hours out on the water. But what if you are setting up a date with someone who has little or no previous kayaking experience? Ideally, you will both have at least some experience or enthusiasm for kayaking before the first date. If that's the case, you have the green light to schedule a moonlight kayaking tour. There are many other outdoor activities in Las Vegas that you can try out in addition to kayaking if you are trying to get to know each other better.
How to Prepare for a Kayaking Date
Preparing for a Las Vegas kayak date takes some foresight and planning, regardless of whether you have been together for two weeks or two years.
Ideally, your date should cover the basic provisions:
Food
Water
Clothing
First-aid supplies
Surprises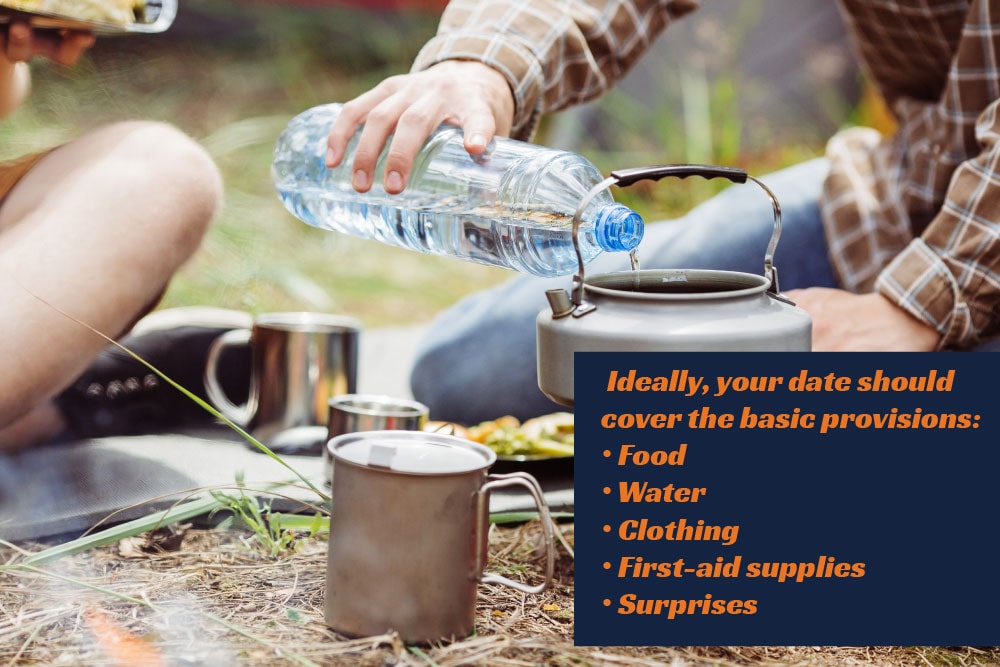 It might sound basic, but packing the right food and supplies can go a long way in preparing for your kayaking date and boosting your confidence. If you don't want to bring water bottles along, consider packing hydration packs to ensure you have enough water, and that water is easily accessible for you and your date. When it comes to food, you can ask beforehand what your date's favorite foods are or if they have any allergies to ensure you have food on hand that your date will enjoy. Bringing along a surprise treat, such as a bottle of your date's favorite wine or champagne, and seeing their enthusiastic response can also be one of the most rewarding benefits of kayaking. If you have any food that might get damaged or broken if it gets wet, be sure to put it in a drybag to prevent any accidents.
For a romantic, fun, and rewarding date on the water, contact Blazin' Paddles to book a reservation for a moonlight kayaking tour and ask any questions that you have about preparing for the tour or your special date night on the water.