Kayaking Emerald Cave in Las Vegas
Posted on:
February 25th, 2022
If you're not familiar with the waterways around Las Vegas, now is a great time to learn more about all the great places you can go. One of the most spectacular destinations for a kayaking expedition is Emerald Cave, a popular spot along the Black River and an excellent option for people of all skill levels looking for quality kayaking in Vegas.
What is Emerald Cave?
Emerald Cave is a majestic spot along the Black River. Geographically, it is located in the Black Canyon that runs along the borders of Arizona and Nevada. While the Black Canyon is a peaceful and quiet natural oasis, it is located within an hour's drive of Las Vegas, which makes it an accessible destination for those looking for things to do outdoors in Las Vegas that are within easy reach of the city. Emerald Cave is one small part of the surrounding Black Canyon, which features towering canyon walls on either side of the river. One of the most intriguing physical characteristics of the cave is its stunning green water, making it look like a tropical paradise. The cave itself is fairly small, but it is easy to navigate through a kayak, which is why the Emerald Cave Tour is one of the most popular tours offered by Blazin' Paddles.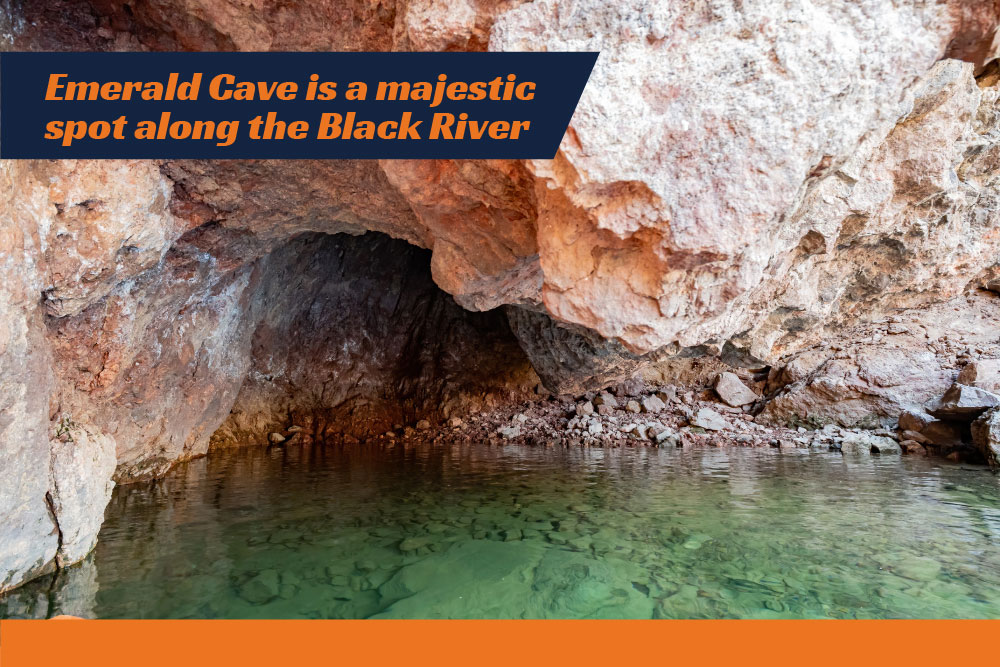 Who Should Kayak Emerald Cave?
Emerald Cave is a relatively easy place to access and to boat, which makes it suitable for kayakers of varying skill levels. If you are kayaking in Vegas by yourself, it's best to attempt a kayaking trip to the cave if you have some prior experience in a kayak. Although it is not unprotected like an open body of water, there can still be strong currents and winds along the Black River. As a general rule of thumb, you will probably be ready for a solo trip to Emerald Cave if you are in good shape, you can get back into the boat if you flip, and if you simply want to travel at your own pace.
However, you may also decide that it's best to go with a group through the Emerald Cave tour arranged through Blazin' Paddles. If you are new to kayaking near Las Vegas and don't yet have the skills and confidence for venturing out solo on the water, joining a group is a good way to go. A group tour is a safer option if you are nervous about kayaking or don't feel that you have the expertise yet to successfully venture out on a solo expedition, and if you aren't sure that you would be able to battle strong winds that might creep up. Going out with a group has other benefits too, including giving you the chance to learn more about the history of the local area through a guide. A little-known secret of Emerald Cave is that its famous green waters are more vivid at certain times of the day than others. A knowledgeable guide will know when you'll be able to catch more stunning green hues and schedule a kayaking tour accordingly.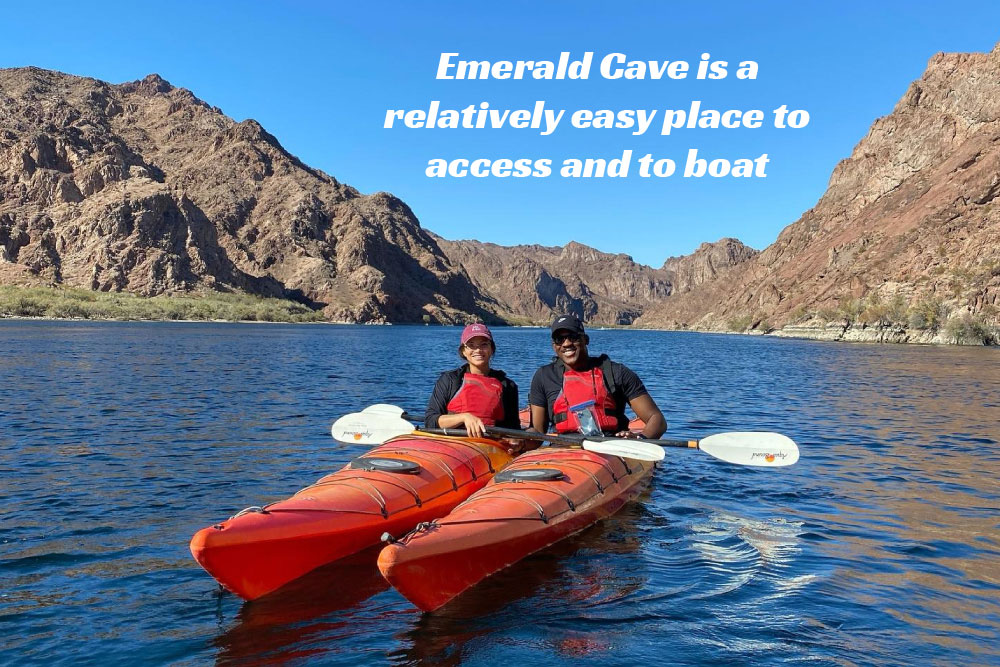 Planning an Emerald Cave Kayaking Trip
Whether you decide to kayak through Emerald Cave by yourself or you are going with a group, you'll want to prepare in advance for a fun trip. While you'll need the same basic equipment for both, there are also some additional things you will need to think about if you are going out on your own.
Consider the time of day
Check the weather
Bring a drybag
Wear the right clothes
Kayak beyond Emerald Cove
Timing is everything when it comes to kayaking Emerald Cave, in large part because of the magnificent lighting that you'll get at the right time. Try to schedule your trip so that the sun will be directly overhead when you get to Black Canyon. Of course, that will change throughout the year, so it's important to consider the season when you are deciding when to depart for Black Canyon and Emerald Cave.
As with many outdoor recreational activities, the weather is also a factor to consider when you are venturing out for a day of kayaking near Las Vegas. Given its location in the desert, Las Vegas is prone to having hot, dry summers and mild winters. However, the temperature can change significantly from day to night. Rain and thunderstorms can also appear on the day you're scheduled to go kayaking, in which case you might want to think about other things to do outdoors in Las Vegas. Of all the weather you might experience, the wind is one of the most persistent natural forces you may encounter. Winds along the Black River tend to pick up during the day, and they can reach 15-20 MPH. Therefore, you should make sure that you are physically capable of paddling back against the winds if you make it out to the Black Canyon, especially if you decide to continue further on.
Even if you don't flip the boat, your belongings and valuables can still get wet when you go out kayaking. Therefore, you'll want to get a drybag to keep your items protected from exposure to water and the consequent damage that may ensue. If you don't have a drybag, you should buy one beforehand if you're planning a trip on your own or rent one from a kayaking outfitter.
As enchanting as the Emerald Cave may be, your trip can turn much less enjoyable if you end up too cold, hot, or otherwise uncomfortable because you don't have the right clothes. You will want to make sure that you wear layers when you head out for a kayaking trip, and ideally, you should also carry a windbreaker or wear it. Consider wearing a bathing suit if you are thinking of stopping to swim someplace. Wearing waterproof footwear is also a good idea, as your feet will likely also get wet when you are out kayaking.
After seeing Emerald Cave, you might decide that you want to see the other incredible sights that the Black River has to offer. If you choose to continue paddling past Emerald Cave, you will reach some soft sand beaches, including some that are fairly secluded and quiet. Along the way, it's likely that you will see tons of wildlife, including birds and mammals, so be sure to take your camera along to capture the day's best sights.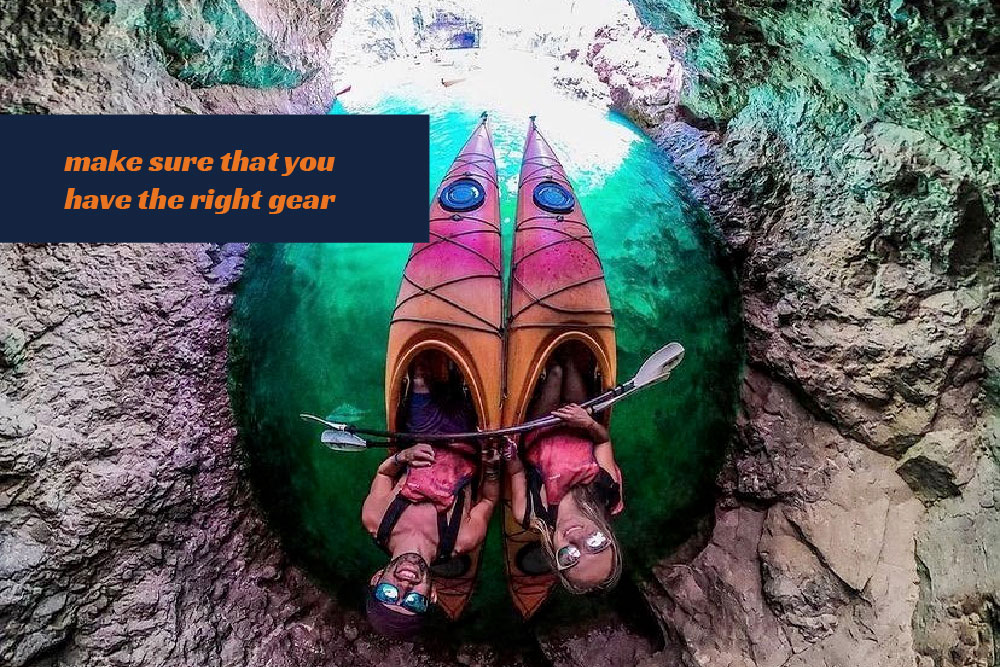 Packing the Right Gear
In order to maximize your fun out on the water, you will want to make sure that you have the right gear. The gear you bring with you depends largely on the time of year and the current weather. Lighter layers are ideal for most of the year, but you'll want to wear or pack warmer layers in winter, as you can get quite cold from getting wet. Your personal gear should also include sunglasses and a hat, as the sun's rays can be intense due to the climate and the fact that water reflects light. Also, wear protective eye wear and a hat for the sun, be sure to apply sunscreen before you leave for the day, and bring sunscreen along for re-application if you get wet or go swimming.
If you are thinking of planning a kayaking adventure, let Blazin' Paddles help you out. You can find all the information you need about scheduling a kayaking trip online or by calling the friendly and helpful staff for assistance and recommendations.