Top Las Vegas Hot Springs
Posted on:
March 10th, 2022
If you are looking for things to do outdoors in Las Vegas, visiting hot springs is never a bad idea. Many people don't think of Nevada as a destination for hot springs, but there are many great Las Vegas hot springs that you can check out when you're visiting Las Vegas or if you're looking for a fun and unique day trip. These top Las Vegas hot springs should be on your shortlist of places to visit in Sin City.
Gold Strike Hot Springs
When you reach the Gold Strike Hot Springs, you may indeed think that you have struck gold in the form of quality rest and relaxation. The Gold Strike Hot Springs is near the Hoover Dam, so you can easily combine a visit to the hot springs with a trip to the Hoover Dam. The hot springs are located at the base of Hoover Dam, which makes it convenient to schedule a kayaking trip or plan a hike that concludes with a trip to the hot springs. Getting to the Gold Strike Hot Springs requires some prowess and athleticism, as you need to climb a ways to reach the springs. You can also continue down into Gold Strike Canyon, which leads to some additional springs and pools that get their water from hot waterfalls.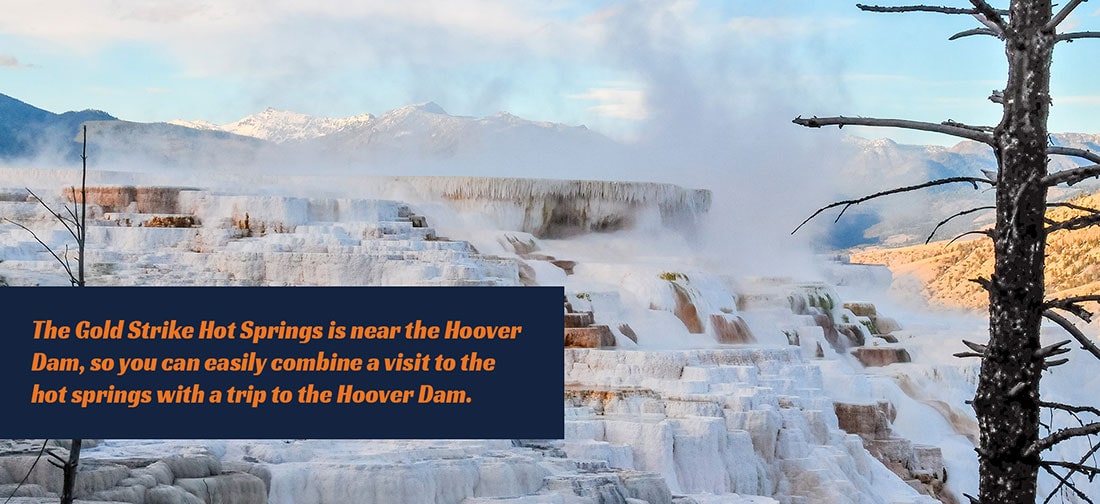 Arizona Hot Springs
Also near Hoover Dam is Arizona Hot Springs, which is easier to get to on foot than Gold Strike Canyon. Arizona Hot Springs contain warm water that comes from a narrow canyon, and the water eventually flows down to clear soaking pools that you can reach through ladders. There are several ways to get to the hot springs, including hiking trails of varying difficulty levels.
Alkali Hot Springs
If you are seeking a place to go where you can escape the crowds and get away from it all, Alkali Hot Springs is an excellent choice. Alkali Hot Springs consists of two soaking tubs with warm water. The springs are considered some of the most isolated in Nevada, making them an attractive place for those who want a secluded getaway. At Alkali Hot Springs, you have the option of camping out if you choose, so it is an excellent place to visit if you are planning a multi-day excursion in the area. Camping is also free, so staying at the Alkali Hot Springs is a prime choice if you want to save money on vacation to Las Vegas.
Fish Lake Valley Hot Springs
Fish Lake Valley Hot Springs is situated between the White Mountains and the Silver Peach Mountains. The hot springs also give you a prime view of Boundary Peak, the tallest peak in Nevada. There are several concrete hot pools in Fish Lake Valley Hot Springs and several naturally warm ponds. If you're thinking of doing a Las Vegas hot spring tour, Fish Lake Valley Hot Springs should be included as a stop on your trip. Free camping is also available at Fish Lake Valley, making these hot springs another good place to stay if you are hoping to save money on your getaway while in Las Vegas. The hot springs also have other amenities that you can use for a camping trip, including grills and fire pits.
Ruby Valley Hot Springs
Ruby Valley Hot Springs is a series of hot springs located in the Ruby Valley Refuge. These hot springs are located about an hour from Elko, NV. The Ruby Valley Hot Springs are scenic and relaxing. However, you'll need to do a bit of off-road driving to reach the hot springs, so you should ensure that your vehicle is up to the task or that you have a four-wheel drive vehicle before venturing off on a trip to visit the hot springs.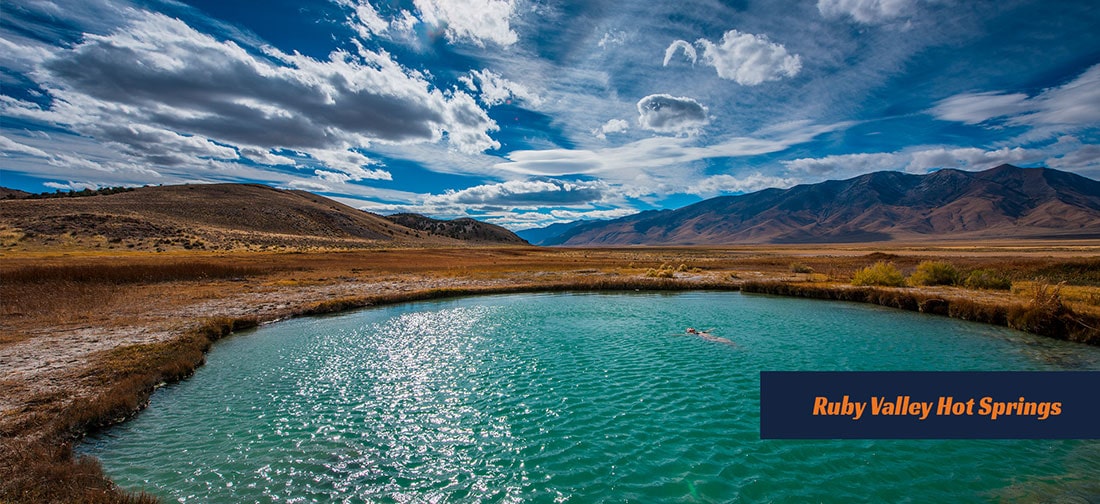 Trego Hot Spring
Trego Hot Spring is a scenic hot spring located in a valley. Trego is essentially a man-made pond located close to the Black Rock Desert. The hot spring contains several springs, including a spring at the north end. Trego Hot Spring also contains a pond that produces picturesque and soothing hot water bubbles, which also help to form pockets of hot water. Keep in mind that Trego Hot Spring can get quite windy, so if you are planning to go on a kayaking expedition that involves a stop at the hot spring, it's best to try to choose a day for your journey when there is less wind.
Rogers Warm Spring
Rogers Warm Spring is located in the Lake Mead National Recreation Area. The waters in Rogers Warm Spring average about 82° F, which is the perfect temperature if you are looking for a place to cool off on a warm summer day. Rogers Warm Spring is a scenic and quiet spring with a calm, flat pond at the bottom where you can swim or even bring a pool flotation device for leisurely floating along the water. If you prefer a dip in the hot springs where you don't have to hike to reach your destination, Rogers Warm Spring is a perfect option. You can drive right up to Rogers without having a strenuous hike involved. However, you can choose to go on a slightly longer walk if you want to stretch your legs beyond going from the car to the hot springs. Rogers contains a footbridge that you can walk across when you arrive. At the waterfall's base, you'll find a bathtub-style pool with rock lining and palm trees along the side for aesthetics. Rogers also has a bathroom that you can use for convenience.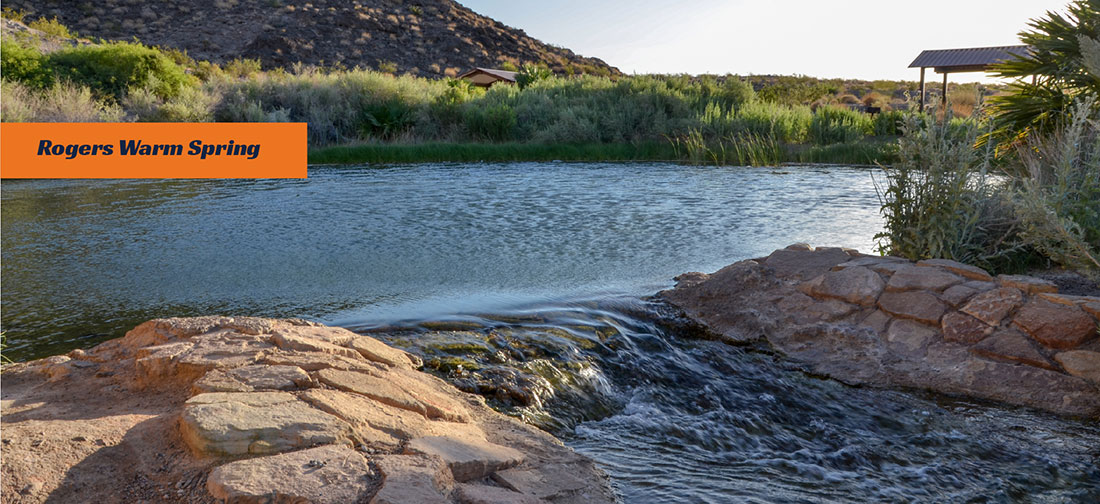 12-Mile Hot Spring
12-Mile Hot Spring is a warm and refreshing environment to stop for a soak in northern Nevada. The hot spring is located in Wells, and it sits at the base of the Humboldt Range. The hot spring consists of a soaking pool with a gravel bottom. It is situated right on Bishop Creek, and it offers stunning views of the surrounding tall cliffs that form the banks of the river. The waters in 12-Mile Hot Springs are an optimal temperature that averages close to 100°F throughout the year. While the hot spring's waters are soothing and relaxing in the fall and winter, you might find that the water gets warm quickly in the summer. If that happens, you can always cool off by jumping into the river for a minute.
Spencer Hot Springs
Spencer Hot Springs is unique among Las Vegas hot springs because it has both natural and man-made elements. One of the most appealing parts of the Hot Springs is a large metal tub where you can enjoy a long soak in the warm waters. The tub is located near the spring that feeds Spencer Hot Springs, which means the temperature can rise quickly. Since the waters in Spencer Hot Springs are so warm, you will likely appreciate the option of jumping into the spring's cooler waters. You can also adjust the temperature in the spring's waters by using a diverter. Rock shelves are a nice man-made addition that provides plenty of seating.
If you're trying to decide what you must do in Vegas while on vacation, you will find no shortage of options. From kayaking along the Colorado River and exploring the Black Canyon to visiting warm hot springs in the Las Vegas vicinity, there are many wonderful outdoor things to do in Las Vegas. Contact Blazin' Paddles for more information today.