How to Visit Emerald Cave in Las Vegas
Posted on:
February 20th, 2022
While there are many places to go kayaking in Vegas, one of the most popular destinations for local and visiting kayakers alike is Emerald Cave, located along the Colorado River in the Black Canyon. Emerald Cave is a small but spectacular natural cave with spectacular green waters. Although Emerald Cave draws thousands of visitors each year, there are some excellent tips that you'll want to keep in mind to get the most out of your trip. The experienced staff at Blazin' Paddles has all the details to ensure you have a safe and rewarding Emerald Cave kayak tour.
About Emerald Cave
Emerald Cave is a small cave tucked into the Black Canyon, an equally majestic natural wonder. The Black Canyon is worth exploring if you want to extend your trip and make the most of a kayaking tour out to Emerald Cave. Emerald Cave itself is surprisingly small, with the capacity to only hold several kayaks at a time. Therefore, timing is essential when you visit the cave to ensure that you aren't battling the crowds or waiting in line. Additionally, the lighting in the cave changes throughout the day. Depending on when you tour the cave, you might catch its most spectacular shades of green or no green water at all. To ensure you get the full experience that you're after, it is best to sign up for a guided Emerald Cave kayak tour, such as the one offered by Blazin' Paddles. Going with a certified guide is important to have a safe and professional experience. Some individuals in the area offer guided kayaking tours without having true expertise, which can be a disappointing or even hazardous experience for novice kayakers.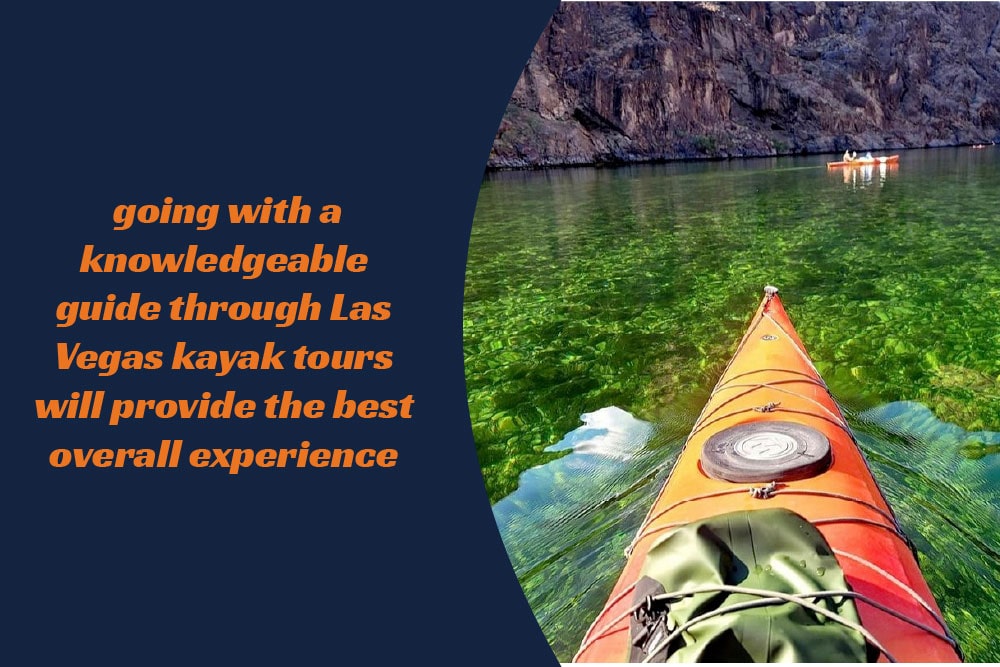 How to Visit Emerald Cave
While you can always jump in a kayak and go exploring Emerald Cave by yourself, going with a knowledgeable guide through Las Vegas kayak tours will provide the best overall experience. It's also safer to venture out with a guide, especially if you are new to kayaking or unfamiliar with the Colorado River and its weather patterns. Kayaking with a guide also takes a lot of the guesswork and hassle out of the equation. For instance, you don't have to worry about logistics such as timing and arranging pick-up and drop-off when you venture out with a guide or a group. If you sign up for a tour with Blazin' Paddles to check out Emerald Cave, you will have a designated start time, which is generally in the morning so that you can make it to the cave at a time when you'll get to see the most dramatic colors in the water. If you are staying in Las Vegas, you'll also get the added benefit of having a designated pick-up location and time. Blazin' Paddles offers free courtesy pick-ups for individuals who sign up for the tour. A map of pick-up locations is conveniently available on the Blazin' Paddles website. You can sit back, relax, and enjoy the convenience of having a shuttle ride to the launch site for visiting Emerald Cave. There are generally two starting places for kayaking the Emerald Cave. Longer tours launch from Hoover Dam, while shorter kayaking trips start at Willow Beach, another popular spot located in the Lake Mead Recreation area.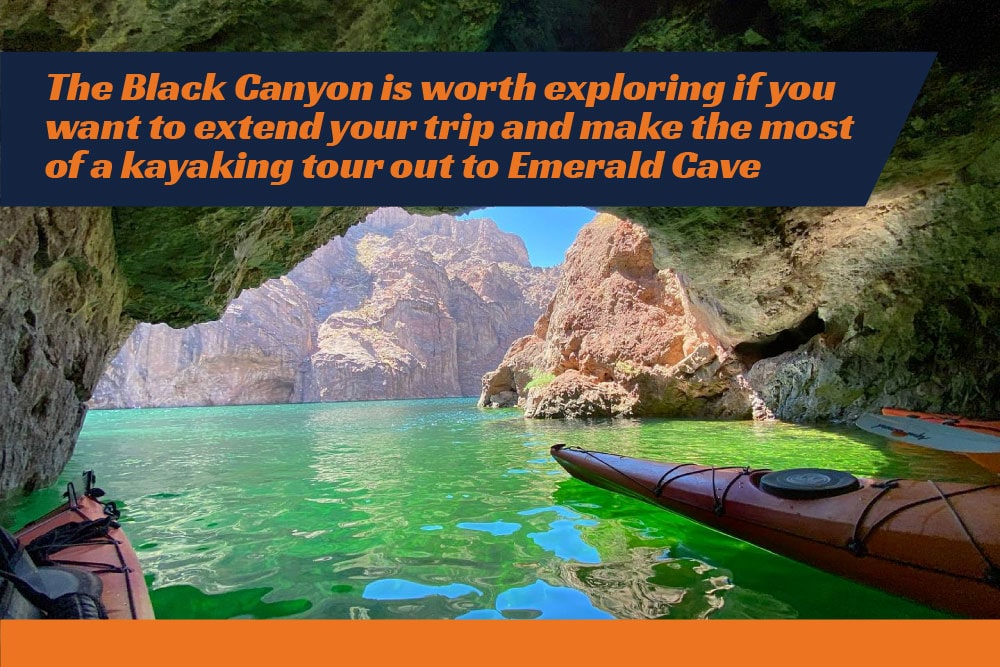 Where to Start Your Kayaking Tour
There are two separate locations where you can start to begin your Emerald Cave kayaking in Vegas expedition:
Hoover Dam
Starting at Hoover Dam means you will have a longer adventure. Beginning your kayaking tour at Hoover Dam will be a 12-mile trip. It is a full-day outing, so you should plan to leave early in order to complete the trip while there is still plenty of daylight. Launching at Hoover Dam means you will journey along the Black Canyon Water Trail, one of the most scenic routes you can take to reach Emerald Cave. The Black Canyon Water Trail includes relaxing natural hot springs and side canyons that are well worth a photograph, if nothing else. Keep your eyes peeled for wildlife too as there are many different species that you may spot along the way. If you go with a kayaking guide, you will also have the opportunity to learn more about the rich natural and human history of the Emerald Cave, Black Canyon, and surrounding areas. One historic landmark that you will spot is the Willow Beach Gauging Station, which was built in 1931 and still stands along the edge of the Colorado River. Starting your kayaking trip at Hoover Dam is an out-and-back adventure. You can either turn around once you've reached the Emerald Cave or continue on to explore other parts of the Black Canyon. Either way, you will end your trip at Willow Beach, where you'll have a shuttle waiting for you if you go kayaking with Blazin' Paddles. Going solo means that you will need to arrange to have a shuttle pick you up at a predetermined time.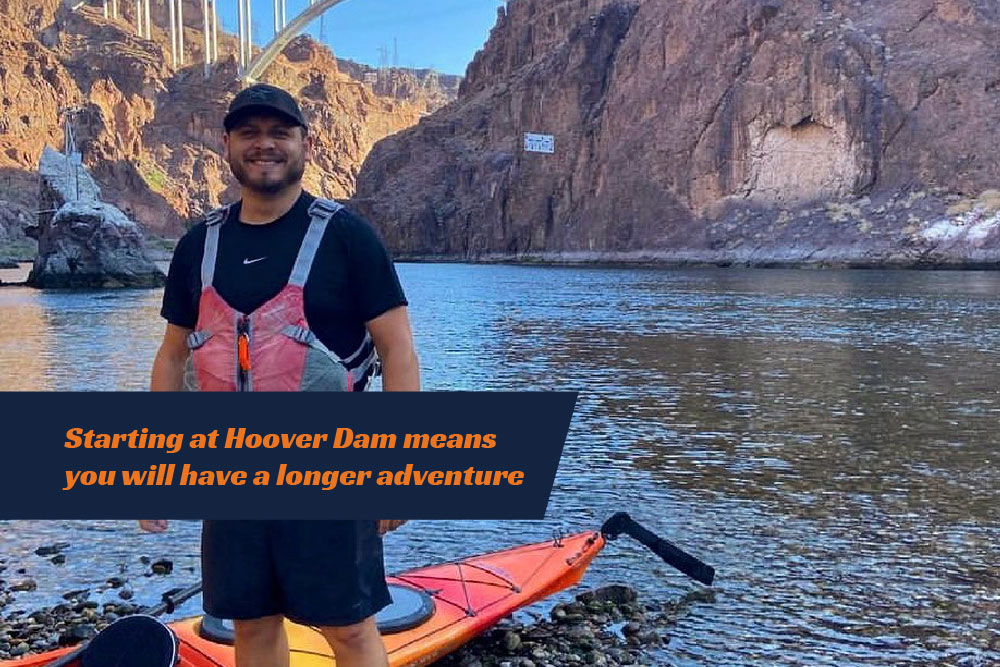 Willow Beach
Starting from Willow Beach will also give you a chance to check out the spectacular Emerald Cave, but you will launch closer to the cave, which makes starting from Willow Beach a good choice for a day trip. Willow Beach is located in the Lake Mead Recreational area. Lake Mead straddles the Arizona and Nevada borders. However, Willow Beach is located just on the Arizona side. You'll need to pay an entry fee if you're kayaking alone and starting at Willow Beach. The cost of entering Lake Mead is included in the cost of the tour if you decide to go with Blazin' Paddles. The total trip length for this expedition is four miles. It takes about 4-6 hours for the day trip to and from Willow Beach to the Emerald Cave and back. The cave itself is two miles away from the launch point. You'll likely want to stop for pictures along the way and maybe even explore other parts of the Black Canyon after stopping at the cave. There are great beaches just beyond Black Canyon that are worth stopping at.
Tips to Keep in Mind
No matter where you start from, you'll want to keep some things in mind to ensure you have a satisfying and enjoyable trip. For starters, you will want to make sure that you have enough food and water to get through the day. Snacks, water, and lunch will be provided if you choose a Blazin' Paddles tour. Be sure to dress in layers and wear plenty of sun protection, including sunscreen, sunglasses, and a hat. If you're doing a solo kayaking trip, you will also want to bring along a basic first-aid package and any medications that you may need throughout the day.
If you are ready to experience great Las Vegas kayak tours, don't hesitate to contact the friendly and helpful staff at Blazin' Paddles today for recommendations and to reserve a spot on your preferred kayaking tour.