Why a Kayak Tour is the Best Way to Experience the Hoover Dam
Posted on:
May 30th, 2017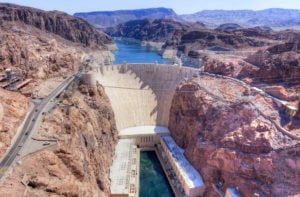 When seeing the Hoover Dam is at the top of your bucket list, a kayaking tour is one of the best ways to make it happen. On a tour, you can launch at the base of the Hoover Dam and experience the majestic view firsthand from the water. Whether you choose to go with a partner or a whole group of your friends, here are just a few of the reasons why a kayak tour is the ideal way to see the Hoover Dam on your trip.
Access Areas Where You Wouldn't Normally Venture
Many people kayak down the Black Canyon Water Trail, yet few can say that they launched from below the Hoover Dam. On a guided tour for Hoover Dam kayaking, you can also make sure that every member of your group gets to come along since you will have a shuttle that picks you up and brings you back at the end of the day. This means that you can go much further on your kayaking trip and see everything from the beautiful Willow Beach to the relaxing green waters of Emerald Cave.
Choose Your Ideal Adventure
For beginner kayakers, heading out onto the water is a little intimidating, and Hoover Dam kayaking with tour guides is much safer when you are just starting out. When you sign up for your tour, you can choose from half-day or full-day options that allow you to enjoy seeing the Colorado River while also enjoying special moments such as a dip in the hot springs or marshmallow roast under a full moon.
Observe Beautiful Native Wildlife
The Black Canyon Water Trail is full of wildlife that you would never see within the urban atmosphere of the Las Vegas strip. Since you will be traveling along the waterway, your presence will not be a threat to the animals as it would if you were hiking through the trails. This means that you have an excellent chance of seeing a bighorn sheep, bald eagle or even the rarely sighted puma. The best part is that your guides will be right there, ready to point them out so that you can even capture the moment with your camera.
When you are ready to immerse yourself in the true natural beauty of the Hoover Dam, schedule a Hoover Dam kayak tour with Blazin' Paddles online so that our guides can show you the most amazing places to go on your next adventure.