What is a National Water Trail System and Why You Should Explore One
Posted on:
June 3rd, 2017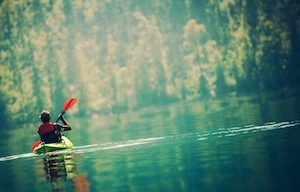 If you enjoy kayaking, there are a number of reasons to find out more about the National Water Trail System and why you should go explore the one nearest to you. The National Water Trail System is the catalog of some of the best water trails from lakes, rivers and other waterways in the United States that the public can enjoy. Whenever you're in Nevada, going out for a kayak tour on the Black Canyon Water Trail is one of the best ways to relax and enjoy Mother Nature.
Black Canyon is one of the most popular destinations in the National Water Trail System. The Black Canyon Water Trail is located less than 35 miles away from Las Vegas. When you take a kayaking tour, the guide who leads the way has the expertise to point out all the best routes and points of interest along the way. If you want to do something fun outside in Las Vegas, Black Canyon kayaking is the best relaxing and engaging option available.
Black Canyon is actually the first water trail to be established in the Southwest and the first to flow through a U.S. desert. This water trail is located on the Lower Colorado River, flowing within the Lake National Recreation Area. The three access points to this national water trail are a mining area in Eldorado Canyon, Willow Beach in Arizona or the Hoover Damn. The trail goes on for miles, but tour guides know the best areas and routes to take you along.
Between the main access points, popular sites along the water trail include the cliff views, hot springs, wildlife spottings and Emerald Cave. The naturally heated 100-degree spring pools are a great place to relax and unwind along the way. The cliff views are located at the perfect angle to provide a clear view through the water 30 feet below. Some of the wildlife you are likely to see while you move along the water trail are snakes, bald eagles, and bighorn sheep.
When you're ready to go kayaking on the Black Canyon Water Trail, let the Blazin' Paddles kayak tour guides lead the way. Schedule a tour with us online!