Features Along the Black Canyon Water Trail
Posted on:
May 27th, 2017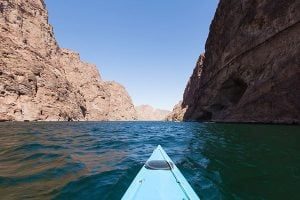 The Black Canyon Water Trail is a 30-mile stretch of uninterrupted wilderness along the lower portion of the Colorado River. It starts near the base of the Hoover Dam and flows through the Lake Mead National Recreation Area. The perfect day trip, this remote paradise takes you far from the hustle and bustle of work and appointments and through some of the most picturesque places as you kayak the Black Canyon.
Hoover Dam
Opened in 1936, the Hoover Dam forms Lake Mead – the world's largest reservoir, which holds enough water to irrigate approximately 2 million acres of land. The area directly beneath the dam is a security zone, so it's definitely best to sign up for a tour if you want to go exploring.
Hot Springs
Just a little downriver, you'll come to a waterfall pouring down between two cliffs. The Palm Tree Hot Springs offers warm and inviting water that feels good in contrast to the chilly river. As you traverse through the canyon, you'll come across two more hot springs, the Boy Scout Canyon Hot Spring and the largest being the Arizona Hot Springs. The Boy Scout Springs is a moderate hike from the river. The Arizona Hot Spring is in a canyon just off mile marker 60 at the Ringbolt rapids, which is the only rapids only the trek.
Emerald Cave
Emerald Cave is a great place to stop and take pictures. This shallow cave gets its name from the crystal green waters. When the sun sneaks in and hits the water at the right angle, it sparkles and glitters like gemstones.
Willow Beach
Willow Beach is a popular cove and is the perfect place to hang out and cool off from the sun or to sit by the river and watch people fish. Big horn sheep can be seen on the rising cliffs, and if you are lucky you might see a bald eagle soaring in the wind.
To kayak the Black Canyon and experience all the area has to offer, sign up for a half day or day long adventure with Blazin' Paddles. You can also opt for a night tour and experience the water under a blanket of stars.