Holiday Kayaking Tips
Posted on:
December 16th, 2021
Holiday Kayaking Tips
If you are a skilled kayaker, you are likely looking to get out on the water every chance that you can. Kayaking is one of the cool things to do in Vegas in all seasons, provided you make the right preparations and precautions to ensure you can enjoy kayaking safely and confidently even during the cooler times of the year. Additionally, you may also be planning a trip to Las Vegas this winter and think that kayaking is one of the most appealing and unique things to do in Las Vegas during the holidays if shopping and battling the crowds is not your cup of tea. Whether you are looking to stay fit out on the water during the holidays or you are planning to incorporate a kayaking trip into your vacation plans, Blazin' Paddles has some recommendations for making the most of your experience out on the water.
Kayak Tours
Kayak tours offered by Blazin' Paddles provide a fun and unforgettable experience for the entire family. Kayaking tours go through the Colorado River and offer breathtaking views of Hoover Dam and other natural wonders. When you go with Blazin' Paddles, you'll have the advantage of traveling with a well-trained guide. You can choose from half-day to full-day expeditions depending on your comfort and skill level. You also have the option of taking a tour with a guide or doing a self-guided tour. Departure times vary for tours to provide flexible arrangements. You'll get great views of the Colorado River no matter which tour you choose to go on, along with other great sights such as the Black Canyon. Full-day tours are also an option for kayakers who want to spend even more time out on the water. The Twilight Paddle package also includes a stop at Willow Beach and the chance to stop and toast marshmallows.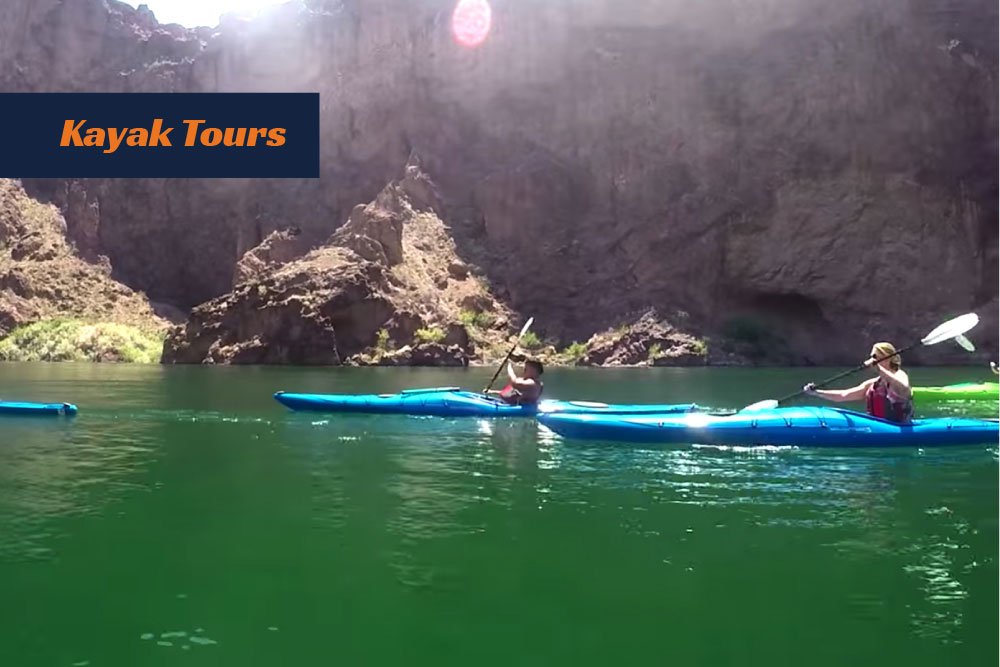 Considerations to Keep in Mind
A full or half-day out on the Colorado tops the list when you are looking for fun things to do outdoors in Las Vegas. However, you'll want to prepare for your kayaking excursion to ensure a smooth and enjoyable trip down the Colorado.
Get the Right Boat
Like wearing the right pair of sneakers, getting the right kind of kayak is essential to ensure that you have a fun and relaxing time out on the water. If you're wondering, "where do I find a good kayak near me?", the staff at Blazin' Paddles will gladly assist. The boat that you get is dependent on several factors, including your skill level, the type of water that you will be kayaking on, and budget. A professional can help you select the right kayak and explain the differences among the various types of boats. Generally, boats are categorized as either sit-on-top kayaks or boats with a cockpit that you simply climb into. Sit-on-top kayaks are simpler to enter and exit. They are also a good option for people who may otherwise feel claustrophobic or uncomfortable sitting in a regular kayak. If you are looking to save money, you'll be glad to know that sit-on-top kayaks are some of the least expensive types of boats that you can buy. They are easy to modify to meet your specific needs, too. Sit-on-top kayaks can be outfitted with spray skirts that are made to keep you dry.
Along with choosing the style of boat that you want to get, you should also look for a kayak made for the specific type of kayaking that you plan to do. Long-distance kayakers should consider getting a touring kayak, which has a long and slender design that helps propel the boat through the water in an energy-efficient manner. Touring kayaks can also reach greater speeds than other kinds of boats.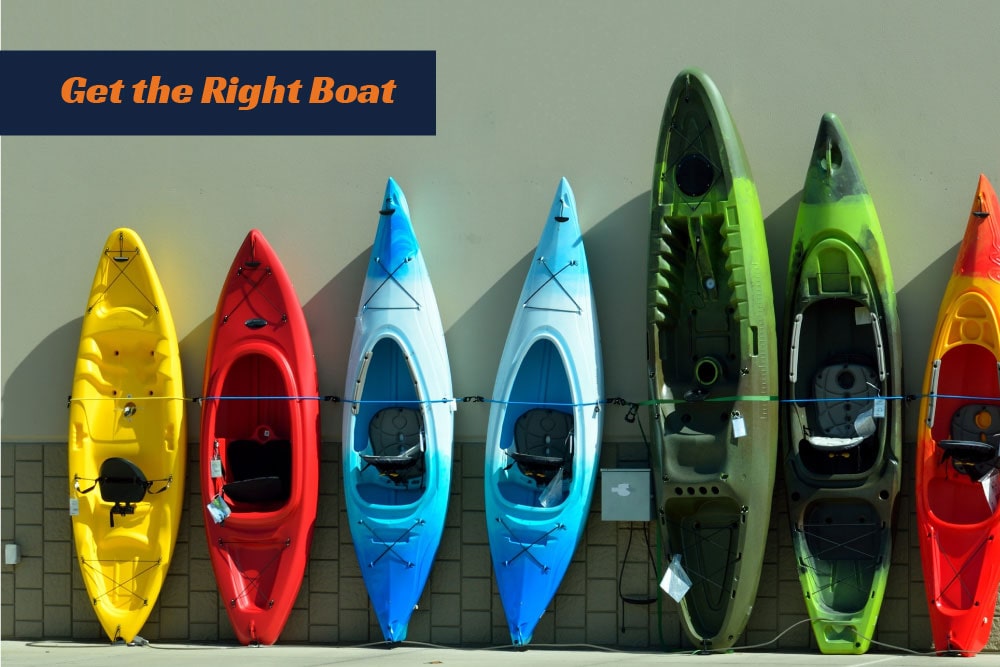 Gather Your Supplies
Choosing a kayak is only part of the preparations you'll need to make for a smooth and enjoyable journey. You will also need to have all the right supplies on board or close by, including:
Personal flotation device
Headlamp
Signaling whistle
Towline
Paddling knife
Dry bag
Water
Snacks
Personal flotation devices are required by law in many places for kayakers and boaters. There are personal flotation devices designed specifically for kayaking to make your outings safer and more comfortable, which is key if you'll be out on the water for long periods of time. If you are unsure about what kind of flotation device to get, ask a professional to help you choose the right one.
A headlamp and a signaling whistle are items that you'll want to have for safety purposes. If you are planning to be out kayaking early in the day or later in the evening, it is a good idea to go out with a headlamp to see more easily and make yourself more visible to other people out boating. A headlamp is also useful even during the day if you plan to go kayaking in places with more boat traffic. A whistle is also a good idea for safety. Having a whistle with you makes it easy to send a distress signal to others if you get into trouble. A paddling knife is another useful aid that doubles as a safety item and a practical tool. A paddling knife comes in handy if you need to cut a rope when you are boating. If you happen to get stuck on the water and need a ride to shore, a towline will come in handy to help out.
Along with the other gear you bring along, don't forget to pack the items you need for the day to stay fueled and hydrated. You should take healthy snacks such as fruit, nuts, and granola bars. It is a good idea to avoid perishables, as they will likely go bad if you are out paddling for several hours at a time.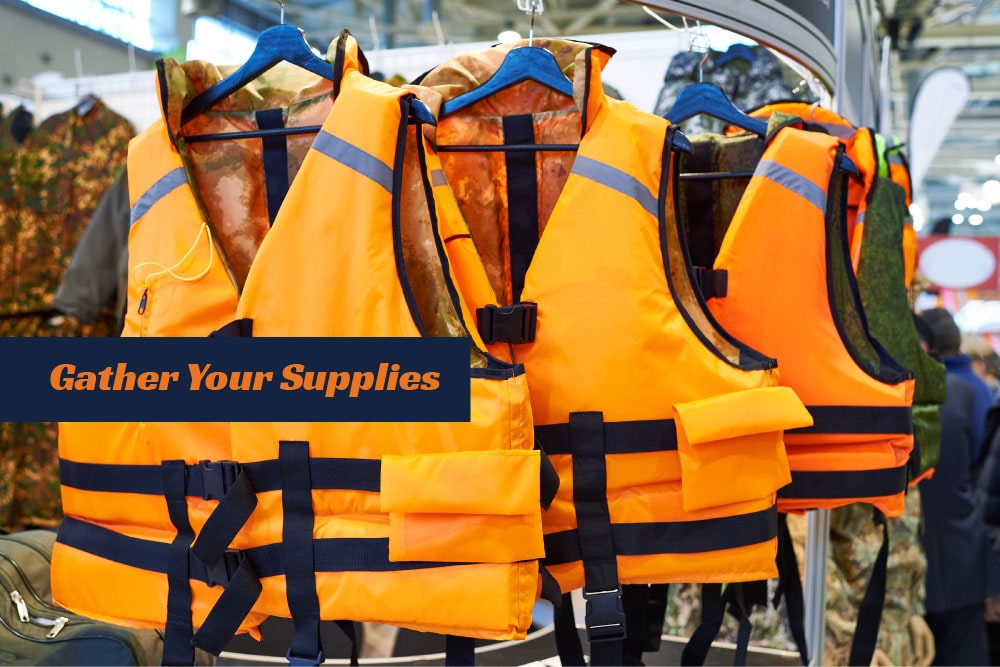 Storage
Storage will also be important when you are kayaking. You should find a way to store your items so that they stay dry and protected while you are kayaking. A dry bag is a good tool to keep all your kayaking equipment and gear organized and within close reach. Additionally, a dry bag will protect any valuables and electronics that you bring along. While you won't need to keep your personal items in storage off the water, you will still want to have a place to stash all of your kayaking gear. Having a storage container at home makes it easy to locate all your kayaking equipment when needed.
Choose the Right Clothes
Having the right clothing is critical for a fun kayaking trip. A good rule of thumb is to dress in layers. If kayaking tours top the list of options in your mind for cool things to do in Vegas, you'll want to go prepared for a fun day. Be sure to wear or pack a lightweight jacket, along with gloves and waterproof shoes. Wearing a hat and sunscreen is also recommended. If you plan to stop and swim at all, bring or wear a bathing suit and a change of clothing.
Go With a Group
If you are looking for things to do outdoors in Las Vegas with like-minded people, kayaking with a group is a great option. Choosing a group with similar experience levels is the best way to ensure a fun and enjoyable group activity.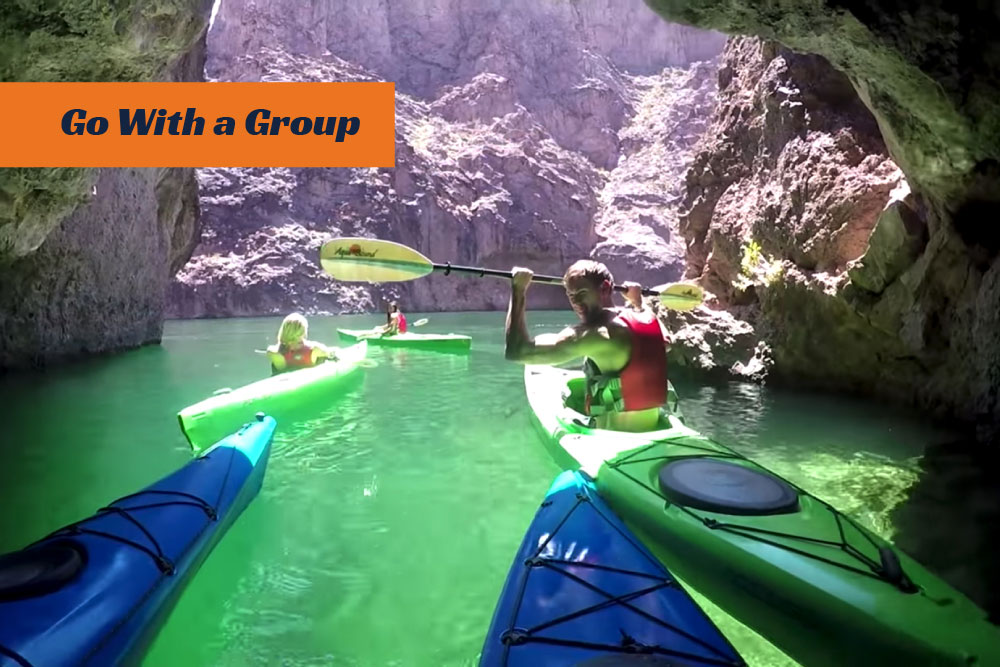 If you're wondering, "where do I kayak near me in Vegas?", contact Blazin' Paddles. You can learn more about kayaking opportunities and fun things to do in Las Vegas by contacting us today.