Escape the Office and City! How a Black Canyon Kayak Tour Can Help You Reduce Stress
Posted on:
June 13th, 2017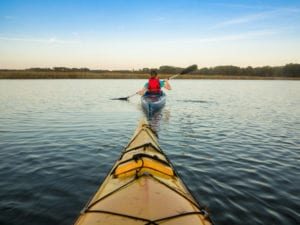 We're sure we don't have to remind you how stressful 21st-century life can be: from the usual workday challenges to the relentless emails and social media notifications burning up our smartphones around the clock. So many of us are overworked and overstimulated, and the jam-packed routine of our daily lives keeping us in a constant state of low-grade anxiety.
If that's hitting close to home for you, it's time you considered a relaxing paddle trip through the Black Canyon of the Colorado River. An unforgettable Black Canyon kayak tour can go a long way towards easing down your stress levels and providing a welcome respite from the noise and strain of the workaday world.
Leisurely Paddling
A Black Canyon kayak tour with Blazin' Paddles immerses you in some of the Southwest's most awesome scenery. Despite the ruggedness of the sheer gorge, the actual kayaking is laidback and relaxed. The focus here is on sightseeing and enjoying the tranquil tempo along this legendary reach of river.
That river tempo is a magical thing: the deep lull of slow-rolling waters, the whole tapestry of giant rock walls, and the blazing Western sky unspooling at a gentle pace. If you've never paddled before—and we welcome any and all newbies on our kayak tours—it's an incredible thing to experience. Actually, it's incredible every time. Paddling a kayak through one of America's great canyons doesn't get old, believe us.
As our knowledgeable guides point out striking cliffs, surefooted bighorn sheep, and other attractions, you'll be focused—blissfully—on the here and now, not on your nagging to-do list back home or the chaos of the headlines.
Escape to the Black Canyon
Whether you're embarking on a half-day or full-day Black Canyon kayak tour with us, expect the kind of rejuvenation that only comes with a journey into wilderness. Get in touch with us today and select the Colorado River kayak tour that fits your schedule and your needs—we can't wait to give you a little Black Canyon detox from the every stress of the office and city!