Nevada Kayaking Tours in the Summer vs. the Winter
Posted on:
June 8th, 2017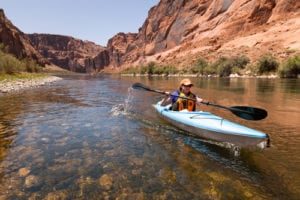 When you're in Nevada, kayaking is the perfect outside activity, whether it's the summer or the winter. Joining a kayaking tour is one of the best ways to enjoy the relaxing beauty the surrounding environment has to offer during different seasons. One of the best places to enjoy a kayaking tour, visit unique sites, and experience nature for the day is Black Canyon in the Lake Mead area.
The winter weather in Nevada isn't too chilly for kayaking, but a thinner crowd provides more privacy and freedom for exploring the waters. Kayaking in the winter is a great way to relax and see unique wildlife when you're staying near Las Vegas. Local water trails like Black Canyon provide a majestic view of the natural environment along the shoreline. For a memorable experience unlike any other, winter kayaking in Las Vegas is the way to go.
Black Canyon is a National Water Trail at the Lower Colorado River that's a popular destination for taking Las Vegas kayaking tours. This is the first water trail to flow through a desert and the first nationally recognized water trail established in the Southwest U.S. This particular water system stretches from the Hoover Dam to Willow Beach in Arizona. There are a number of historical and unique sites located along the Black Canyon
After launching from the Hoover Dam, the cliff views nearby provide a 55-degree vantage point through the clear waters approximately 30 feet below. The hot spring pools along the way provide naturally heated 100-degree water for you to relax in. Some of the wildlife you're likely to see at Black Canyon includes rattlesnakes, bald eagles, and bighorn sheep. Emerald Cave is another awesome site in Black Canyon worth exploring as well.
Whether you set out for the morning, the entire day or an evening paddle, Las Vegas kayaking is one the best ways to enjoy Mother Nature in the Southwest. Regardless of your age or the season, kayaking in Las Vegas is one of the best activities around. Book a tour online with Blazin' Paddles today!