Safety Tips for Kayaking the Black Canyon Water Trail System
Posted on:
June 16th, 2017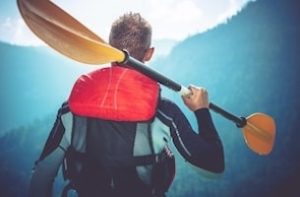 Safety is always a priority when you reserve water times for a Black Canyon kayak trip. Keeping this in mind, there are a few things that you should be aware of before the day of your trip.
Listen to Instructions
Before you begin your trip, you will be given a short briefing on safety and paddling instruction. Pay close attention and be sure to ask questions if you are confused about anything. The time to clear up concerns is on the ground and not the water. Once you hit the water, there should be all smiles and fun.
Wearing Lifejackets
The National Park Ranger Service enforces laws that require the use of lifejackets. Before climbing into your kayak, you will need to put on a lifejacket and leave it on at all times when you are in the water. Those who choose to ignore the law could be faced with hefty fines.
Understanding the Water
The water along the Colorado River is flat and constantly moving but without whitewater. Depending on wind conditions and weather, you may experience slightly choppy waters at times. There may also be currents and other hidden obstacles, all of which the guides are trained and prepared for. Whether you are a first-timer or a seasoned paddler, you should have no problem navigating through the canyon.
Animal Encounters
You may occasionally come in contact with wildlife on your trip. Never approach an animal and don't be tempted to approach the animal for a close-up shot with your camera. Maintain your distance, and invest in a good pair of binoculars or a good camera lens and a watertight case.
Flipping Your Kayak
Flipping is extremely rare but can happen. Guides are fully trained to assist you in righting your kayak and getting you back in your boat. If you are concerned, watch a few videos to get a good idea on how to help yourself in the event you flip, or opt for a two-seater kayak, which is much harder to flip.
A Black Canyon kayak trip is a fun adventure for all skill levels. Act today and book one of our half-day or daylong trips online.