Beat the Heat: Best Places to Swim Around Las Vegas
Posted on:
November 20th, 2021
Summers in Las Vegas can be scorching, with average daytime temperatures often exceeding 100°F. Naturally, when temperatures hit the triple digits on the thermometer, you'll be seeking a way to cool off and beat the heat. Swimming, of course, is at the top of your Las Vegas activities list. Given its desert location, you may not think of Las Vegas as a place that offers many swimming opportunities. However, you'll be surprised at all the great swim spots close to and within the city! If you're looking for relief from the sun's relentless rays, check out these top swim spots in Las Vegas.
Emerald Cave
When you sign up for a Black Canyon kayaking tour with Blazin' Paddles, you'll be delighted to know that in addition to a day of boating on the scenic Colorado River, there's even more in store! On a hot summer day, your Colorado River kayaking expedition can also include a stop at Emerald Cave for a chance to enjoy a beautiful and quiet swimming spot. With its dazzling hues of blue and green, Emerald Cove looks like a swimming sanctuary in the Caribbean. Don't forget to bring along your camera, as you'll want to take photos of this picturesque natural swimming spot on the Colorado River.
Lake Mead
Another great spot to cool off and enjoy the area's natural beauty while you're in Las Vegas is a stop at Lake Mead. Lake Mead is a popular recreation area with water-based activities of various kinds. Along with stopping for a swim at Lake Mead, you can also participate in a variety of water sports such as kayaking, other types of boating, tubing, and water skiing. Lake Mead is relatively deep, making it a prime freshwater scuba diving destination for residents and visitors in Las Vegas. Lake Mead is located about 30 miles away from Las Vegas, making it an easily accessible destination if you're looking for a quick escape from the city.
Sparks Marina Lake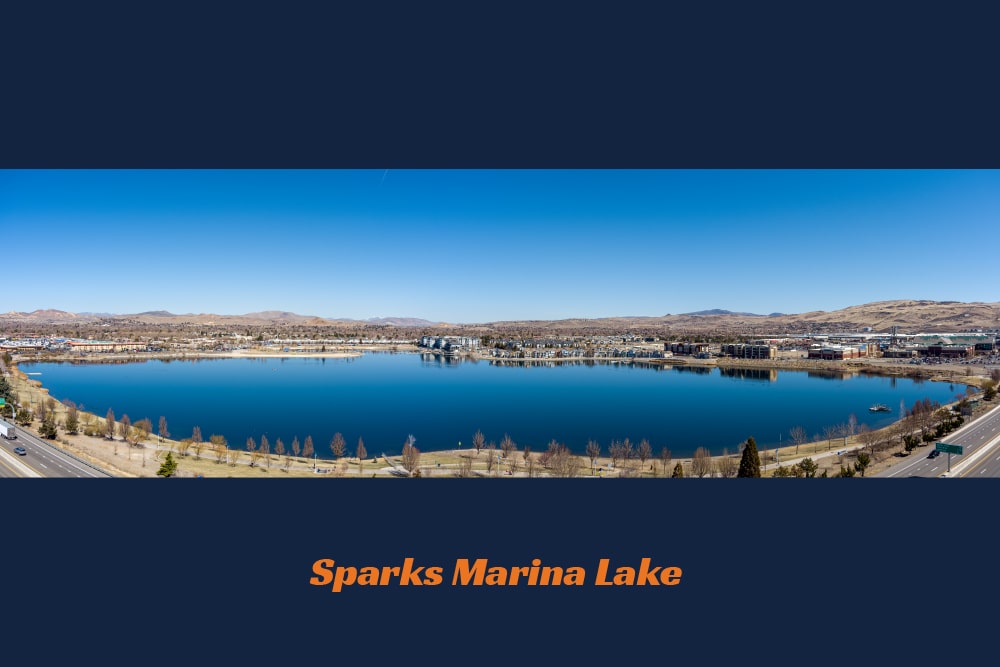 With its calm, tranquil waters, designated swimming area, and lifeguards on duty, Sparks Marina Lake is one of the most popular places to swim in the Las Vegas region. Sparks Marina Lake also has sandy shores that make it an appealing destination for a picnic lunch or a day of tanning in the sun. In case you want to enjoy other activities by the water, Sparks Marina Lake has options for that, too. The lake has designated areas for other popular aquatic activities, including fishing and boating with non-power boats. Walking trails meander alongside the lakefront if you're looking for a nice pre-swim or post-swim stroll.
McGill Pool
Within close reach of Las Vegas is another popular and easily accessible swimming spot called McGill Pool. McGill Pool is a spring-fed pool that contains a sandy beach in addition to pure spring water. McGill is an especially attractive spot for families with children, as it has a slide and several diving boards. The pool also has calm waters that are appealing for parents looking for safe spots where their children can swim beside the Colorado River Las Vegas.
Truckee River Whitewater Park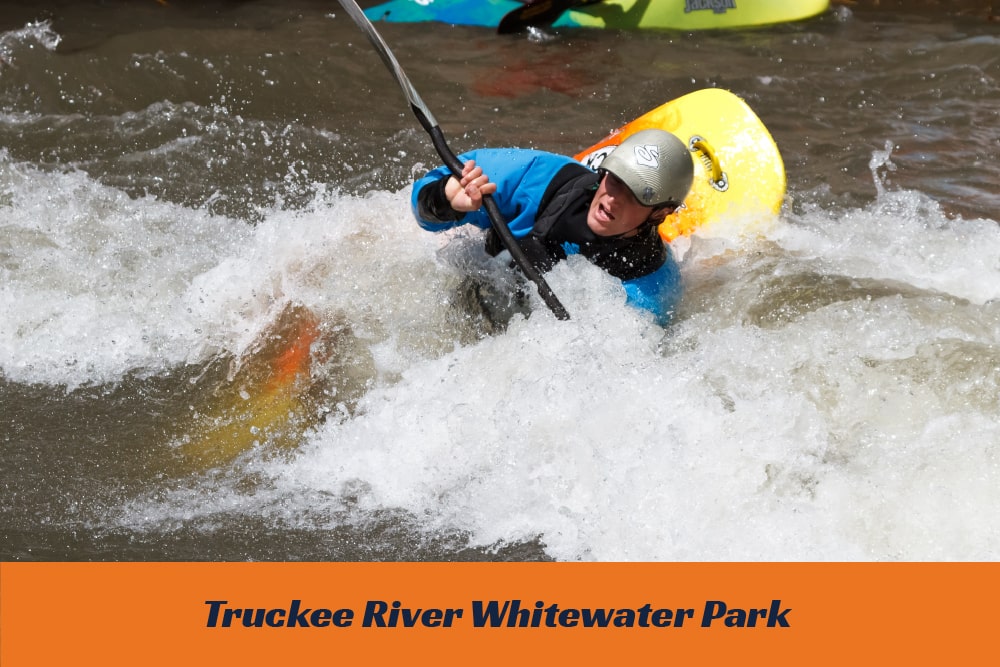 If you are looking for a place to swim that is more of an adrenaline-pumping experience, the Truckee River Whitewater Park is a perfect place to go. This whitewater park offers the chance to cool off and enjoy some heart-pumping activities at the same time. The Truckee River Whitewater Park provides fun for all ages with its astonishing total of 11 pools. The pools at the park offer many options for water activities that include canoeing, kayaking, tubing, and rafting. You can also spend your time relaxing and lounging at the water park's traditional pools.
Mandalay Bay Beach
If you want a place to swim close to other Las Vegas activities, Mandalay Bay Beach is a prime place to go. The Mandalay Bay Beach is a man-made beach located at the Mandalay Bay Resort and Casino. The beach contains a series of swimming pools that are designed for various activities. Several key attractions at the Mandalay Bay Beach Resort are the lazy river and the wave pool that simulates ocean waves. Mandalay Bay Beach has trained lifeguards on duty to ensure everyone has fun while staying safe at the same time. Another advantage of going swimming at Mandalay Bay Beach is that it's easy to enjoy all the other perks that the resort offers when you're done, including visiting the casino.
Mirage Pool
Another place to swim in Las Vegas is the Mirage Hotel and Casino. The Mirage Hotel is conveniently located on the Las Vegas Strip, which makes it a great place to cool off if you have other plans in the city for the day. The Mirage Pool is designed to look like a large lagoon, and it has designated swimming spots for adults and children. One advantage of the Mirage Pool is that it is heated, which makes it a popular designation for swimming in Las Vegas throughout the year. As with Mandalay Bay Beach, the Mirage Pool is also adjacent to a casino, which means you can try your luck gambling and enjoy other hotel amenities when you are finished swimming.
Cave Lake State Park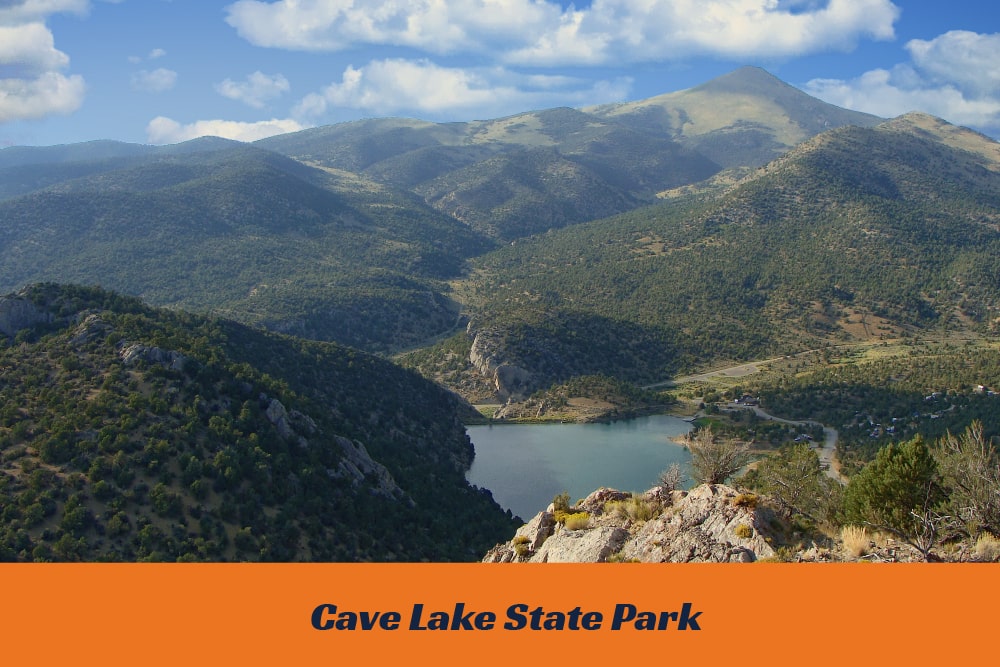 Suppose you are looking for a place where you can swim and perhaps enjoy other water-based recreational activities in a quieter and more natural setting, head over to Cave Lake State Park. The park includes a 32-acre reservoir that has brilliant blue waters and invites an assortment of outdoor activities. Cave Lake State Park offers swimming in the reservoir and various other activities, including fishing and recreational boating. With its calm waters, Cave Lake State Park is a perfect place to kayak Las Vegas if you are preparing for a longer Black Canyon kayaking or Colorado River kayaking tour.
Caesars Palace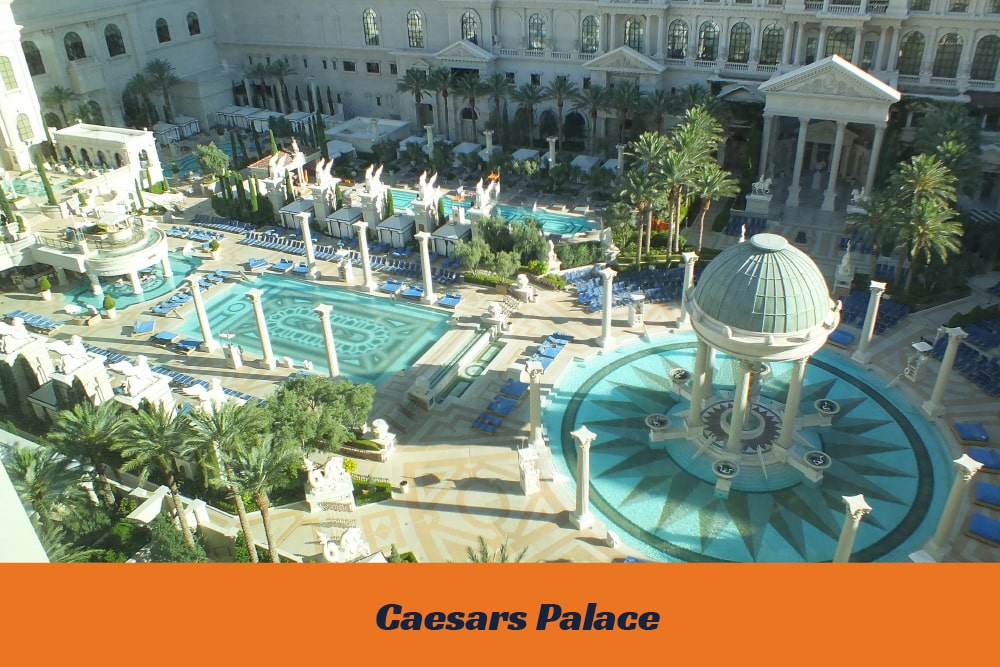 Caesars Palace is a must-visit destination if you're looking for an excellent place to beat the heat. Caesars Palace contains seven pools, including the famous Bacchus Pool reserved for celebrities and the elite. While you may not be able to get into Bacchus, you can enjoy swimming at the other pools while hoping for a celebrity sighting. Although some swimming pools in Las Vegas are located next to casinos, Caesars Palace has a swim-up table at Fortuna Pool. Many other pools at the Palace have themes as well. For instance, if you're after a massage, you can visit the Book Qua Bath & Spa that has a poolside massage table for the ultimate relaxing experience.
First Creek
First Creek is a beautiful and popular swimming hole located in Red Rock Canyon. Visiting First Creek is a great way to cool off while enjoying one of the most spectacular natural areas in the Las Vegas region. First Creek is an easy trail in Red Rock Canyon, making it a good choice if you are planning to visit on a hot summer day. The trail ends with a waterfall that has a peaceful swimming area at the base. The waterfall pool is generally highest in the spring following the winter's snow melt.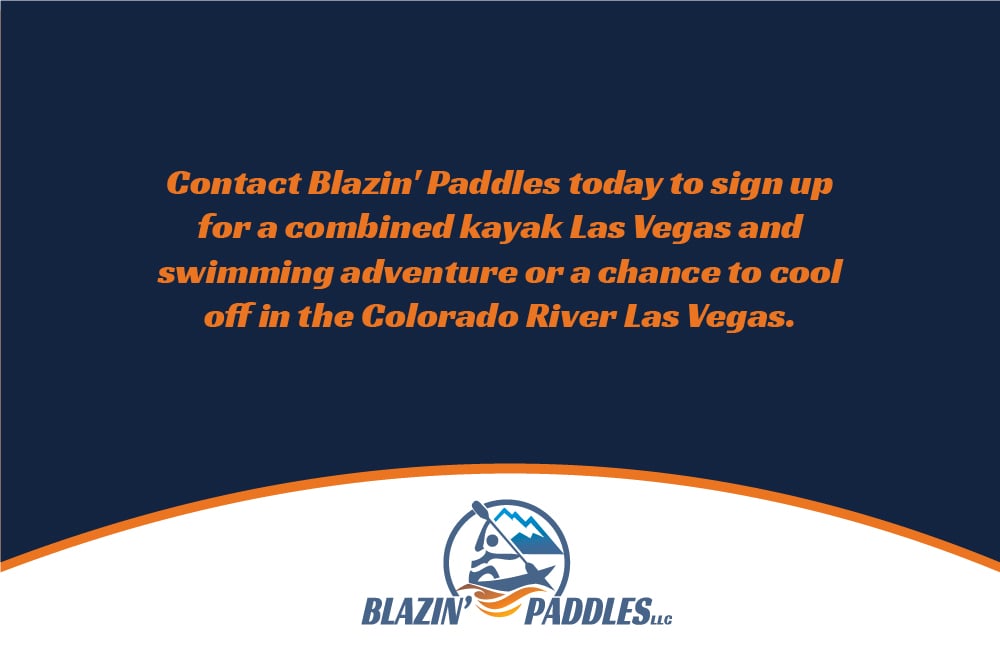 Although Las Vegas may be situated in a desert, it contains many great swimming spots that range from peaceful and natural to action-packed. Contact Blazin' Paddles today to sign up for a combined kayak Las Vegas and swimming adventure or a chance to cool off in the Colorado River Las Vegas.