Anti-Tour of Las Vegas
Posted on:
July 25th, 2019
Written By: Burton Miller (Blazin' Paddles Tour Guide)
Las Vegas draws people from all around the world, and many are repeat visitors. After a couple of visits, some tourists feel ready to break out of the Strip and venture out. That's where the anti-tour comes in. An anti-tour is about seeing another side of a city than the main tourist attractions: places where locals like to eat, shop, and spend their free time. Here are some great spots to check out if you've done the Strip and need a change!
Arts District
Take a walk down South Main Street in the Arts District and you'll wonder if you're even in the same Las Vegas as your hotel. The businesses here are mostly locally owned and offer unique shopping and dining. Pop into Retro Vegas for fun vintage items and local nostalgia, or try a cocktail at the reggae inspired Jammyland. If reptiles in formaldehyde are more your scene, then don't miss Las Vegas Oddities!

Clark County Museum
Step back in time at the Clark County Museum in Henderson and learn some authentic history of Southern Nevada. Boulder City was originally a government town for Hoover Dam and Henderson was a company town for Basic Magnesium, which meant that housing was provided to the workers. The Clark County Museum has preserved and restored a handful of these delightful cottage homes from the 1930's and 1940's. Admission is only $2 for adults.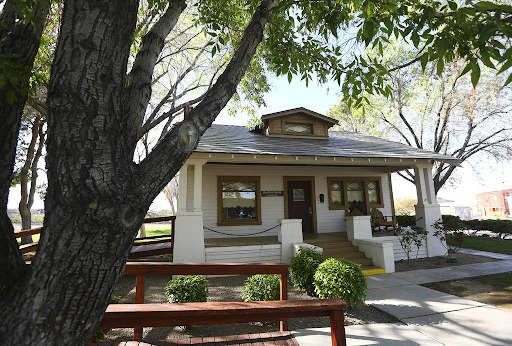 Chinatown/Koreatown
Less than two miles off the strip is the long-standing Chinatown Plaza. With over 15 restaurants to choose from including korean barbecue, seafood, and bakeries, there is something for everyone at this great Strip alternative.

Fergusons Market in the Alley
On the third Saturday of each month, Ferguson's Downtown hosts the Market in the Alley, which is a collection of unique sales booths from local artisans. There is jewelry, vintage clothing, handmade pottery, coffee, art prints and more. It's the perfect way to spend an afternoon! As a bonus, check out some of the downtown murals while you're there.

Lake Las Vegas
Tucked away in the foothills along the Las Vegas Wash, Lake Las Vegas has become a tiny escape for locals. It's only about 30 minutes from the Strip but feels like a world away with lush trees and gardens, cobblestone walkways between restaurants and even a small sandy beach with boat rentals and an aquapark. Saturday nights during the summer and fall there is free live music beneath the stars. It's also the filming site of America's Sweethearts starring Julia Roberts!