What You May See When Visiting Black Canyon
Posted on:
March 16th, 2022
Even if you are signing up for a kayak tour of the Black Canyon, you'll get to experience much more than that if you book a trip with Blazin' Paddles. The Black Canyon covers 12 miles, but it is part of the Gunnison National Park, covering nearly 50 miles. Although Black Canyon kayaking may be the main attraction, there are still many activities that you can enjoy in and around the Black Canyon.
Hoover Dam
The Hoover Dam is one of the most impressive and iconic landmarks near Las Vegas. The Hoover Dam was constructed in the 1930s, and it remains one of the most frequently visited Black Canyon areas. With a Black Canyon Hoover Dam kayak tour, you'll get to see the Hoover Dam up close and personal.
South Rim
As the name suggests, the South Rim is the southernmost part of Gunnison National Park. The South Rim has various options for everyone, including shorter hikes and many places where you can pull over for photo ops. If you're seeking more of an adventure, you can rock climb, fish, and hike as well in the South Rim. You can also drive around the South Rim if you don't feel like getting out of the car and walking around. There is a seven-mile drive along the South Rim, which has a dozen overlooks that you can stop at to take photos or test your fear of heights. Short trails are part of the overlooks, and they are relatively easy to walk around. Individuals who are short on time can check out many other attractions in the South Rim, including Painted Wall, Sunset View, and Pulpit Rock. All are equally majestic. The Inner Canyon, near the South Rim, is also a spectacular place to explore. The Inner Canyon does not have any marked or even maintained trails, so it can be difficult to find your way if you are not familiar with the area.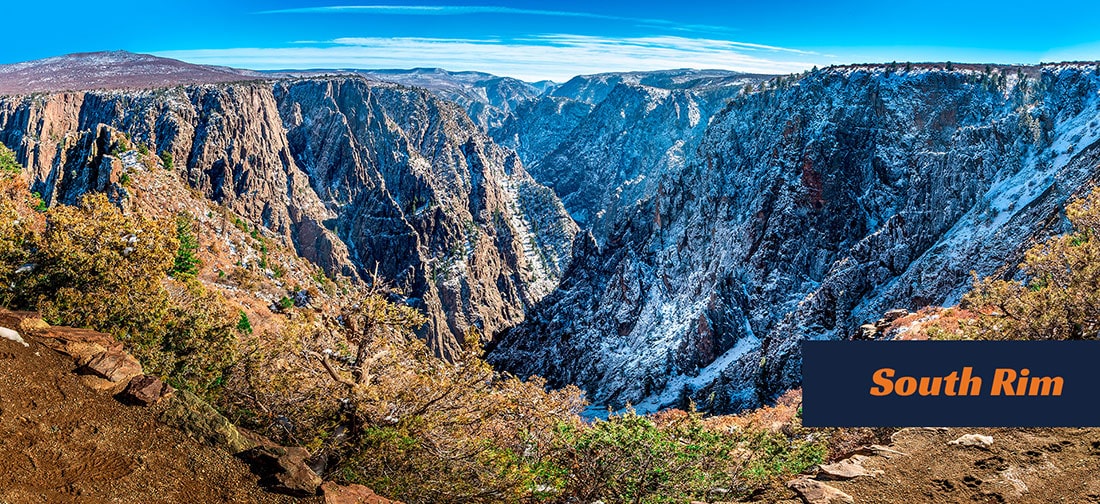 East Portal Road
East Portal Road is a scenic but highly technical road. East Portal Road is a steep road with grades over 15%. East Portal Road has hairpin turns that require you to drive slowly and carefully. Because of the technical nature of the road, vehicles longer than 22 feet are not allowed.
Burro Wash Road
Burro Wash Road can be reached from Boulder City. Parts of the road are dirt, so you'll want to make sure that you have a car that can handle the terrain before you set off for the day. When you get a few miles down the road, you'll reach a gate that goes east and culminates with a chain-link fence. The road eventually leads to the Lake Mead National Recreation Area boundary, which you'll be able to distinguish from fences and signs. Most of the road can be driven with a two-wheel drive vehicle, but you may need a four-wheel drive vehicle to drive on other parts of the road. No matter where you drive on Burro Wash Road, you can look forward to spectacular scenery, including desert vegetation and wildlife.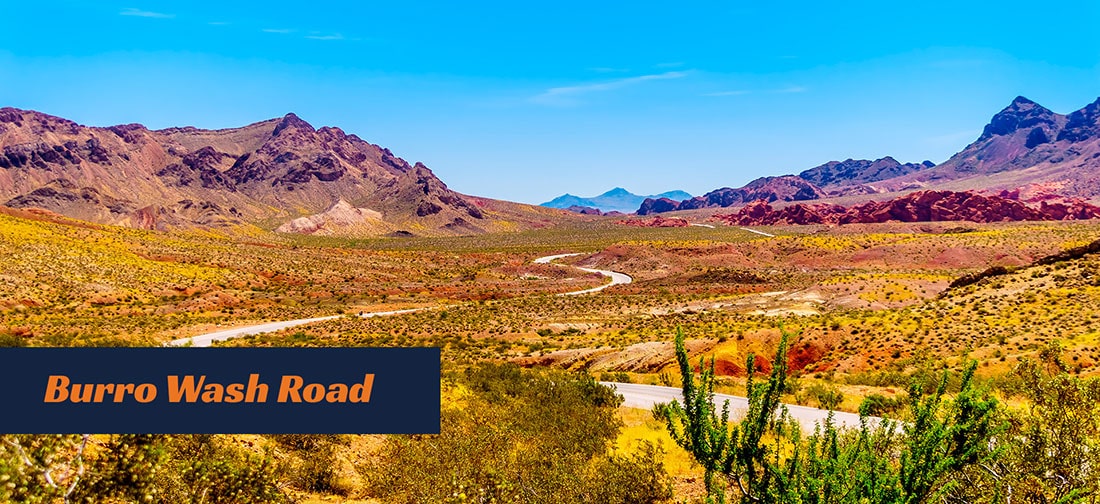 Geography and Terrain
When you go to the Black Canyon, you'll get to enjoy incredible scenery and geography all around. One of the most spectacular natural sights in the area is the El Dorado Mountain Range, one of the most iconic areas of the wilderness area. The mountains are unique because you'll find different landscapes along either side of the range. To the western side of the mountain range, the geography is characterized by gently rolling hills created from basalt and volcanic ash. The hills curve gently upwards, and they are dotted with red-brown boulders. Cliffs, canyons, and volcanic peaks are all part of the terrain.
Habitat
There are many different habitats in the region, which means that there are many kinds of wildlife and diverse vegetation. Some of the most common vegetation types are creosote bush, Mojave Desert Scrub, and white bursage. Other types of desert shrubs are also common, and there are a variety of cacti as well. West of the mountain range, the vegetation becomes much more sparse. Aside from the species mentioned previously, bromegrass also lives in the area. Several types of cholla also exist in the mountains, including buckhorn and teddybear. Other plant species that you might find in the area are catclaw acacia and saltcedar.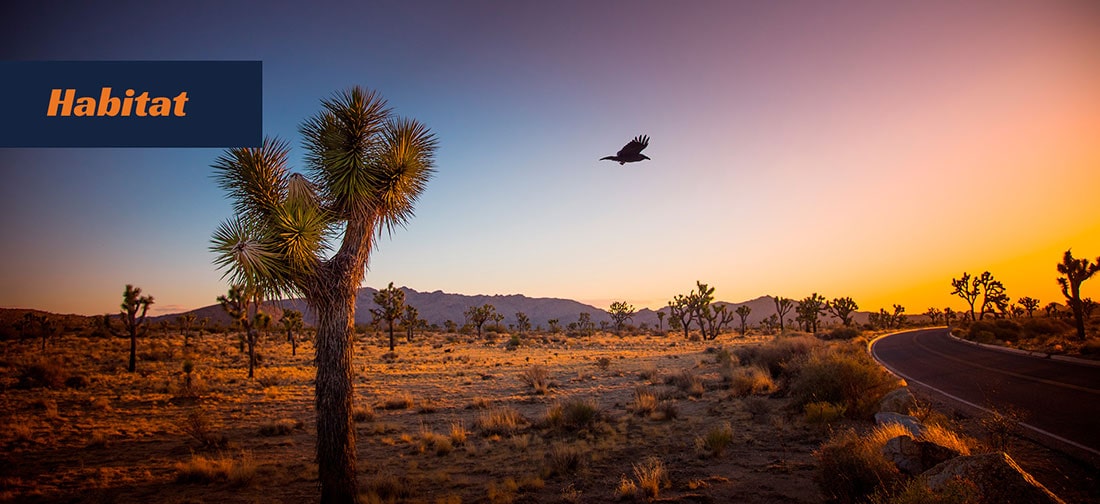 Wildlife
While many people might not think of the desert as having much wildlife, that is not the case with the Black Canyon. Many species call the desert home, ranging from mammals like Bighorn Sheep to lizards and birds. Desert Bighorn are the most common type of sheep in the area. They are also known for creating foot trails visible on some hillsides. You may spot several other wildlife in the vicinity as well, including coyotes, mountain lions, bobcats, and black-tailed jackrabbits. Many birds call the area around the Colorado River home, including Canyon wrens, Rock wrens, various quail species, and Red-Tailed hawks. Water birds are also common along the river, including Common Loons, American coots, Black Phoebes, Double-Crested Cormorants, and other migratory species. You can often spot many kinds of reptiles as well, including collared lizards, banded geckos, side-blotched lizards, desert spiny lizards, zebra-tailed lizards, and tree lizards. Snakes are also common in the Black Canyon area, including rattlesnakes. Desert tortoise range over approximately 2,700 acres of land. When you are on the Colorado River in Las Vegas, be sure to bring your camera and keep your eyes peeled for diverse wildlife.
Emerald Cave
Emerald Cave is one of the most attractive natural sights along the Colorado River, and it's one of the most popular destinations for those who want to kayak in Las Vegas. Emerald Cave is a small but majestic cave along the Colorado River. It has stunning green waters and is a destination for those who want to experience the magic of a quiet, small, and secluded cave. If you are planning to visit Emerald Cave, it is best to go with a guide, as an experienced guide will tell you when the best time is to visit.
Sauna Cave
While there are several hot springs in the Black Canyon area, the Sauna Cave is one of the few that is man-made. The Sauna Cave functions much like a steam room, and it is ideal for visiting during the cooler months of the year. The Sauna Cave is a bit hard to access, and you'll have to crawl your way through the cave to reach the sauna. However, you'll find that the effort is well worth it once you do.
Hot Springs
The Nevada Hot Springs are another great place to go if you're looking for a soak in warm waters while kayaking in Vegas. The Nevada Hot Springs have temperatures that range from 85°F to 105°F. It's easy to reach the Nevada Hot Springs by the road, which means that it tends to draw larger groups of people. The Arizona Hot Springs are also popular. The Arizona Hot Springs are a series of hot springs. A highlight of the hot springs is the springs are accessible by climbing a 20-foot ladder, installed courtesy of the National Park Service.
If you are looking for the ultimate Black Canyon kayaking adventure, don't hesitate to contact Blazin' Paddles for advice and recommendations on kayaking excursions based on your skills, comfort level, and preferences, including a Black Canyon Hoover Dam kayak tour.