Top Things to Do at the Hoover Dam
Posted on:
November 1st, 2017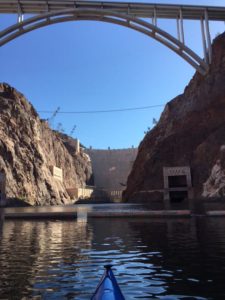 A visit to the Hoover Dam is an experience that you never forget. On top of learning more about the rich history of the dam, you can also plan experiences such as Hoover dam kayak tours that let you truly experience the natural beauty of Nevada. As you get ready for your trip to the Hoover Dam, consider adding these experiences to your itinerary that will change your perspective on what it means to visit Las Vegas.
Visit the Mike O'Callaghan–Pat Tillman Memorial Bridge
Sitting at 900 feet above the Colorado River, this bridge has earned the distinction of being the second highest in the United States. It is also the first bridge in the U.S. to be built using a concrete-steel composite arch design. As you enjoy your trip over this bridge, you are treated to breathtaking views of the Colorado River and Hoover Dam, so make sure to bring your camera.
Take a Kayak Tour Through the Colorado River
Hoover dam kayak tours allow you to hit several major sites along the Colorado River. From the moment that you launch your kayak into the water at the base of the Hoover Dam until you enjoy your final stop at Willow Beach, your guide will point out numerous historical artifacts as you keep an eye out for Nevada wildlife such as bighorn sheep grazing along the side of the river.
Tour the Hoover Dam
There are several different tours that you can take of the Hoover Dam that are open to the public, but it's best to plan ahead because the availability fills up fast. During your tour, you can enjoy films and photo displays that explain more about the process of building the dam. You can also step out onto the observation deck and take in views of Lake Mead and the Colorado River.
Enjoy a Hike Through a Desert Landscape
There are two maintained hiking trails that are located near the Hoover Dam, and these are the Historic Railroad Tunnel Trail and the River Mountains Loop Trail. Both provide spectacular opportunities to spot wildlife such as owls and bighorn sheep.
Blazin' Paddles offers kayak tours that give you an up-close view of the Hoover Dam so schedule your adventure online today!