Top 4 Things to Do Around Lake Mead
Posted on:
August 23rd, 2017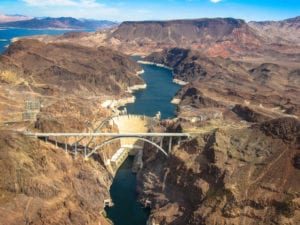 As one of the largest man-made reservoirs in the United States, Lake Mead is a beautiful recreation area that is perfect for fishing, swimming, kayaking, and simply sunbathing. When planning your vacation getaway, consider these popular activities to make your stay complete.
Visit the Hoover Dam
Consider going on one of the power plant tours which offers a guided explanation of how it works and how it benefits the surrounding area. However, to really see and appreciate the Hoover Dam, consider one of our Black Canyon kayaking tours that launches from the base of the Hoover Dam.
Go Hiking in the Lake Mead National Recreational Area
Hiking in the Lake Mead Recreational Area is an amazing way to see the beautiful southwest desert. You can choose a guided ranger hike or opt to explore on your own with family or a friend. Along the trail, you'll encounter a wide range of animals, including antelope ground squirrels, bighorn sheep, and snakes. The weather can often be unpredictable, so be sure to come prepared, and you should also carry plenty of water with you along your journey.
Mike O'Callaghan-Pat Tillman Memorial Bridge
One of the points of interest along the Black Canyon is the Mike O'Callaghan-Pat Tillman Memorial Bridge. Located in the Lake Mead Recreational Area, this bridge is one of the first concrete and steel arch bridges in the United States. For views of the canyon from a different perspective, walk across the pedestrian walkway that overlooks the Hoover Dam. Be sure to bring your camera for pictures.
Kayak the Black Canyon
No trip to Lake Mead is complete without a trip down the Black Canyon River Trail by kayak. Filled with beauty, the Black Canyon offers natural warm springs, caves, an excellent view of wildlife, and the thrill of a lifetime. If you feel like you are ready for a fun and relaxing adventure, schedule a Black Canyon kayaking tour with Blazin' Paddles. This trip is ideal for all ages and skill levels, and you can choose from half-day to day-long excursions.