How to Prepare for a Kayak Tour
Posted on:
April 19th, 2017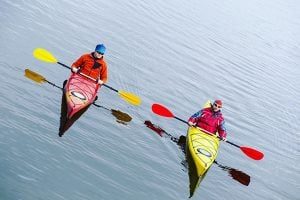 Adequate preparation is the best way to ensure you will get the most out of your kayak trip. While knowing what gear to bring when kayaking the Colorado River can vary depending on the type of tour you select, there are several mainstay items that you should make sure you have.
Choosing Your Clothing
Summertime in Nevada is hot. Temperatures can reach over 100 degrees Fahrenheit quickly during the day, so you should choose thin, breathable clothing that won't weigh you down. Synthetic nylon tends to dry faster than cotton and will help keep you comfortable. Also, opt for lighter colors as opposed to darker ones. If the forecast calls for rain, you may want to pack a raincoat, and on cooler days it's a good idea to bring a jacket or wear layers that you can remove as the day heats up. A beach towel is a useful item to stow in your pack. Also, if you plan on doing anything after your trip, you may want to carry along a change of clothing in your vehicle. Additional items may include a hat, sunglasses and sunscreen.
Electronics
It's perfectly acceptable to keep your camera or cell phone with you when you travel; however, keep in mind they will likely get wet. A waterproof case or bag will be handy. It's also not a bad idea to use a short lanyard or strap attached to your wrist. Such a device will help prevent loss and accidents.
Snacks
Snacks are provided during the tours, but you may want to bring additional items depending on your diet and whether or not you are worried you will get hungry. However, it's best to pack light to avoid weighing down your kayak, which can throw your center of balance off and make it harder to steer correctly.
Wearing Shoes
There are times your feet will get wet, and you will likely step on sharp or slippery rocks. Wear adequate shoes on your excursion like an old pair of tennis shoes or water shoes. Do not wear footwear you are afraid of ruining, and do not wear flip flops as these can easily be lost in the water.
Kayaking the Colorado River is sure to bring lots of memories for you and your group. With warm weather approaching, it's time to book your tour with Blazin' Paddles and start your adventure.