Kayaking Safety Tips
Posted on:
June 20th, 2022
Kayaking in Vegas can be a fun, exhilarating, and once-in-a-lifetime experience. In order to make sure you have a day of enjoyment out on the water, you'll want to keep some safety precautions and measures in mind when you are out paddling. Some kayaking safety requires having the proper safety equipment on the boat, but you will also need to know how to react if you encounter certain situations, such as capsizing. While the guides on the Las Vegas kayak tours that you sign up for are knowledgeable in kayaking safety, you should also learn some safety basics.
Before you Leave
Before heading out on your Las Vegas kayak expedition, you'll want to prepare for safety. Tell someone about your kayaking plans, including where you are going, what route you'll be boating, and when you expect to be back. If you can't make it back to your initially intended take-out point or encounter a problem, find another place to take your boat out of the water.
Even though Las Vegas has a desert climate, the local weather conditions can still vary considerably. Keep an eye on the weather forecast to see what the forecast looks like for the day. Temperatures can vary significantly between night and day. Rain can also suddenly appear, even if there doesn't seem to be any in the forecast. It's a good idea to take a waterproof weather radio with you to be aware of any changes to the forecast. Even if you think you will be paddling in warm and sunny conditions, be sure to pack extra layers and bring a change of clothes in case yours get wet. You'll want to wear waterproof footwear and bring a hat and sunglasses for sun protection. Avoid wearing cotton, which won't dry as quickly as other materials. Wear bright-colored clothing for visibility, especially if you are going to be out kayaking early in the morning or later in the evening, and if you plan to go kayaking in a place with heavy boat traffic or motorized boats.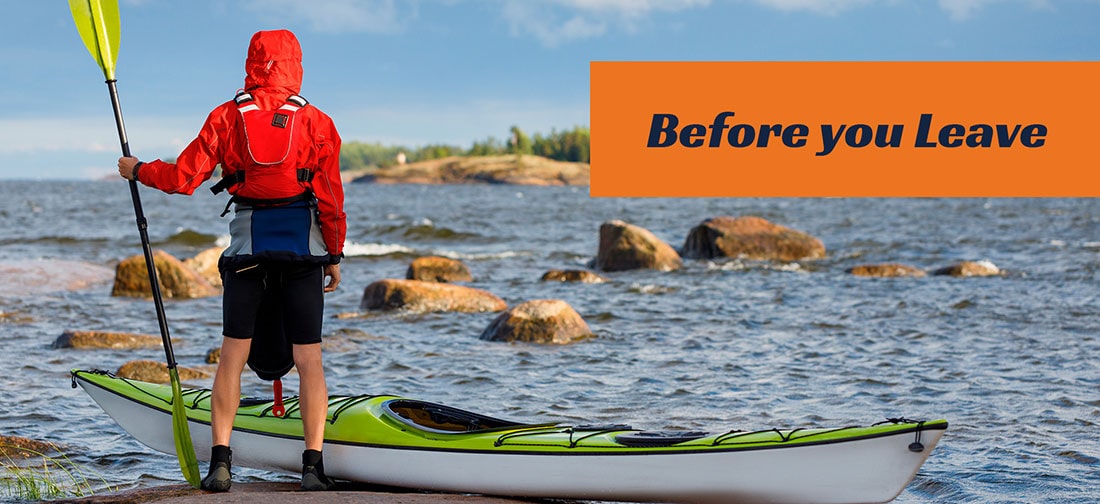 What Safety Equipment Should I Bring?
Kayakers often want to know what safety gear they should bring with them on the boat. While Blazin' Paddles will supply some of the safety equipment you need, you should bring some of your own supplies. Bringing your own safety equipment is a must if you're venturing out on a solo kayaking trip. At a minimum, you should bring a first aid kit with you on the kayak and know how to use it. If you take medication, bring your medicine along and stick it in the safety kit as well. Even though you might be out of a service area, always bring your cell phone. You may also want to invest in a radio that you can use for emergency communication when necessary. Put your communication devices in a waterproof bag so that they don't get damaged and stop working if you suddenly need to use them. While you will have food, snacks, and water on trips that you go on with Blazin' Paddles, you may also want to bring some snacks of your own in case you get hungry along the way. It never hurts to bring some extra water as well. If you have a food allergy or intolerance, it's imperative to bring your own food and let a guide know if you need to avoid exposure to certain foods. Make sure that you stay hydrated in order to avoid getting dehydrated, which can interfere with your judgment and cause health damage.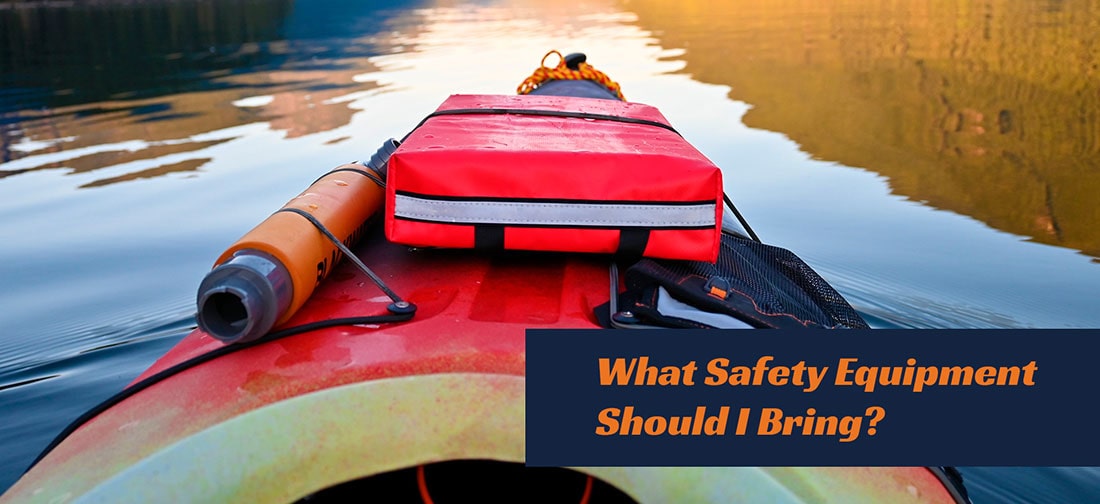 Safety on the Water
Along with preparing ahead of time for kayaking safety, there are other safety precautions to keep in mind when you are out in your boat. Don't go out paddling if you've had a few drinks or used substances before your kayaking excursion. If you are venturing out when water temperatures are cold, dress appropriately and even wear a wetsuit to avoid cold-related problems. Boating accidents are more likely to be deadly if water temperatures are below 60 degrees. The saying "strength in numbers" applies in multiple situations, and that includes kayaking. It is always safer to go kayaking with a partner or a group, particularly if you are new to kayaking or you are paddling in an unfamiliar area. If you are out boating with another person or other people, stay within the visual and verbal range of others.
If you are kayaking where other boats are present, make yourself visible by wearing bright clothing. Stay as close to shore as you can to avoid getting in the path of a motorized boat. If the boats are traveling at speeds sufficient to generate waves, try to approach the waves head-on so that you have a lower risk of capsizing. If you end up capsizing, point your feet downstream and keep them up towards the water's surface to avoid getting caught on rocks and other objects below the water's surface. If you can, stay upstream of your kayak, so you don't get pinned between the boat and another object in the river.
Avoid Boating in Extreme Weather
Sometimes, it is best to postpone your kayaking journey if conditions appear to be hazardous. The following conditions are warning signs for kayakers:
Fog
High winds
Thunderstorms
Large waves
Extreme temperatures
Additionally, kayaking early in the morning or late in the evening, or at night when the lighting is poor can also be hazardous. Even experienced kayakers should resist the urge to go kayaking in bad weather and make sure that they are not out on the water at night.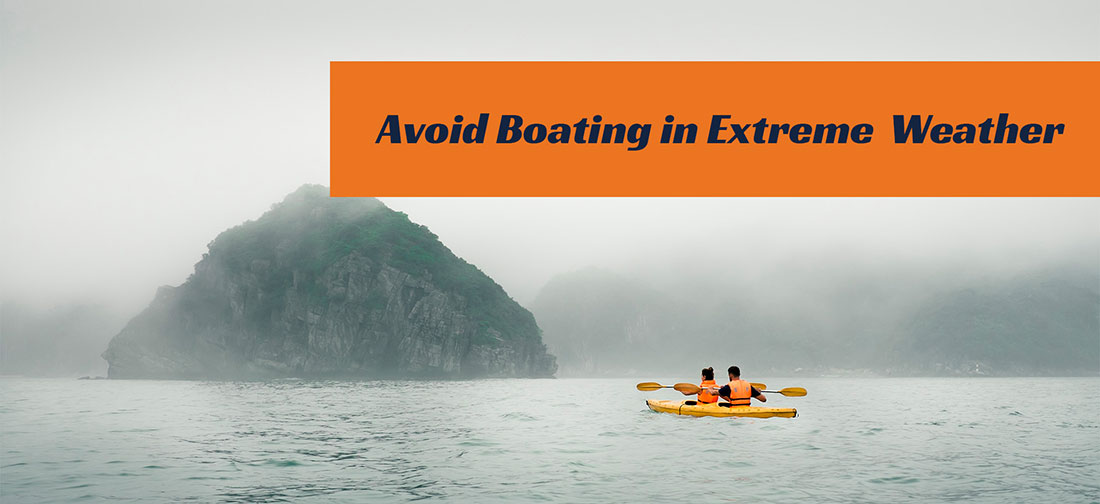 Read the Water
Just as checking the weather in advance can help you prepare for kayaking tours in Vegas, scanning the water before continuing on your path can make your outing safer. Reading the water, or "scouting" the water, can help you determine where hazards, such as submerged rocks, tree limbs, and currents, might lie. If you see riffles in the water, it's a sign that rocks may be right below the surface. Overhanging trees can also pose a hazard to kayakers, as can low bridges or other overhead objects. If there are currents or rapids in the section of the river where you're planning to paddle, get out and read the water ahead of time to see what the best route is. Ideally, the best water to kayak in is water that forms a "V" shape heading downstream. Ripples near the surface indicate rocks or other objects that can hang up your boat.
Personal Flotation Device
A personal flotation device (PFD) is one of the most critical pieces of lifesaving equipment that you can use on a Vegas kayak tour. PFDs are required by law in some locations. Even if the governing laws don't require you to wear your PFD (some only require the PFD to be in the boat), you should always wear and securely fasten the PFD before you leave the shore.
Kayaking in Vegas is a great way to spend time outdoors and on the water. However, staying safe is important no matter what your skill level is. Learn about memorable and safe kayaking opportunities in Vegas through Blazin' Paddles today.