The Healing Power of Nature: How Kayaking in Las Vegas Can Relieve Stress
Posted on:
September 15th, 2023
You immediately relax when you step outside and hear birds chirping and the wind whistling through the trees. But that's not just your mind at work – it's all your senses reminding you that nature is a powerful force. From acting as an immediate stress reliever to helping you relieve stress in the long run, nature works wonders. Booking a Vegas kayak tour is the perfect activity if you're looking for things to do in Vegas during the day.
Reduce Stress
It's easy to become caught up in the fast-paced life of the modern world. The daily stresses you face, whether it's work, family, school, or anything else, can all add up to an emotional toll. Eventually, everyone needs a break from all those stressors. When you decide that it's time to take a break from all those stresses in your life, contact Blazin' Paddles to inquire about kayak rentals in Las Vegas. You can book a variety of kayaking tours, ranging in duration from short trips to longer excursions, and you can also select kayaking tours based on your own kayaking abilities. If you'd prefer to spend time in nature alone, you can also choose self-guided kayak tours, which allow you to explore the natural world around Las Vegas. Self-guided kayak tours are recommended for people with some kayaking experience.
More Happiness
If you've ever noticed that you feel better after getting outside into the sunshine and fresh air, that's no coincidence. Spending time outside in nature, particularly in the open air and in sunlight, releases "feel-good" hormones called serotonin. When you engage in physical activity like kayaking, that "feel-good" effect is magnified, as your body also produces endorphins, which act as natural painkillers that help to improve your energy levels and boost your mood. Endorphins will also make you happier and produce a "natural high" that experts say only occurs when you spend time in nature! When you add all the benefits, kayaking in Las Vegas stands out as an activity that will make you more relaxed and happier. As a bonus, since it's a physical activity, you'll also end up in better shape if you adhere to a routine kayaking schedule. Even if you can't go kayaking all the time, you can work to stay in shape for your kayaking adventures by doing other forms of aerobic activity, ab workouts, and weights.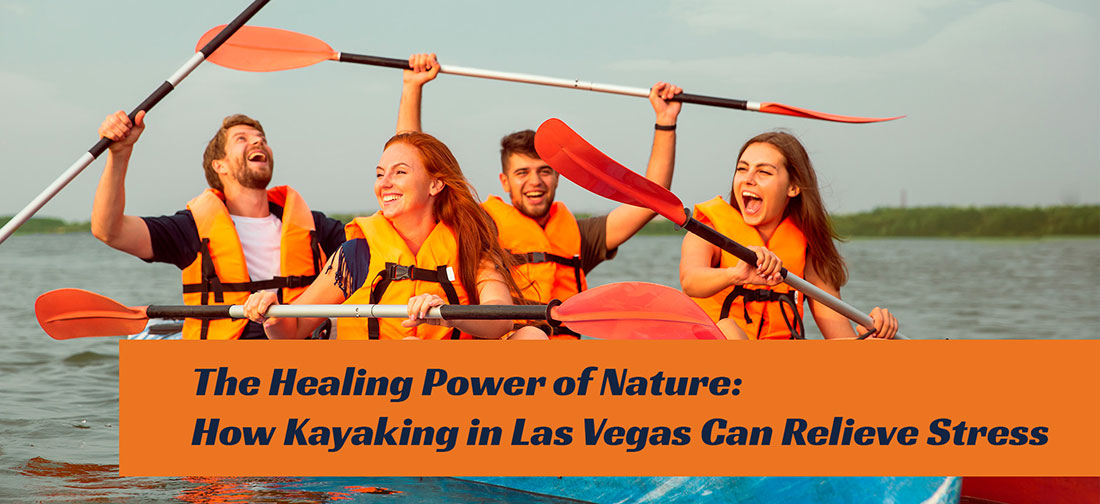 Improved Cognitive Activity
Spending time outdoors can make you feel more relaxed, but did you know it can also sharpen your mind? When you spend time outdoors, you develop or enhance many cognitive functions, such as critical thinking, problem-solving, and creativity. The brain has time to rest and recharge when you unplug from modern technology, which can help you ultimately return to daily life feeling renewed and recharged. Depending on how long you can take time off from your daily life, you can book a Vegas kayak tour that is tailored to your personal life schedule. Even spending a few hours out paddling on the beautiful Colorado River, and visiting sights like the Hoover Dam and Black Canyon, can restore and reset your soul and help you feel relaxed, rejuvenated, and inspired for a long time to come. No matter where you go kayaking in Las Vegas, you are bound to find beautiful scenery, a rejuvenating and relaxing environment, and even meet like-minded people who understand the importance of venturing into nature for a reset.
Boost your Self-Esteem and Confidence
Another benefit that kayaking in Las Vegas provides is a boost in your self-confidence and self-esteem. And that benefit can also apply to others in your family, including your spouse or children. Spending time in nature kayaking can help you feel more accomplished and empowered. That natural high feeling you experience on the water can help you with other aspects of your life, including work and personal life. That new-found confidence makes it easier to reach your goals and face new challenges. That has a cascading effect, as the more new things you try and accomplish, the more likely it is you will succeed in other aspects of your life.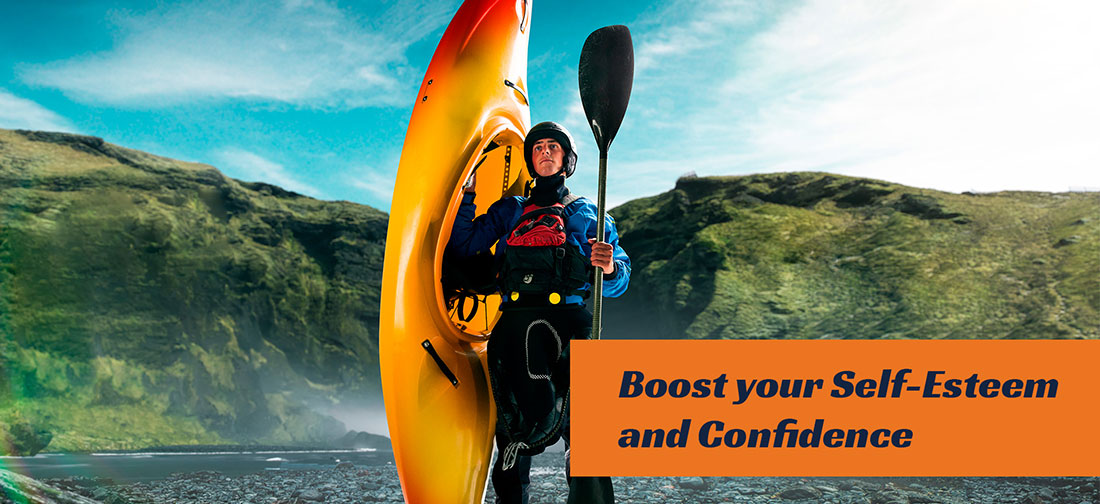 Social Bonds and Connections
Although kayaking in Las Vegas might seem like a solo activity, it can also be a social activity. Invite your friends and family members to join you in kayak rentals in Las Vegas, and you will soon find that many other people want to go with you out on the water! When you sign up for a Vegas kayak tour, either alone or with another person, you'll most likely meet new people with similar interests. If you're local to the area, that may translate into a group of people you can contact to get out on the water regularly. If you are visiting Las Vegas, you'll meet new people who understand the importance and value of taking a break from daily life and getting out on the water to relax and unwind. Either way, you are likely to form lasting social bonds when you rent a kayak and sign up for a tour offered through Blazin' Paddles.
Cardio Benefits
Although you may head out onto the water for a day of rest and relaxation, you're bound to also get in a good cardio workout! Going kayaking near Las Vegas will get your blood pumping, regardless of the amount of time that you spend out on the water. Even if you put in a short amount of time, between 30 and 60 minutes, which is the minimal recommended time for working out each day, you will still see the physical benefits of kayaking. On average, kayaking in Las Vegas burns 350 calories every hour. That estimate is based on a leisurely kayaking expedition with minimal winds, average temperatures, and assuming you are reasonably fit. If you book a full-day kayaking tour, you will likely burn even more calories. If you go kayaking on a more challenging part of the Colorado River or move at a faster pace, you're also more likely to burn more calories. Along with simply burning calories, you will find that kayaking consistently develops and tones muscles throughout your body, especially your arms, legs, and torso.
Kayaking is for Everyone
One of the main advantages of kayaking is that it's not an activity limited to an elite few. Instead, kayaking is for everyone! Kayaking is an approachable and accessible outdoor activity that many people can enjoy. When you sign up for a kayaking tour, a guide will help you assess what you're capable of doing in a kayak to ensure you have the right tour picked out. If you are new to kayaking altogether, no worries! We will gladly show you the ropes of kayaking. The basic maneuvers and safety rules we will cover before going out on the water include:
Entering and exiting the kayak
Basic paddling techniques
Bringing along the proper gear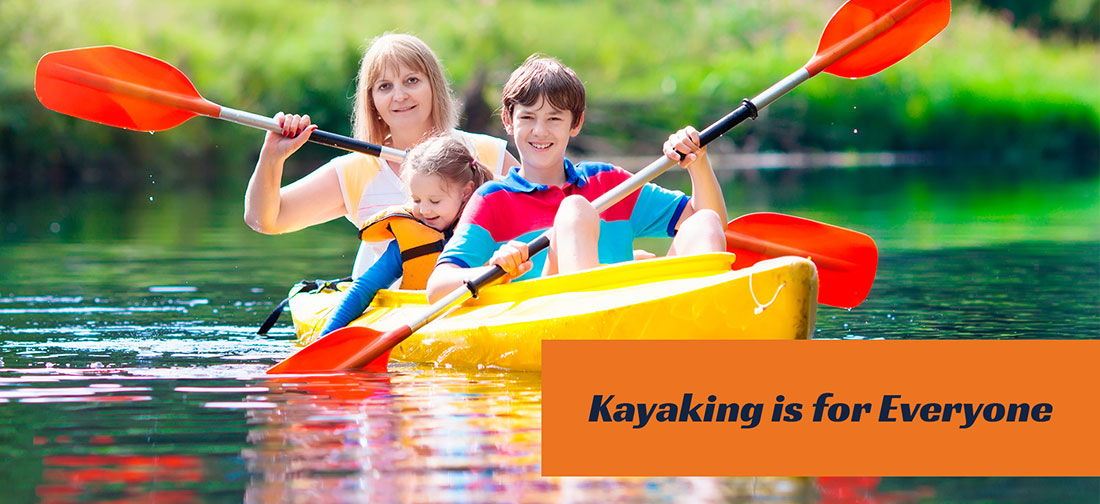 Rest assured, you don't have to worry about going hungry or thirsty, as we'll provide all the food and drinks that you need.
Contact Blazin' Paddles today for more information about signing up for a kayaking trip to enjoy your much-deserved time out in nature.