Fun Facts about the Colorado River
Posted on:
June 27th, 2017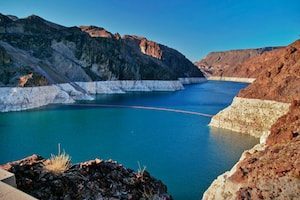 One of the best activities in the Southwestern U.S. is to go kayak the Colorado River near Las Vegas. Learning more about the interesting facts associated with the Colorado River and Nevada can help see why this trip can be so memorable. When you do kayak the Colorado River near Las Vegas, you only have to travel about 45 minutes southeast of the city.
The Black Canyon National Water Trail extends from the Colorado River and Hoover Dam in Nevada to Willow Beach in Arizona. The Hoover Dam is over 720 feet high, weighs 6.6 million tons and has a maximum water pressure of 45,000 pounds per square at the base. Starting your kayaking tour from here is one of the most intimate ways to explore the unique sites that can be found along the Colorado River near Las Vegas.
In the Black Canyon, full-day guided tours launch from Hoover Dam, before encountering the enchanting cliff views that provide a clear view through the waters more than 30 feet down a 55-degree incline. The heated spring pools are a checkpoint to stop, unwind and enjoy the naturally heated waters that reach 100 degrees. Kayaking through Black Canyon and the Lower Basin of the Colorado River is a rewarding activity that can be ideal for any age.
The unique wildlife and Emerald Cave are other popular sites along the Black Canyon worth seeing. Many groups opt to set up camp and spend the night gazing at the stars on Willow Beach. The trip between Hoover Dam and Willow Beach is about 13 miles or up to 7 hours on the water. There are kayak guides available morning, noon and night to take you out to enjoy the wonders the Lower Basin of the Colorado River has to offer.
If you want to find out more about taking a kayaking tour along the Colorado River while you're near Las Vegas, check out the Blazin' Paddles FAQs page and available Las Vegas kayak tours page.