Why a Black Canyon Kayak Tour Makes a Great Birthday Gift
Posted on:
June 30th, 2017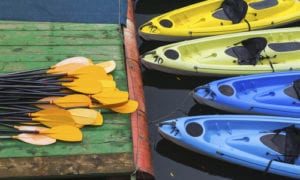 Ah, the birthday present: a fun way to show how much you care for a family member or friend! Well, if you're stumped by what to get that special somebody for their birthday, allow us to suggest a totally one-of-a-kind and totally unforgettable option: a Las Vegas kayak tour package!
Birthday Adventures Down the Black Canyon
Blazin' Paddles' kayak tours take place down the magnificent Black Canyon of the Colorado River and are wilderness adventures that are for just about anybody, including those with no prior paddling experience. Goggling at the famous landmark of Hoover Dam right from its base, watching bighorn sheep dancing over the cliffs and eagles riding the canyon thermals, reveling in a river sunset and full moonrise on one of our Twilight Paddles—these are decidedly not your average birthday presents!
All our itineraries take place in Lake Mead National Recreation Area along the amazing Black Canyon Water Trail, which stretches for 30 glorious miles between Hoover Dam and Eldorado Canyon. The Colorado River's gorge here embodies the epic and raw scale of the American West's grandeur, and there's no better way to see it firsthand than by a quiet and leisurely paddle trip right on the calm waters. Our professional Blazin' Paddles guides know the ins-and-outs of the river and bring this mighty chasm's story to life with on-the-go commentary.
What better way to mark a birthday than amid this kind of wild splendor?
Las Vegas & the Black Canyon: A One-Two Birthday Punch
And all this spectacular scenery and stirring wildlife and laidback adventure come unbelievably near at hand to the desert metropolis of Las Vegas. In other words, the lucky recipient of your Blazin' Paddles Las Vegas kayak package can easily combine a Sin City-style birthday celebration with an expedition down one of the West's most mythic rivers. Select a Las Vegas kayak package from Blazin' Paddles today, and treat somebody you know with a genuinely awesome birthday present this time around!