Escape the Workweek: Benefits of a Kayak Tour on a Weekday
Posted on:
June 23rd, 2017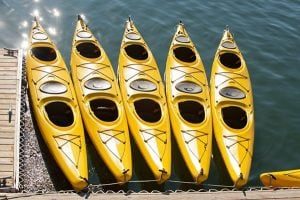 When planning your next adventure, it is important to think about choosing a weekday instead of your typical weekend getaway. While it might seem a little odd to go paddling down a river on a Wednesday, the truth is that this is one of the best days to plan your tour. From better availability to giving you a new way to celebrate that special event, keep these benefits in mind for why you should head out kayaking while most people stay in at home.
Escape from the Work Day
Burnout is a serious problem, and it seems that they harder you work makes it more likely that you will eventually fizzle out. This is why taking a break from the office now and then is one of the best ways to meet your goals and increase productivity. When it comes to easing stress, the combination of water, adventure and fun on the Colorado River knocks all of your worries away.
Avoid the Weekend Crowd
Weekend warriors and tourists tend to journey the Black Canyon on the weekends. Since there is nothing like enjoying a quiet Nevada sunrise or watching the wildlife from afar, kayaking in Las Vegas on the weekday gives you the best chance to fully relax. Less people in the river also gives you a better chance to connect with the people in your tour group as you get better with your paddling skills without the pressure of a crowd.
See Las Vegas From a New Perspective
Many people sadly have no idea that there is far more to Las Vegas than blinking neon lights. Kayaking in Las Vegas is like nowhere else on earth, and you will begin to appreciate the natural side of this city from the moment you see the Hoover Dam. In fact, sighting wildlife such as a bald eagle flying overhead or a big horn sheep grazing on the shore will have you ready to schedule your next kayaking tour just to see what else you might discover on a weekday paddling adventure.
Blazin' Paddles has a convenient calendar online where you can easily pick the best day to skip work and hit the Colorado River, so go ahead and book your kayak adventure online today.