Ecosystems of the Black Canyon
Posted on:
August 13th, 2017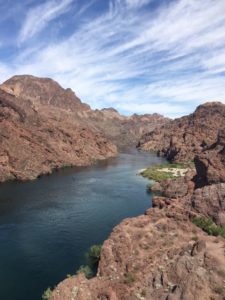 If you enjoy being out in nature, one of the most impressive ecosystems near Las Vegas Black Canyon can be found in the Lake Mead area nearby the Colorado River. A Black Canyon kayak trip is one of the best ways to enjoy the ecosystems located in the Lake Mead area. Three of the four U.S. desert ecosystems, the Great Basin, Sonaran and Mojave deserts, all meet at the Lake Mead area.
Black Canyon is situated off of the Colorado River, along the border between Nevada and Arizona. Elevation in the Lake Mead area ranges between 500 and close to 7000 ft above sea level. The winters here are relatively mild, but the temperatures in the summer can exceed 110 degrees. The arid, hot terrain of Black Canyon is suitable for a wide variety of wildlife, including the desert tortoise, Gila monsters, ring-tail cats, the kit fox, bighorn sheep and different species of rattlesnakes.
One of the best ways to enjoy the ecosystems of Black Canyon is to take a guided kayaking tour from the Hoover Dam to Willow Beach. After launching from the Hoover Dam, majestic cliff views allow you to see clearly through the water 30 feet below. The next sights to see on this kayaking trip are the 100-degree naturally heated spring pools. You're also likely to spot some wildlife along the riverbanks as you make your way to exploring Emerald Cave.
People of all ages find kayaking the Black Canyon to be a relaxing way to get outside and enjoy the natural ecosystems of the Southwest. Many love kayaking natural trail-water systems because it's an easy way to cover great distances without applying much effort. Taking a guided tour can help make navigating national trail-water systems like the Black Canyon even easier and more enjoyable.
When you're ready to go kayaking through the ecosystems in Black Canyon, don't hesitate to reach out to one of the local guided tours like Blazin' Paddles. Book online today!