Ask-a-Guide Series: Vanlife in Southern Nevada
Posted on:
February 19th, 2020
Written By: Matt Hodges (Blazin' Paddles Guide)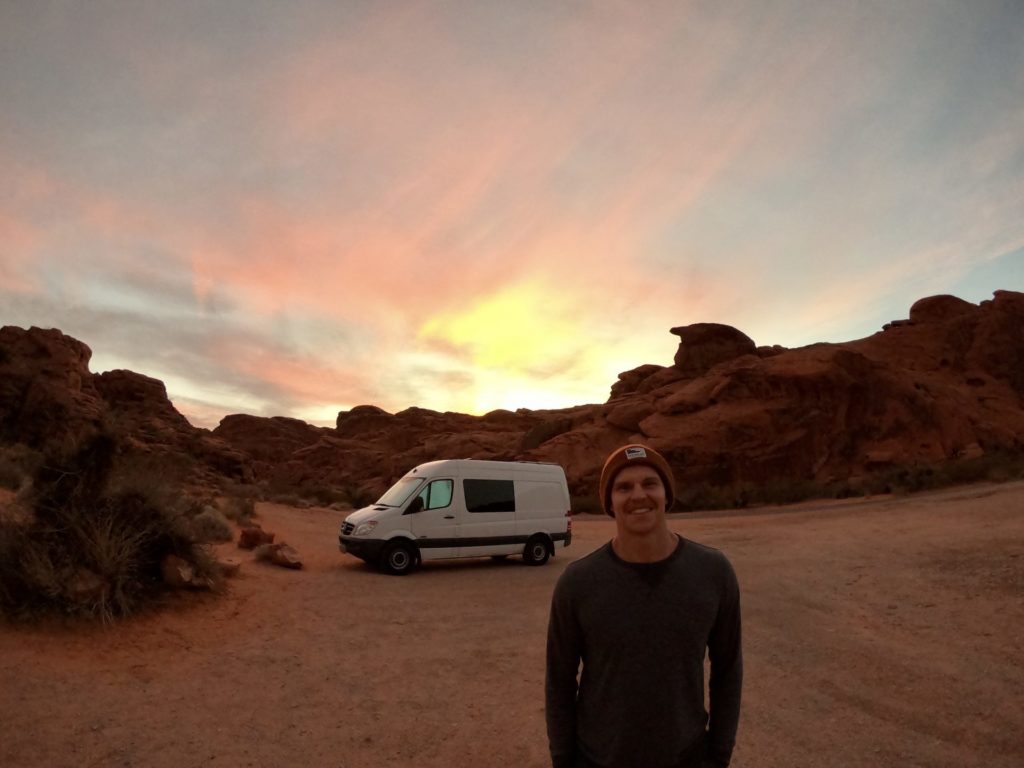 Before having the privilege of becoming a guide at Blazin Paddles, I spent the better part of 2019 traveling the western landscapes North American in my Mercedes Sprinter van. Joining the ever growing number of people seeking a nomadic lifestyle, I converted my van into the adventure mobile of my dreams and hit the road with my dog, Layla. From the Baja Mexico to British Columbia, we covered over 20,000 miles, but still found ourselves back in desert landscapes of Southern Nevada and Northwest Arizona. Why? The Mohave desert offers solitude, ample free Bureau of Land Management camping, proximity to major cities, and endless opportunities for outdoor recreation.
WHERE TO STAY:
While some van lifers call urban areas home for work, most, like me, seek open spaces and the quiet the vast desert has to offer. One area local option is Kingman Wash, a maintained BLM road that offers free camping and a decent bathroom. The road runs for about 3.6 miles over hills and down washes through the wild backcountry to the colorful Paint Pots area at the shore of Lake Mead, and a high clearance vehicle is recommended, but making the trek is worth it. Those who brave the journey will be rewarded with opportunities to paddle (I like to paddle board with my dog) and hikes to ancient volcanoes at Fortification Hill. There isn't much shade, but if like me you run your appliances and electronics on solar and carry plenty of water, this is a paradise.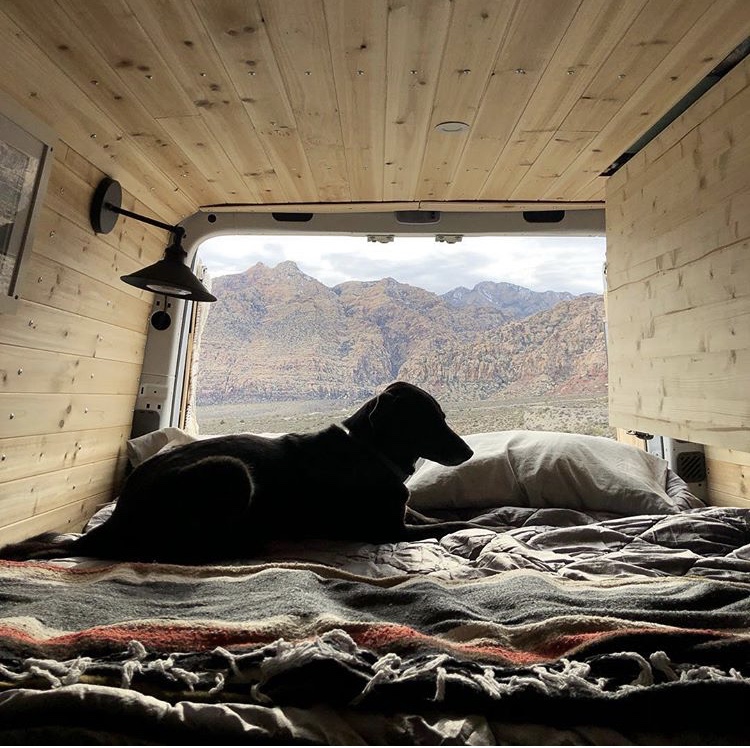 Those passing through can find safe and convenient parking at the Hoover Dam Lodge. Parking here for three nights is free, you must simply provide vehicle information at the front desk in the lobby. HDL offers a quaint casino experience and backs up to the edge of Lake Mead Recreation Area, allowing you to step right out of your rig and take walking/biking trails to the Hoover Dam or down to the lake. If you plan to take a kayak tour with us, you can save time and money by meeting us at our shop in HDL, and we offer plenty of gear to equip you for any water adventure!
When to visit:
The desert is a place of extremes when it comes to weather. Winter offers more sunny, warm days than anywhere else in the US, but I've had plenty of nights of running a heater wandering if the winter winds were going to blow my van over. Cold, blustery days are rare, and many days I find myself adventuring in shorts and a t-shirt. Summers are down right brutal, and with temperatures hanging around in the triple digits its advised to seek hook-ups, hotels, or book it to higher altitudes. Mount Charleston, located an hour north of the strip is my preferred locale during the hot times, where temps seldom climb over 75F at high elevations and free camping can be found. All things considered, I would recommend van living in the region from November to April.
What to do:
Paddling in the Black Canyon is a must do experience. The crystal clear water, towering canyon walls, desert bighorn sheep leaping along the edges of cliffs.. need I say more? There are also several hot springs in the area to choose from. I prefer Goldstrike Hot Springs, where you scramble boulders using fixed ropes to access several pools varying from warm to nearly scalding.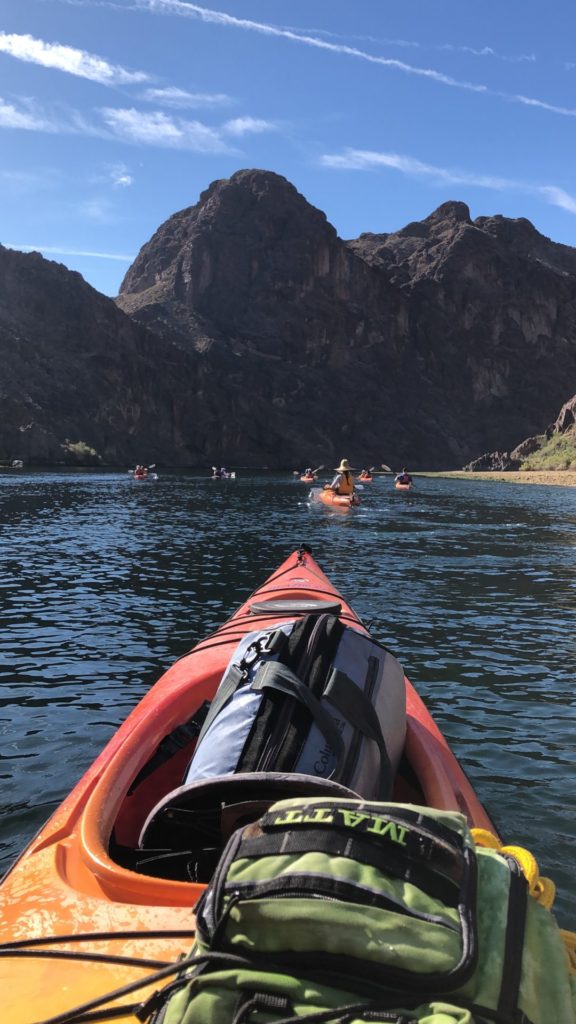 If I'm not on the the river, you will likely find me rock climbing. Red Rock Canyon has long been a Mecca for climbers looking to test their test their skills on desert sandstone, and that's exactly what drew me here to begin with. The area offers world class routes in the disciplines of traditional climbing, sport climbing, and bouldering. The amount of options is almost overwhelming, and any local will tell you that it would be impossible to climb everything in Red Rock in a lifetime. Located just outside of the suburban neighborhoods of Summerlin in North Las Vegas, free overnight parking can be tricky, but there is a pay BLM campground that requires advanced booking in the busy months.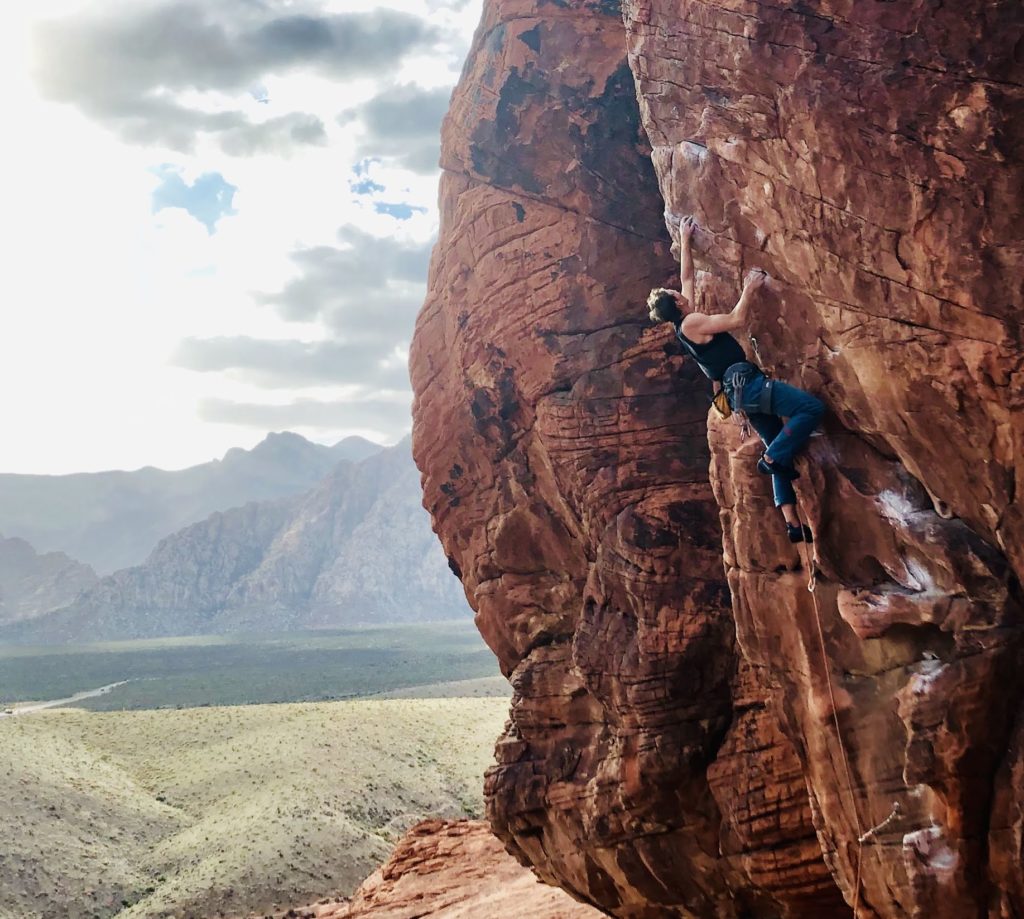 There's also mountain biking, but my two wheeled experiences haven't ended well, so you can talk our guide Seth about that.
Lastly, just because I live in a van doesn't mean I don't like to enjoy the finer things in life every once in a while. When I get a wild hair or don't feel like cooking in my van, its nice to head into Las Vegas for a night out. I prefer downtown for its trendy restaurants and easy parking. Tacotarian, a vegan Mexican eatery, and Able Baker Brewing (try the Atomic Duck IPA) are my usual haunts. There's something for everyone in Las Vegas, and its fun to be mesmerized by the city lights now and then.
I'll leave you with a few pro tips I've learned while living out here:
-Having a good solar set-up is a great investment. On average, Southern Nevada sees 294 days of sun.
-Speaking of the sun, never underestimate its power. I once took a nap after climbing with my side door open and the noonday sun caused my vinyl floor warp and it still doesn't sit exactly right. Now consider what its doing to your skin. Think zinc!
-Invest in sunshades for all of the windows in your rig, they do wonders insulating against the hot and cold.
-Get a good water set up. Locals don't even drink from the tap so I use a a refillable 5 gallon jug and refilling stations can be found at most any grocery store.
–Last, be sure join me and the Blazin' Paddles crew for a memorable kayaking adventure!