8 Best Outdoor Adventures Around Las Vegas
Posted on:
March 20th, 2021
Las Vegas may be best known for its nightlife, but its natural surroundings are just as notable. Las Vegas is surrounded by some of the top recreational areas in the United States, including the famous Hoover Dam and the Lake Mead National Recreation Area, the oldest and largest national recreation area in the country. From kayaking to hiking and more adrenaline-pumping activities, consider these options for enjoying the city's surrounding beautiful natural places.
1. Kayak the Colorado River
To literally "get your feet wet" in the region's outdoor scene. Blazin' Paddles, a kayaking company based in Las Vegas, offers Black Canyon kayak tours on the Colorado River. Half-day to full-day Las Vegas kayak tours are available for kayakers of all ages. Your Black Canyon kayaking adventure may include wildlife sightings, a stop at natural hot springs, and a chance to cool off in the river on hot days. You can also go on an evening kayaking excursion down the Colorado River with the chance to watch the sunset as you roast marshmallows on the beach.
Book your kayak tours here: https://www.blazinpaddles.com/
2. Red Rock National Conservation Area
Red Rock National Conservation Area is a beautiful natural recreation area located just 30 minutes away from the city. The area has hiking trails for all ages and skill levels. Rock climbing is also an option at Red Rock. If you prefer sight-seeing from your car, you can go on a longer 13-mile scenic drive that starts at the outdoor visitor's center. Younger visitors will enjoy the Children's Discovery Trail, which has various ecosystems to explore, along with several cultural spots, including Native American remnants.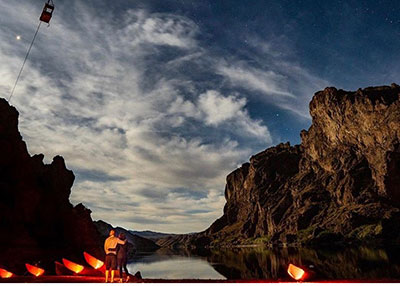 3. Bootleg Canyon
If seeing Las Vegas on two wheels is your cup of tea, a trip to Bootleg Canyon for quality biking is a must. Bootleg Canyon is another destination that's just 30 minutes from Las Vegas. The Canyon contains over 20 trails with varying degrees of difficulty. If you don't want to bring your bike or don't have yours with you when you visit, you can rent bicycles at Bootleg Canyon. Along with riding the trails on your own, you can join a guided tour of the Canyon's trails instead.
4. Red Rock Canyon
Chock full of quality climbing opportunities, Red Rock Canyon is the premier rock climbing destination for Las Vegas residents and visitors alike. Red Rock Canyon has more than 2,500 climbing routes ranging from easy to challenging. Whether you choose to stay within your comfort zone or push the limits, you'll enjoy dramatic scenery and possible bighorn sheep sightings as you tackle the Canyon's vertical trails. Red Rock Canyon is just a little over a 30-minute drive from Las Vegas.
5. Snowboarding at Lee Canyon
Most people don't think of Las Vegas as a prime place for winter sports, but a trip to Lee Canyon will show you otherwise. Lee Canyon, nicknamed the "Coolest Place in Las Vegas," is an hour's drive from the famous Las Vegas Strip. Lee Canyon's trails are open for hiking during the summer months, but they are typically covered with snow from December through early spring. When the snow falls, the Canyon has 24 trails maintained for snowboarding and other snow sports, including tubing.
6. Spring Mountain Ranch State Park
Spring Mountain Ranch State Park is appropriately named, considering it has six hot springs located within its boundaries. Spring Mountain Ranch State Park has hiking trails, a picnic area, and living history events that showcase the lives of settlers and pioneers who once lived in the region. During the winter months, the adjacent Mount Charleston at Spring Mountains National Recreation Area is popular for snowboarding, skiing, and tubing.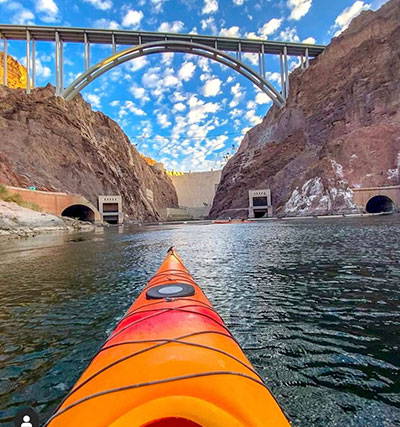 7. Hoover Dam
Hoover Dam, which was built in 1931, is the most recognized dam in the United States. Along with seeing Hoover Dam from the water through the full-day Las Vegas kayak tour, you can also check out the famous national attraction on foot. Guided hiking tours are an option if you'd prefer an educational outing at Hoover Dam. Bald eagles, coyotes, and bighorn sheep sightings are all possible on land and from the water. Before or after touring Hoover Dam, you can also do some shopping at the visitor's center gift shop. Once you've finished exploring the dam, be sure to stop over at Boulder City, which is an equally historic stop. Boulder City was built around the same time as the dam to provide lodging for workers while completing the dam's construction. Hoover Dam is within an hour's drive from Las Vegas, making it a perfect day trip from the city.
8. Valley of Fire State Park
Valley of Fire State Park is the largest and oldest State Park in Nevada. Valley of Fire has many great hiking trails to explore, which gives you plenty of opportunities to marvel at its stunning natural beauty. Comprising the State Park's majestic landscape are the sands of the Mojave Desert, red sandstone formations, and many types of desert plants. Valley of Fire State Park has several particularly notable trails, including Elephant Rock, Petroglyph Canyon, and Fire Wave. Petroglyphs dating back 3,000 years are also popular attractions for visitors of all ages. Before embarking on a hike, you can stop in at the visitor's center to get more information about the hikes available at the park and learn more about the area's natural history and topography.
There are dozens of unique and unforgettable ways to explore Las Vegas's spectacular natural areas at any time of the year. Many top recreational destinations are located within easy reach of the city, which means you can make time for exploring nature in addition to enjoying all the sites and attractions within the city's limits.