5 things you didn't know about Boulder City
Posted on:
March 15th, 2019
Written by: Burton Miller (Blazin' Paddles Tour Guide)
Famous Guests Have Stayed at the Hotel
The Boulder Dam Hotel is a historic and charming colonial revival style inn built in 1933. Over the years it has seen many famous guests. Classic Hollywood stars loved retreating to the quiet Boulder Dam Hotel for leisure and lodging while filming. Notable celebrity visitors have been Bette Davis, Shirley Temple, Henry Fonda and Will Rogers. Influential business people have also spent the night including Mr. and Mrs. Cornelius Vanderbilt, George Pepperdine (founder of Pepperdine University) and Howard Hughes after his plane crash at Lake Mead in 1946. The hotel has seen political and world leaders including senator Robert Taft and Pope Pius XII when he was still Cardinal.
Staying Cool at the Movie Theater
The movie theater on Arizona Street was the first air conditioned building in town. Dam workers and families would pay admission – regardless of the movie – just to cool off! In the 1990's the movie theater, still in operation at the time, was forced to shut its doors due to competition from the more technologically advanced theaters in Henderson and Las Vegas. At risk of falling into total disrepair, the empty theater was purchased in 1997 by Desi Arnaz, Jr. and renovated into a dance studio and performance hall.
The Big "BC"
If your Blazin' Paddles tour passes through Boulder City, chance are we'll point out the big BC painted on the side of the hill. This ironically doesn't stand for Boulder City. It's for Bootleg Canyon. Since Boulder City was a federal reservation, there was no alcohol or gambling allowed, even after federal prohibition ended in 1933. They wanted the federal workmen fully focused on their task of constructing Hoover Dam. Even after the dam was completed, BC was federally regulated until it was chartered as it's own city in 1960 and the prohibition was later repealed in 1969.
Bighorn Sheep Love Boulder City
On the river we are always on the lookout for the Desert Bighorn Sheep. It is not uncommon to see at least one sheep on tour, as they visit the river to drink water in the hotter months when there is no water elsewhere or when rain is scarce. However, Hemenway Park in Boulder City is home to an entire herd of sheep! They spend hours at the park keeping cool in the shade of the trees and eating the grass. The herd at Hemenway Park is a big draw for wildlife lovers, just make sure to keep a safe distance and do not disturb them while watching or taking pictures.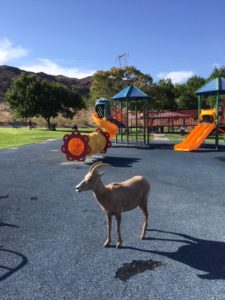 So Long, Boulder City
For film buffs, Boulder City plays an important role in the Oscar-winning La La Land. Emma Stone's character Mia Dolan grew up in Boulder City, and in the film she creates and performs a one-woman show called So Long, Boulder City. Her character's love of film started because her aunt worked at the library and she would walk there as a child to watch classics. "Del Prado Library" in the movie is not a real library, but Del Prado is a real housing development in Boulder City. Nothing was actually filmed in Boulder City but director Damien Chazelle chose it for the story because he liked the name and it was feasible that Mia could drive there within a day from Los Angeles.