3 Reasons Why Kayaking Will Make You Happy
Posted on:
July 14th, 2017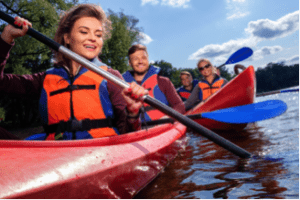 We see it every time we travel down the Black Canyon of the Colorado River: the deep, all-encompassing joy of leisurely kayaking along such a breathtaking watercourse. It's a universal kind of joy—one that transcends generations and pervades the veteran paddler as well as the novice who's never before set foot in a kayak.
Kayaking the Colorado River will help inspire awe within yourself and make you happy, and here are three reasons why!
(1) You'll Enjoy a Breath of Fresh Air
A kayak tour with Blazin' Paddles is a relaxing and fun outing, something basically anybody can (and should!) do. Even as the scenery soothes your soul, stirs your heart, and fires your imagination, kayaking engages your body in a laidback sort of workout amid sublime scenery. Not only that, but it gives you a breath of fresh air you can't get back in the city!
(2) You'll Feel Totally Immersed in a Gorgeous Place
Few other modes of travel can implant you right in the beautiful landscape as kayaking does. Away from the noise and shudder of a motor, away from the barrier of smudged window-glass, you'll actually feel inside the scenery. Indeed, it's more than scenery from the paddler's seat. Your strokes seem to sync up with the current, and the epic walls of the gorge, the regal bighorn rams, the high soaring birds all seem somehow connected to you and your river-riding vessel.
That's a marvelous and rare sensation—really being alive, engaged, and locked into this here-and-now moment. Such a moment provides happiness and relaxation.
(3) Workaday Cares Vanish
The scale and beauty of the Black Canyon have a way of dissipating—or at least suspending—the pressures, worries, and stresses of back home. The grandeur of this sweeping gorge and that bone-deep pleasure of paddling through it unknot those tight shoulders and those mental hang-ups.
Kayaking the Colorado River works wonders, and you won't find a better company for guiding you through the wonderment of the Black Canyon than Blazin' Paddles. Schedule your tour with us online!