Where to Swim in Las Vegas If You Aren't Staying at a Resort
Posted on:
August 12th, 2022
In a place where temperatures routinely exceed the triple digits in the summer, it's no surprise that you'll want to find outdoor activities in Las Vegas to escape the searing heat. In a desert climate like Sin City's, there is nothing more refreshing than jumping in a cold pool after a day out on the water kayaking or walking around exploring the sights. Before you go splashing into a Las Vegas pool, it's a good idea to know about your options and regulations so that you can swim without being turned away.
Is Swimming Free in Las Vegas?
Swimming may be a free activity in Las Vegas, but that depends on where you go. You can go swimming for free if you kayak Las Vegas with Blazin' Paddles, for instance, and possibly through a hotel or resort, but it's important to find out the rules before you jump in the water. In some cases, such as if you want to use a hotel or resort pool, you can pay a small fee to use the pool even if you are not staying there for the night.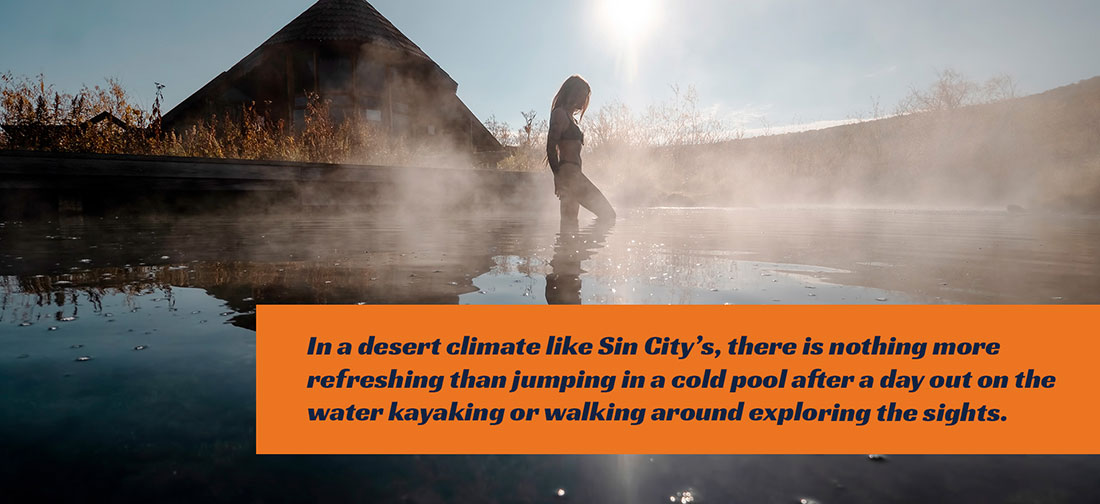 Kayaking With Blazin' Paddles
Going kayaking in Nevada with Blazin' Paddles is perfect if you're looking for fun outdoor activities in Las Vegas to escape the summertime heat. Blazin' Paddles offers a range of kayaking tours for paddlers of all ability levels. You can choose to go out on your own kayaking or go out on a guided tour, and you can also choose from a half-day to a full-day adventure. Going out with a guide means you will have a well-rounded experience that includes a refreshing water dip and much more. Along with having the option to swim in the river and maybe natural hot spring as well, you will be able to see all the incredible sights that the Colorado River offers when you go out with a guide to explore the waters around Las Vegas. You will also get in a good workout, as kayaking is an activity that uses just about every muscle group in the body and burns many calories in the process.
Swimming in a Las Vegas Pool
Although it is located in a desert, Las Vegas has many pools you can swim in, even if you are not staying there. If you are not a paying guest of the resort or the hotel, you may be charged a nominal admission fee to jump in the water. Some pools on the Las Vegas Strip, such as Harrah's and the LINQ Influence pool, allow the public access free of charge at certain times of the day or days of the week. Before you set out for a day of lounging by (or in) the pool, be sure to check the hours of admission and regulations for public visitors. If you're staying at a hotel but want to use a pool at an associated or neighboring hotel, check with the hotel staff about your rights to use the pool at a hotel besides your own. You may either pay a fee to access another pool or simply show your card. Also, remember to check the hours at the hotel's pool that you want to use since those hours may differ from those at the hotel where you are staying.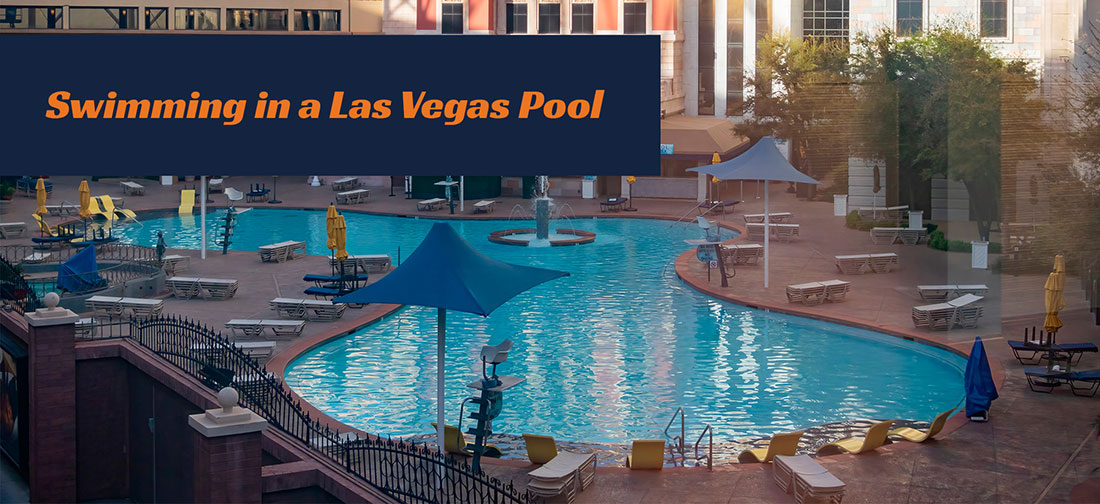 Las Vegas Pool Hours
In Las Vegas, the hours you can use a pool may vary based on the season and the hotel or pool. Generally, pools open around 7:00 AM and close about 7:00 PM. The pool season in Sin City typically runs from March through October. The heat and tourism crowd most pools during the summer months. However, it is not uncommon for pools to shut down during the winter months. Although many pools in Las Vegas close for winter, some remain open throughout the year. Some pools that stay open in all seasons are the Bellagio, the Mirage, and the Paris Las Vegas.
What About Heated Pools?
Even though it is located in a desert, Las Vegas can experience cold temperatures in winter. Temperatures can also drop in the evening and still be on the chilly side in the morning. When you're not baking in the heat, you may want to have a heated pool to jump into! Fortunately, several resorts within city limits have heated pools for visitors to enjoy. Some resorts also maintain regular pools throughout the year but have heated spas for people who are looking for a warm-water experience.
Indoor Pools in Las Vegas
While it is refreshing to jump in the water in an outdoor pool in Las Vegas, there may be times when you prefer to swim indoors if possible. Las Vegas can experience cool temperatures and inclement weather such as rain, wind, and thunderstorms. In those situations, you may want to swim in an indoor pool rather than go swimming outside. It's important to note that most hotels on The Strip do not have indoor pools. If you want to swim inside, you'll need to venture away from The Strip for indoor swimming.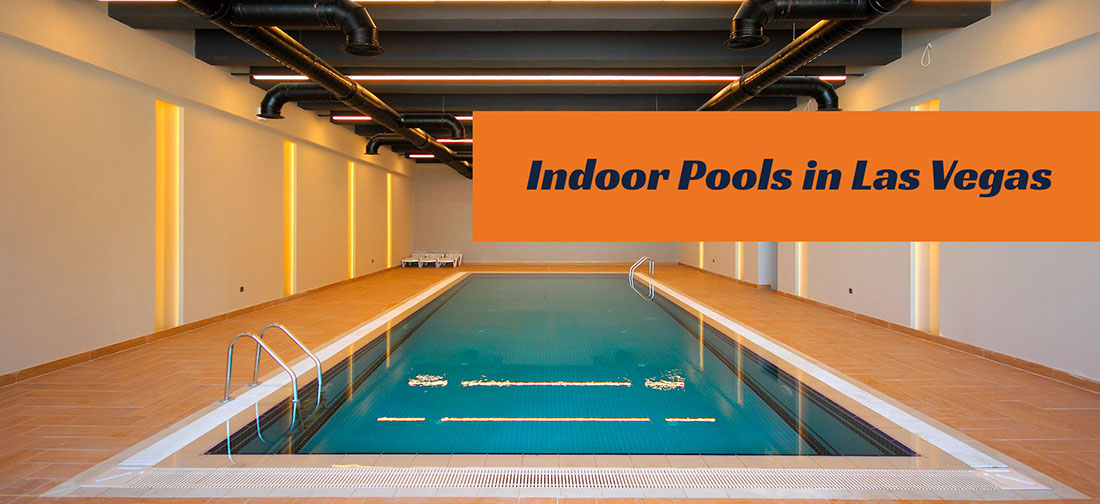 Kid-Friendly Las Vegas Pools
For families traveling to Las Vegas, whether there are kid-friendly Las Vegas activities may be a key consideration. Although there are no children-only pools in Las Vegas, many hotels have kid-friendly features such as water slides, shallow areas for wading, wave pools, and lazy rivers. If you are wondering about the child-friendly features of a particular pool, be sure to contact the resort in advance to determine if the pool is suitable for your family.
Vegas Pool Parties
While many hotels and resorts offer swimming opportunities on a regular basis for visitors and the non-local crowds, Las Vegas also has spontaneous pool parties that appear periodically throughout the summer. Pool parties are offered at renowned locations such as the Ayu Dayclub, Bare Pool, Daylight Beach Club, Drai's Beach Club, and many more. Pool parties can be found in any environment, from European-style getaways to large 50,000-square-foot venues.
Are There Lifeguards?
Even though they may vary in the amenities they provide, many pools in Las Vegas have lifeguards. Lifeguards will generally sit by the pool during the pool's regular operating hours, as guests' safety is their top priority. If you want to know more about a hotel's lifeguard availability and their lifeguard training, be sure to ask before you sit out by the pool.
What to Bring for Swimming in Las Vegas
As with swimming in any other place, you might find that there are some amenities that come with swimming areas in Las Vegas, while you may need to bring some of your own supplies as well. You're likely on your own for a hat, sunglasses, and possibly a towel regardless of whether you are swimming at a pool or on a body of water such as the Colorado River. Outside food and drinks are not usually permitted.
Contact Blazin' Paddles to learn more about Las Vegas activities to beat the heat this summer.