Where to See Wildlife Around Las Vegas
Posted on:
March 22nd, 2022
If you are wondering where to go to spot quality wildlife in the Las Vegas area, there are many good places to check out. Topping the list is the Black Canyon, one of the most frequently visited natural areas in the Las Vegas region. A Black Canyon kayaking trip, which is arranged through Blazin' Paddles, is a great way to experience the beautiful natural outdoor spaces that Las Vegas offers. Whether you're just looking for a daytime outing in nature or planning a multi-day vacation in the area, there is no shortage of places to discover. While they contain sparkling waters, cliffs, and other natural features, the Black Canyon and Colorado River in Las Vegas are also home to spectacular wildlife, including bighorn sheep and bald eagles.
Kayaking the Black Canyon
The Black Canyon is part of the scenic Colorado River, which is also a popular destination for kayakers. Depending on your preferences, a Black Canyon kayaking tour can be a half-day or a full-day adventure. You can choose to see several great natural attractions while you're out in the kayak, including the famous Emerald Cave, which draws thousands of visitors each year. Arranging a kayaking tour with Blazin' Paddles means you can enjoy a pleasant and safe experience with a knowledgeable tour guide. A kayak Las Vegas tour is suitable for individuals, couples, and families.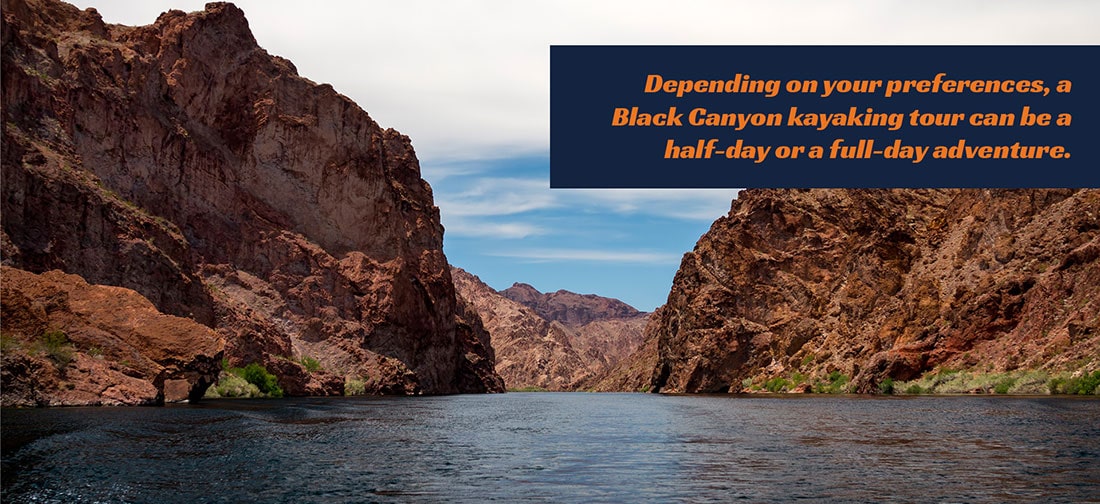 Desert National Wildlife Refuge
The Desert National Wildlife Refuge is a vast wilderness area covering more than 1.5 million acres of land. The Refuge is larger than the state of Rhode Island and is the largest wildlife refuge in the continental United States. The Wildlife Refuge is adjacent to the Nevada National Security Site, a natural area containing a half-dozen mountain ranges. The area also contains seven distinct habitats where you will find many different plant and animal species. The Desert National Wildlife Refuge was initially created to protect desert bighorn sheep, but it is now the largest protected habitat area in the world. If you're looking for other places to check out without venturing too far, you may want to check out some of the other natural attractions close to the Desert National Wildlife Refuge. Here you'll find Ash Meadows, Moapa Valley, and the Pahranagat National Wildlife Refuge. These areas are home to desert bighorn sheep and other desert wildlife, including collared lizards, side-blotched lizards, horny toads, and long-nosed leopard lizards.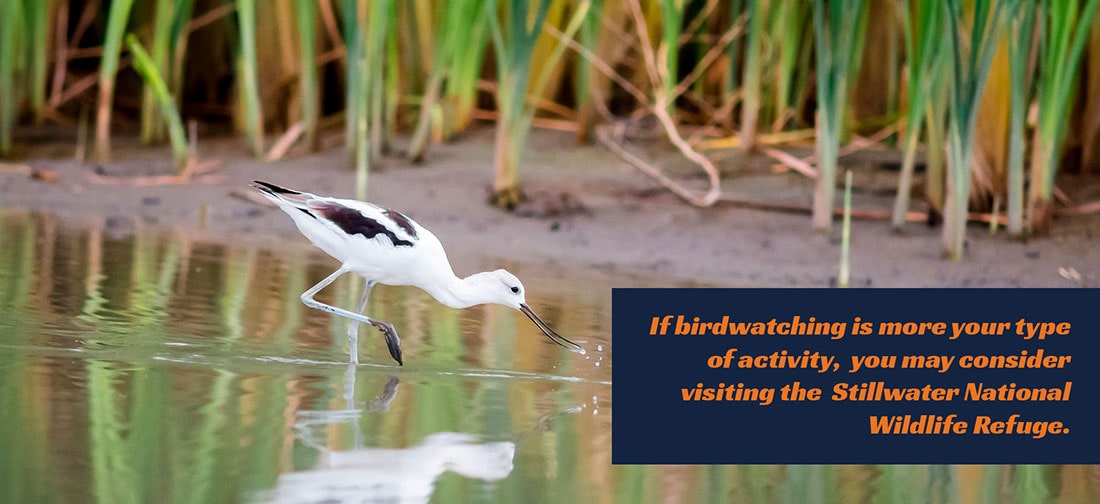 Fishing
Those who enjoy fishing will appreciate the unique fish species found at Ash Meadows and Moapa Valley Wildlife Refuge. Both places are home to ancient fish that have existed in Nevada for millions of years. Over time, the large areas of water that covered Nevada dried up and turned into smaller pools, which enabled the fish that lived in the pools to evolve differently. There are many unique individual species there today as a result, including the rare Devils Hole desert pupfish.
Stillwater National Wildlife Refuge
If birdwatching is more your type of activity, you may consider visiting the Stillwater National Wildlife Refuge. The Stillwater National Wildlife Refuge is located along the Loneliest Road in America, also a popular attraction. The Stillwater National Wildlife Refuge is home to nearly 300 birds, including permanent and migratory bird species. The Wildlife Refuge also contains wetlands that are home to more than 20,000 different bird and shorebird species. The sheer volume of birds that the Stillwater National Wildlife Refuge contains means it is a prime destination for birders from around the state and the country. The Stillwater National Wildlife Refuge is so vast that it also contains several other wildlife refuges, including the Fallon and the Anaho Island National Wildlife Refuge. Each Refuge has a large number of birds, but they all contain different bird species. The striking American White Pelican is specifically found at Pyramid Lake, an undisturbed nesting and breeding ground for the species.
Ruby Lake National Wildlife Refuge
Ruby Lake National Wildlife Refuge is one of the largest wildlife refuges in the United States. It is also one of the most remote and diverse of the country's protected wildlife areas. Because it is so vast and secluded, the Ruby Lake National Wildlife Refuge contains an assortment of animal and plant species, including species not typically found in a desert environment. Ruby Lake, the lake that the National Wildlife Refuge is named after, is a large oasis of marshlands in the Great Basin. Ruby Lake covers over 360,000 acres of land, and its various marshes span nearly 20 miles long. There are many different fish species within its borders, including six types of trout. Ruby Lake National Wildlife Refuge also has the largest nesting canvasbacks on the continent. The habitat that Ruby Lake covers includes several major flyways, the Central and Pacific flyways. These flyways are home to a number of bird species, including greater sandhill cranes, trumpeter swans, and more than 200 more types of bird species. Along with shorebirds, Ruby Lake is home to an assortment of desert wildlife, including pronghorn antelope, mule deer, and sage grouse.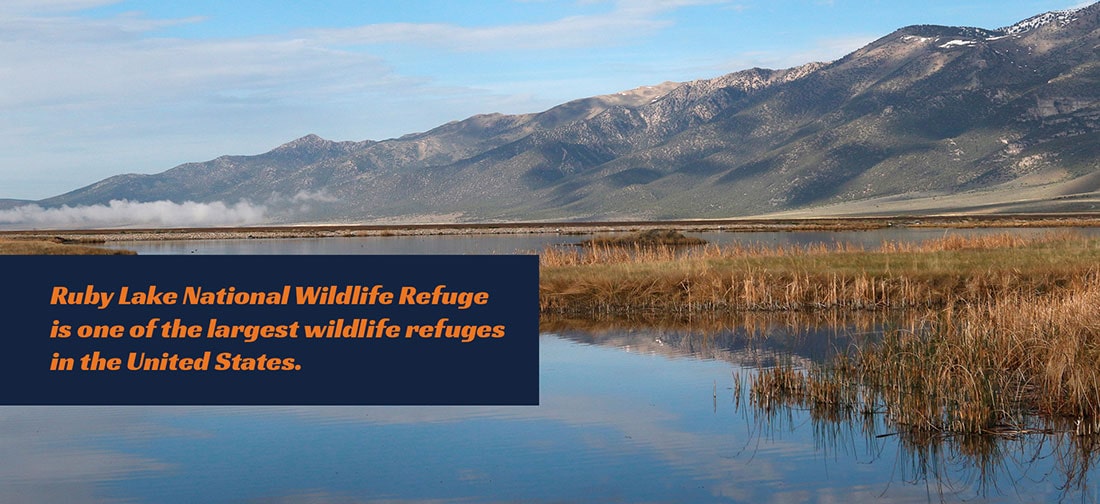 Sheldon National Wildlife Refuge
Sheldon National Wildlife Refuge is another place with prime opportunities to spot wildlife. The Wildlife Refuge is home to more than 3,500 pronghorn antelope, which nearly became extinct in the 1930s. The antelope population that lives at the Sheldon National Wildlife Refuge is just a small part of the pronghorn population in Nevada, which includes more than 30,000 animals. Pronghorn antelope can reach speeds of up to 60 MPH, and they can travel at fast speeds for an extended period of time.
Wild Horses and Burros
In various parts of Nevada, you will be able to catch a glimpse of wild horses and burros, which are some of the most iconic figures of the American West. Today there are approximately 60,000 wild mustangs in the state, which amounts to half the population of wild mustangs in the entire country. That means you have a good chance of spotting a mustang in Nevada or even an entire herd. Burros, which are undomesticated donkeys, are also common in Nevada. Mustangs are typically found in the state's northern regions, while burros are found in the central and southern portions of Nevada. Those seeking a romantic outing or the opportune photo op should head to Spencer Hot Springs, which offers exceptional sunsets and a good chance that you'll get to photograph wild horses as well. If you're lucky, you will be able to get a shot of the Hickson Burro Herd, which is the most well-known herd of burros in Nevada.
If your idea of excellent Las Vegas activities means spending time catching photos and glimpses of the state's natural treasures, you'll surely want to know where to find the best photography spots. One place to go that is conveniently close to Las Vegas is the Henderson Bird-viewing Preserve, which has thousands of birds to photograph. You'll also catch eagles and other birds of prey at Carson Valley.
To learn more about all the wonderful Las Vegas activities you can participate in, don't hesitate to contact Blazin' Paddles for more information and additional details today. You can easily visit the website or contact the company directly to learn more about the Black Canyon Hoover Dam kayak tour and other unique kayaking opportunities.