Top Outdoor Activities in Las Vegas 2021
Posted on:
July 12th, 2021
Las Vegas might be known for its nightlife, but there are also many opportunities to get outside and enjoy the spectacular natural sights surrounding the city. From kayaking to hiking and even taking a helicopter tour, there are many great opportunities for recreational activities just outside of the city. If you're looking for a break from the action but still want to find some fun things to do in Las Vegas, consider giving these can't-miss activities a try.
1. Kayak the Colorado River
One of the most rewarding, inspiring, and invigorating of all outdoor Las Vegas activities is a Las Vegas kayak expedition. You'll find many kayaking opportunities through Blazin' Paddles, which offers kayaking excursions for kayakers of all ages and experience levels. Various tour packages are available to meet a wide range of interests and needs. You can start out with a half-day tour that includes a four-mile trip with exceptional views of the Black Canyon and shuttle service that conveniently starts and ends at the Las Vegas Strip. You can also sign up for longer tours, such as the Half Day self-guided tour, which allows you to try out Colorado River kayaking at your own pace. More ambitious and experienced kayakers can sign up for a full-day tour, and special tours such as evening outings on the Colorado River, complete with a riverside campfire, are also available.
2. Experience the Grand Canyon
If you are looking for other Las Vegas activities that offer an escape from the hustle and bustle of the city, hiking in the Grand Canyon is an exceptional choice. The Grand Canyon is one of the most beautiful, historic, and majestic natural landmarks in the United States. It offers a peaceful and relaxing escape from the city, and you can certainly work up a sweat hiking its many trails. The Grand Canyon is located just a few hours from Las Vegas. It is easily accessible as a day trip. You can drive to the Grand Canyon if you are renting a car, and you can also get there from Las Vegas by bus. Helicopter tours of the Canyon are also available if you prefer to see the Canyon from above. If you want to explore the Grand Canyon by foot with a more unique twist, consider walking along the Grand Canyon Skywalk, which has a glass bottom. If you decide that one day isn't enough to explore the Canyon, you can look into camping options available for multi-day stays at the park.
3. Explore Boulder City
Boulder City is another great destination to escape the crowds of Sin City. Boulder City is less than an hour from Las Vegas. It has plenty of small-town charm with friendly and welcoming residents. Its relaxed and laid-back vibe is a refreshing contrast to the fast pace of life in Las Vegas for visitors who want to slow down a bit. There are many quaint cafes and top-notch restaurants to enjoy in Boulder City, too. Several other cultural attractions in the vicinity worth a visit are the Monster Museum and the Dam Short Film Festival. You'll have to plan a visit around the Film Festival, which takes place once each year, while the Monster Museum is open year-round with entertainment for visitors of all ages.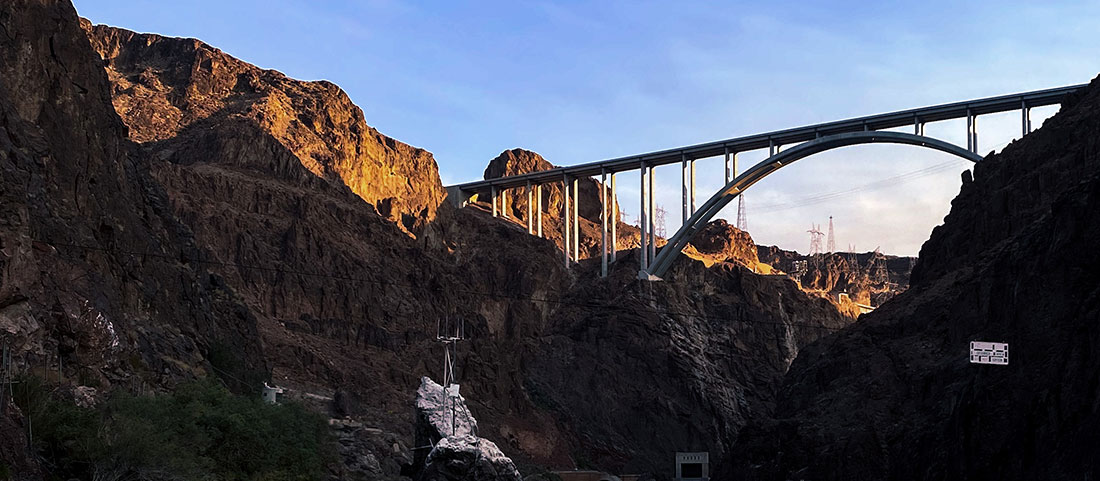 4. Check Out the Hoover Dam
Hoover Dam is one of the most iconic landmarks in the country, and it is a registered National Historic Landmark. Therefore, a trip to Las Vegas isn't complete without a trip out to the dam. Hoover Dam was constructed in 1936, and it was once the world's largest dam. Now you can visit Hoover Dam on foot or take a helicopter tour to get a bird's eye view of the National Historic Landmark. Tours are available for those who want to learn more about the Hoover Dam, and there is also a visitor's center onsite with tourism information and a gift shop.
One of the best ways to experience the Hoover Dam is from below on a Las Vegas kayaking tour. Many visitors prefer this option in the summer as a way to beat the heat while still getting to enjoy the historic area.
5. Visit Bryce and Zion National Parks
Bryce and Zion are two majestic national parks located in Southwestern Utah. They offer stunning views, plenty of hiking, and some of the most unique rock formations in the United States. Plant and animal life are also teeming in both parks. If you're looking to truly get away from it all, you'll be glad to know that Bryce and Zion aren't as heavily trafficked as the Grand Canyon. Bryce and Zion are located within a few hours of Las Vegas, which makes them a perfect option for a day trip from the city.
6. Head to Lake Mead
Although Lake Mead is a man-made lake, it is still a great place to go if outdoor activities are on your list when exploring Las Vegas. Lake Mead has all the amenities you need to enjoy a day's outing, including showers, dining facilities, and more. Here you can be as active or inactive as you'd like, with options ranging from lounging in the sun to hiking, boating, swimming, and jet skiing. Lake Mead also has plenty of picnic spots and beaches. Overall, the lake has 820 miles of shoreline.
7. Hike Valley of Fire State Park
The Valley of Fire State Park is another spectacular natural wonder that you can easily spend a day exploring. Valley of Fire is located less than 10 miles from Lake Mead, which makes it easy to visit both attractions on the same day. Valley of Fire State Park earns its name from the awe-inspiring red sandstone rock formations that are found within its borders. Valley of Fire is the oldest state park in Nevada, and it is one of the most popular parks in the region for photography. Wildlife abounds in this state park, and there are many hiking trails to explore with varying degrees of difficulty.
If you're looking for a different way to experience Las Vegas, there are many wonderful opportunities to get outside and explore nature and historical landmarks in the area. Contact Blazin' Paddles for more information and recommendations for enjoying the natural beauty and outdoor activities around Las Vegas.