Summer Kayaking Tips
Posted on:
July 10th, 2022
In Las Vegas, kayaking is a sport you can participate in during any season. Summer is one of the best times to go Las Vegas kayaking, as it means you can enjoy longer days and mild weather. However, as with boating in any season, kayaking in the summertime comes with its own considerations and things to keep in mind out on the water. Blazin' Paddles has some good recommendations for those who are looking to kayak Las Vegas in a fun and memorable way.
General Clothing Guidelines
When you go kayaking, wearing layers is recommended in any season. Experts recommend dressing for the water temperature rather than the air temperature, which usually means dressing for temperatures that are lower than what you feel outside. If the water is chilly, you may need to wear a wet-suit to stay warm in case the boat flips, or you otherwise become submerged. You should also dress in layers, so it's easy to stay comfortable regardless of the outside conditions. Since summers tend to be hot and sunny in the Las Vegas area, wearing proper sun protection is essential when kayaking near Las Vegas. That includes applying sunscreen before you set off boating and bringing extra supplies for reapplication as needed. You can also wear clothing to protect against the sun's strong rays, including rash guards and long sleeve shirts. Hats and sunglasses are also recommended to avoid getting sunburnt.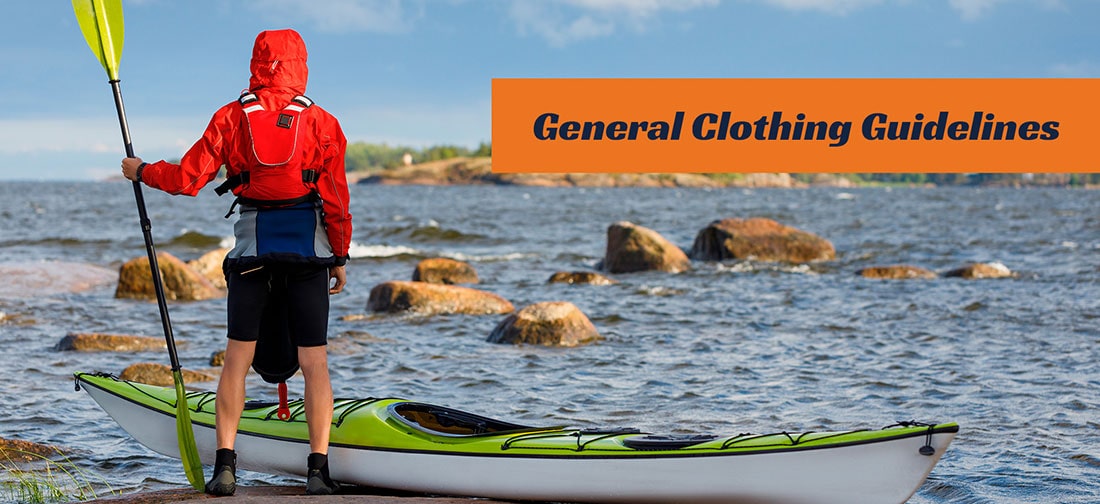 Choosing the Right Fabrics
While it is important to wear layers when you are kayaking, you also want to ensure that you wear a suitable fabric. Cotton is the main fabric to avoid, as it tends to absorb water and can stay wet for longer than other kinds of fabrics. As an alternative, you can look for a fast-drying fabric instead. A fabric with moisture-wicking properties is ideal, such as polyester, nylon, or other synthetic fabrics. Wool doesn't dry as quickly, but it is also insulative and tends to keep you warmer.
Along with clothing of the appropriate materials for kayaking, you should wear clothes that allow you to move freely and comfortably out on the water. Be sure to wear clothes you can wear while sitting for long periods. To avoid friction and unwanted abrasion, go for clothing with a more rugged design that can withstand wear and tear from water, sand, and any rough materials you may encounter while kayaking. Also, avoid materials that can rust, such as fasteners, zippers, and other hardware. Saltwater can cause corrosion relatively quickly, so finding clothing made with durable plastic is a better alternative compared to metal.
Dressing for Warmer Kayaking Days
Now that you generally know what kind of clothing to wear kayaking, you're probably wondering how to assemble an ideal outfit for your Hoover Dam kayak tour and other excursions. Starting with the base layer, you'll want to either wear a bathing suit or underwear that is suitable for kayaking and will be comfortable for extended periods out on the water. As with other layers of clothing, go for underwear that is not cotton.
Dressing in layers is recommended even when you are paddling in summer. A thin base layer is a good starting point. A base layer can include a thin wool shirt or a water shirt, which is looser than a rash guard but also offers UPF protection. You can also wear or pack a lightweight layer to wear over your shirt, such as a light zip-up fleece jacket. If there will be wind or rain when you're out on the water, bring along a waterproof jacket and rain pants to avoid getting soaking wet.
If you frequently kayak or think you'll be out in your boat during the summer, consider purchasing a paddling jacket designed with wrist gaskets to help repel water. A water-resistant jacket is a good choice if you are going out for shorter periods of time and don't need full rain protection. Rain pants are a good idea if you think you'll be out in moderate to heavy volumes of rain.
As for footwear, paddling booties are optimal with their lightweight and water-resistant design. While you can wear sandals or open-toed shoes, they can get slippery, and it is easier to get debris stuck in them. If you want extra insulation, consider getting waterproof socks to keep your feet dry and warmer. As for accessories, a hat is always a good choice for sun protection. Your hat should have a brim or a cape, and you may want to get one with a chin strap or other device to secure the hat so that it doesn't fall off on your Las Vegas kayak tours.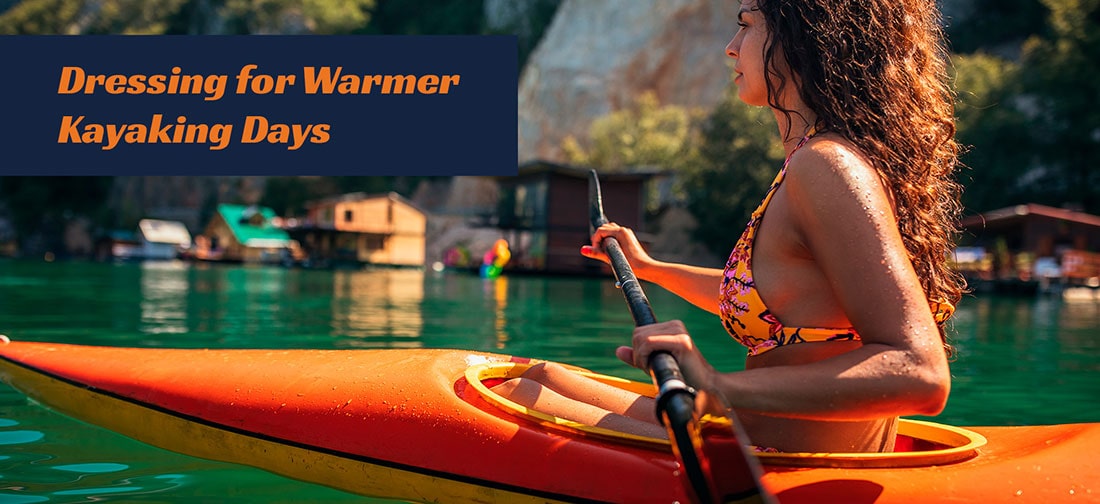 Think About Safety
You might think about summer as a time to have fun on the water, and many other people do. Other boaters take the water in warmer weather besides kayakers. Motorboats are more prevalent this time of year, which raises additional safety concerns for people traveling in kayaks, canoes, and other similar human-propelled boats. Defensive paddling is your best bet to avoid problems with motorboats. Steer clear of boating channels marked with red and black buoys. Listen for other boats, and get out of their way quickly if you hear a motorized boat coming. Avoid boating after sunset if possible since it can be difficult for motorboat operators to see kayaks after dark.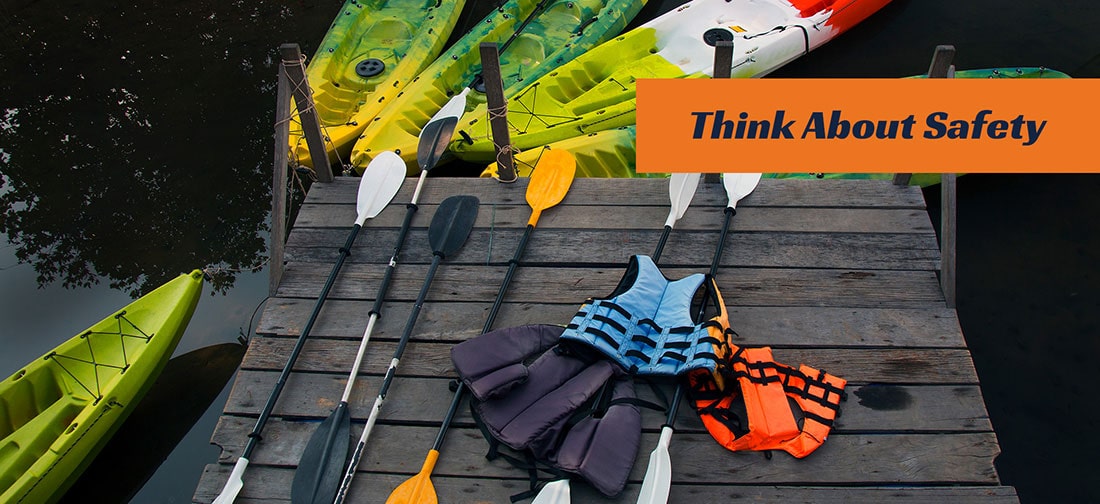 Be Aware of Wildlife
When you are kayaking in Nevada, it's common to see a variety of animal species. Birds are a common sighting along shorelines. While it may be tempting to get close and try to take pictures, remember that birds are wild animals and require plenty of space. Birds and other animals can become agitated if people get too close, so it's best to admire them from a distance.
Paddle Properly
Having the correct technique is essential for paddling. That is especially true if you spend long periods out on the water. To start, maintain good posture by sitting up tall and not slouching. The paddle should be centered in the middle of the boat. For ease of kayaking and safety, choose to paddle in waters with the right conditions for your skill level. Beginners should stick to calm and flat waters, such as ponds and streams without waves. More experienced kayakers may feel comfortable venturing out into oceans and larger lakes, along with rivers that have rapids.
Remember that power boats can produce a wake, so if you are concerned about waves, choose a kayaking location with minimal boat traffic from motorized boats. No matter where you decide to paddle, you should be able to see the shoreline on the opposite side. While it may be tempting to jump in the kayak and paddle for hours, keep your first several kayaking expeditions short so that you can manage the outing without getting too tired and so that you can still have fun and enjoy your time in the boat.
Kayaking in summer is a wonderful way to stay cool and see all the natural beauty surrounding Las Vegas. Contact Blazin' Paddles to find out about the kayaking options available and learn more tips for summer kayaking fun.