Explore Vegas in 3 Days: A Visitors' Itinerary
Posted on:
October 12th, 2021
With only 72 hours to spend in Las Vegas, every second counts! Whether you want to spend your time outside, exploring the city, or do both, you will find many exciting activities to participate in around the clock. With so many wonderful things to do in Las Vegas, now is the time to start planning for what you want to do when you get there.
Take a Kayak Tour
If you like to get outside and beat the crowds, spending time in a kayak Las Vegas will be right up your alley. You can check out the exceptional Las Vegas kayak tours offered by Blazin' Paddles, which is an experienced kayaking company based in Las Vegas. Tours range from short evening tours to full-day adventures that take you out on the Colorado River to see some of the most spectacular natural scenery around. While venturing down the Colorado River Las Vegas you may spot a variety of wildlife, including Bighorn sheep, and get panoramic views of some of the country's most iconic landmarks such as the Hoover Dam and the Black Canyon. Half-day tours through the region's majestic landscapes are also available, and you can also participate in a beautiful sunset kayak tour complete with a campfire and s'mores on the beach. Tours are available for kayakers of all ages and skill levels, so don't hesitate to ask the staff about which tours are suitable for you and any travelers who are joining you on your Vegas adventure.
Hike and Climb the Grand Canyon
If you want more outdoor activities in Las Vegas, visit the Grand Canyon. The Grand Canyon is one of the most recognizable and cherished natural landmarks in the United States. It contains many hiking trails with varying levels of difficulty and magnificent wildlife. If you want to get in a good upper body workout, you can also go climbing at the Canyon, which is a world renowned destination for rock climbers. If you prefer to see the Canyon from above, you can also take a helicopter tour to get a panoramic view of the surrounding desert landscapes. The Grand Canyon may feel like it's miles away from Las Vegas, but it is easily accessible through private and public transportation.
Experience the Strip
Along with the "Welcome to Las Vegas" sign, the Strip is one of the most popular Las Vegas activities. The Strip is a four-mile area with non-stop action 24 hours a day. For many people, a trip to the Strip begins with a virtual tour around the world. A top destination is the Eiffel Tower, which is a miniature version of its European counterpart. The Eiffel Tower on the Strip features a glass elevator that you can take to the top. From there, you will get prime views of the city. If you go in the evening, you can also stop for dinner at an exceptional French restaurant located halfway up the Tower. If you're looking for a more adrenaline-pumping activity, head over to the High Roller, which is the largest observation wheel in the world. The High Roller is larger than the Singapore Flyover and the London Eye, which are two equally renowned attractions. From the High Roller, you can see for miles over the surrounding landscape. You have the option of riding in a regular cabin or choosing a cabin with a bar where you can sit and sip cocktails while enjoying prime views of the city below. CityCenter is another great stop along the Strip. CityCenter is an urban complex that covers nearly 70 acres. It includes many shops, art galleries, and the equally famous Chandelier Bar, which is particularly known for a cocktail called "We're All Mad Here" that changes color when it's stirred.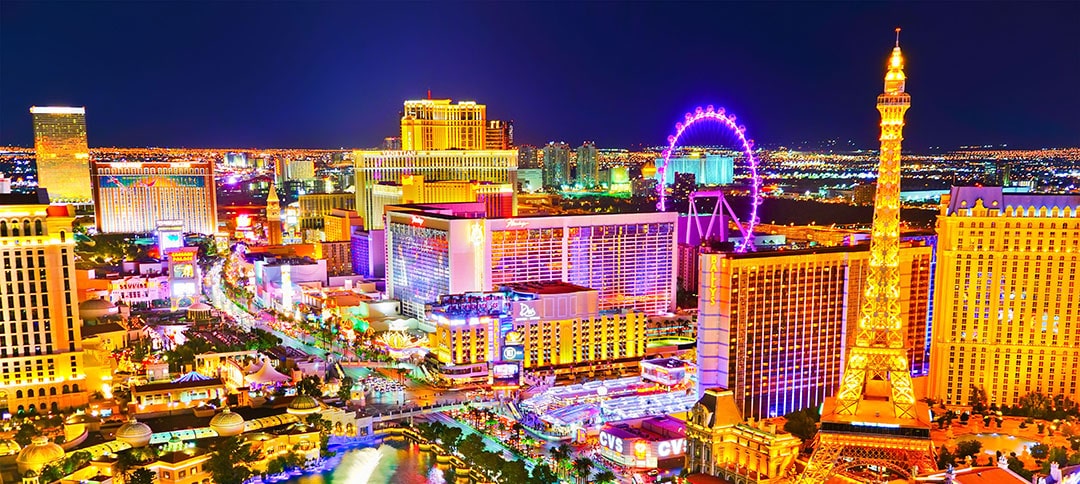 Go to the Grand Canal Shoppes
If you like the sounds of shopping while you are in Las Vegas, a trip to the Grand Canal Shoppes should be on your list. The Grand Canal Shoppes is located at the Venetian Resort. It is a collection of more than 200 luxury retail shops with a unique architectural design that resembles Venice, Italy. The vast mall even includes indoor canals with gondolas that provide rides throughout the mall. Shopping opportunities abound in the high-end shopping mall, and you will also find many great restaurants that have waterfront dining when you decide to kick back and relax.
Visit the Bellagio
Whether you are looking for a place to spend the night or you just want to explore one of the city's most famous hotels, a visit to the Bellagio is an essential item on the list for your three-day trip. In addition to simply just providing lodging, the Bellagio Hotel also has a magnificent floral display called the Bellagio Conservatory, and it also has magical water fountain shows on a daily basis. The water shows take place every 15 minutes on the weekend and every 30 minutes during the week. The shows last from early afternoon through midnight. When the natural light fades, the fountains are illuminated with stunning complimentary light shows. If you arrive hungry, save room for a meal at The Buffet, which is a large buffet-style dining facility in the hotel that features cuisines from around the world.
Walk Around Fremont Street
Another popular activity in Las Vegas is visiting Fremont Street. Fremont Street is a pedestrian mall that covers five blocks. There are many traditional retail shops here, as you might guess, but there are also many unique elements that make it worth a visit even if shopping isn't your cup of tea. Fremont Street is an entire Las Vegas experience complete with upscale restaurants and casinos. You can also catch live music at many of the bars and restaurants, which are especially known for their authentic jazz concerts. Light shows take place across Fremont Street in the evening from sunset until midnight. Although walking around Fremont Street is a great way to see all the action, you can also see the mall from above by taking a zipline ride.
Check out the Mob Museum
While Las Vegas might be known for its contemporary sights and activities, it's also an area that is full of history. There are many great museums that you can visit while you are in town. Visiting a museum will give you a taste of the city's origins and some of its most colorful characters and bizarre inventions. One of the most unique museums that you can visit is the Mob Museum. The Mob Museum is located near a historic courthouse on Stewart Avenue, which was the actual location where many former mobsters were prosecuted in federal hearings. The museum includes stories of famous mobsters and has displays with rare artifacts. Naturally, there's also a speakeasy in the basement where you can grab a contraband drink to complete your Sin City museum experience.
See the Cirque du Soleil
If you have spent the day shopping, kayaking, or otherwise just touring the city on foot, you may want to rest your feet while still soaking up all the action of Sin City. There are several different marvelous Cirque du Soleil shows that you can choose to see. No matter which show you go to, be prepared for dazzling and daring effects such as high-flying trapeze artists, high dives, water shows, and much more. The acrobatics and background displays are also nothing short of mesmerizing.
If you're ready to get started with your Las Vegas adventure, contact Blazin' Paddles to inquire about a great kayaking tour as your first stop today.