Can I kayak on Lake Mead?
Posted on:
September 15th, 2022
Lake Mead is one of the most picturesque lakes around Las Vegas. Since Lake Mead is a national park area, many people don't think it is open for boating. However, the lake is open to the public for recreational use, including Las Vegas kayaking. Kayaking on Lake Mead is a great way to experience the surrounding park. You can bring your own kayak or sign up for a Vegas kayak tour with Blazin' Paddles to make the most of your kayaking adventure.
About Lake Mead
Lake Mead has more than 550 miles of shoreline. Although the lake is a popular tourist destination, some parts are so remote that you can even feel isolated from civilization sometimes. While some might welcome the quiet reprieve from the fast-paced real world, you may want to consider going with other kayakers if you're new to the sport. No matter where you go boating on the lake, you can look forward to seeing some of the most spectacular scenery Nevada offers. If you're planning to get an early morning start, which is a good idea for a more extended kayaking outing, you can camp out the night before at some parts of the lake.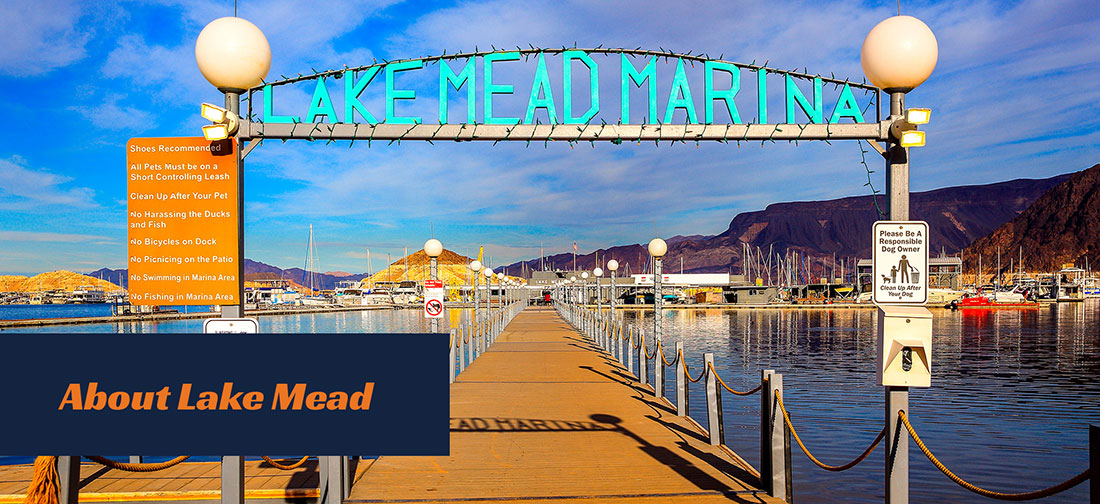 Preparing for Your Visit
To make your Las Vegas kayaking outing at Lake Mead as comfortable and safe as possible, you'll want to check the weather forecast ahead of time so that you can wear the proper clothing and know what to bring. Although it's a desert region, Lake Mead has four seasons. It's important to remember that air temperatures can be cool in fall and winter, but water temperatures can be even chillier. If the water temperature is forecast to be under 70 degrees Fahrenheit, you are at risk of developing hypothermia, so it's best to plan accordingly and wear a wetsuit in case you capsize. The desert climate also usually means a significant difference between temperatures during the day and at night. Temperatures can rise quickly when the sun rises and drop significantly at night. Therefore, it's best to dress in layers or bring layers when you are out on the boat. Try to avoid cotton for all layers and wear moisture-wicking materials instead. If the weather forecast calls for wind or rain, wear a waterproof and windproof jacket for comfort.
Black Canyon National Water Trail
The Black Canyon National Water Trail is one of the most scenic areas of Lake Mead. The Black Canyon National Water Trail is a newer national feature established in 2014. The water Trail covers 30 miles on a Colorado River kayaking tour. The trail stretches from Hoover Dam to Eldorado Canyon. The Black Canyon National Water Trail is the first water trail in the nation that passes through a desert, a unique fact that makes the trail worth exploring. The water trail is accessible from several places, including Willow Beach in Arizona and Eldorado Canyon in Nevada.
If you go on a Hoover Dam kayak tour with Blazin' Paddles, you'll also be able to explore both the Hoover Dam and Lake Mead in one unforgettable excursion that includes kayaking and history. The National Water Trail covers 30 miles of diverse geography and terrain. Along the way, you will pass by beaches, secluded coves, caves, and hot springs. You can stop by any or all of them! Wilderness abounds across the trail, and you'll have all the solitude you need. There is also a good chance of spotting wildlife along the way, including desert bighorn sheep, eagles, and other wildlife.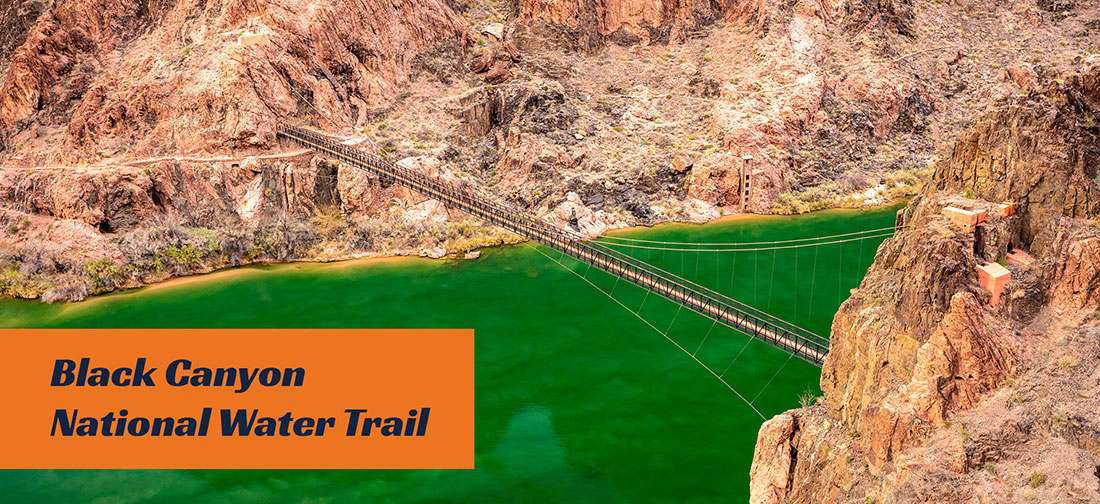 How to Kayak Lake Mead
You can kayak Lake Mead in several ways. It's possible to bring your own boat to the lake, or you can join an outfitter like Blazin' Paddles and have a kayak ready for you when you sign up for a tour. A guided tour is a great way to see Lake Mead for the first time as a tourist or if you are new to Las Vegas kayaking and not fully confident in your kayaking skills.
Emerald Cave
Lake Mead is home to Emerald Cave, one of the lake's most phenomenal natural areas. Emerald Cave is world-renowned for its waters that turn a brilliant shade of green at certain times of the day. However, it's essential to know that Emerald Cave does not always have its spectacular shades of green. The cave is at its most glorious at certain times of the day, so you should go with a guide on an Emerald Cave tour to ensure you see the Emerald Cave at its best. The cave is also small and only accommodates three kayaks at once, so going with a guide can help you avoid the lines to get in. If you have an Emerald Cave tour, you can continue exploring other beaches and secluded coves along the Colorado River or head back if you're ready to be off the water for the day.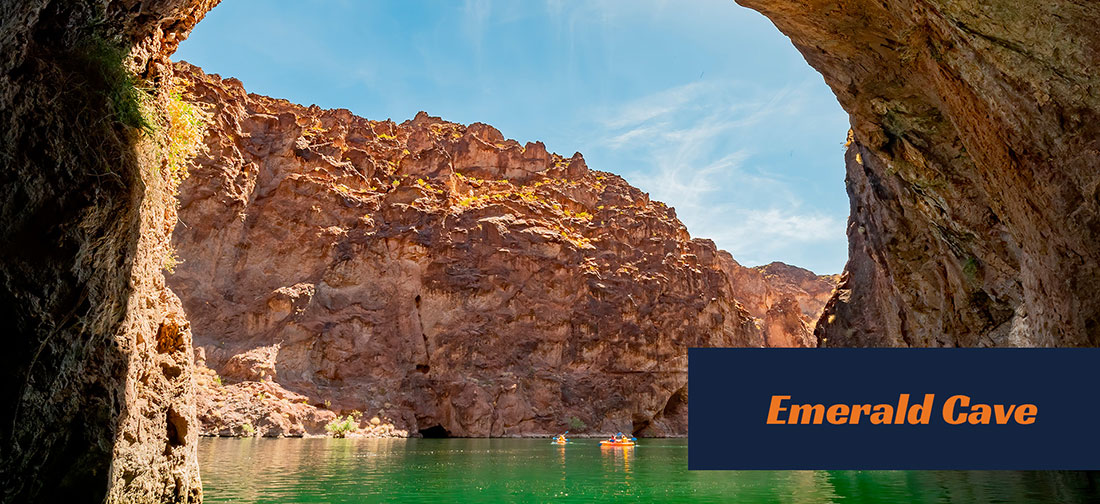 Can You Kayak Lake Mead Solo?
You can kayak Lake Mead on your own, but it's highly recommended that you go with a guide, especially if it is your first time on the water. An experienced tour guide can help you get to Emerald Cave and make sure that you see the stunning cave lights. Aside from seeing most of the cave, a knowledgeable guide can also be a great asset if you encounter a problem with safety. If you need to exit from your kayak and need assistance getting back in, or if the weather suddenly becomes worse, a guide can tell you what to do.
Do You Need to be an Experienced Kayaker?
Because its waters are relatively calm, Lake Mead is a perfect kayaking destination for novice and more seasoned kayakers alike. Children are also welcome to join on a kayaking tour of Lake Mead, and some Blazin' Paddles adventures are ideal for kayakers of all ages. A tour guide will also ensure that you follow all the correct safety protocols for kayaking, such as wearing a life jacket to have a fun and safe time out on the water.
Where Should You Launch?
Launching a kayak at Lake Mead is possible from several places. Kayaks are considered vessels, so you can launch them anywhere you would launch a boat. Kayaks can also be launched at most shorelines along the lake, except for swimming areas including Cottonwood Cove, Boulder Beach, and Katherine Beach. The Hemenway Harbor area has a designated beach for kayaking and canoeing. Launching from this beach, you can park right by the water's edge and spend the day exploring Bounder Basin.
Willow Beach is another good spot to launch a kayak, and it's conveniently in the middle of the Black Canyon National Water Trail. Starting from Willow Beach means you can visit Emerald Cave, hot springs, and coves along the way. Another thing to note about Willow Beach is that it is a primitive zone on Sundays and Mondays, so motor-powered boats are not allowed.
Contact Blazin' Paddles to learn more about Las Vegas kayak tours on Lake Mead today.