Hoover Dam to Willow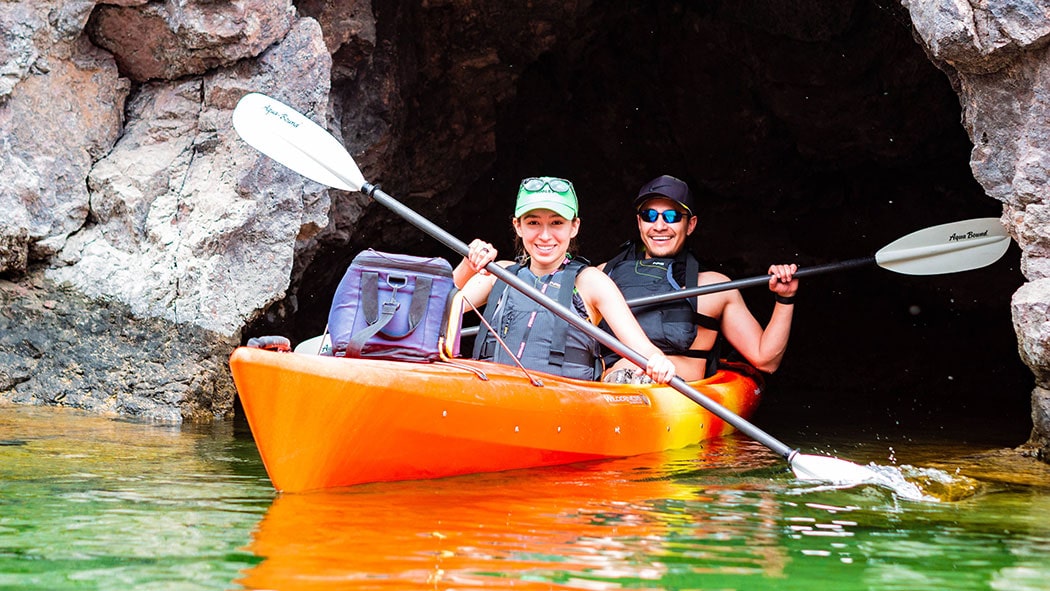 Hoover Dam to Willow

|

Self-guided Tour

Duration: 8 Hours on the water

Meeting Location: Meetup for this tour is inside Hoover Dam Lodge at the Blazin' Paddles store at 7:00am

Departure Time: 8:00 AM - What Is This?

Athletic Ability: Difficult
$140.00 per person*
*Includes $32 National Park Permit Fees
Description
Enjoy the Black Canyon at your own speed with Blazin' Paddles Self-Guided Tour. Launch directly at the base of the mighty Hoover Dam before meandering 12 miles down river to your end point of Willow Beach. Equipped with a map, explore all the various hot springs and slot canyons that the Black Canyon has to offer. At the end of the day your Blazin' Paddles attendant will load your kayak and the shuttle will leave from Willow Beach Marina at 4pm to drive you back to your vehicle at the Hoover Dam Lodge.
On this tour we offer Wilderness Systems Pungos and Pamlicos, which are a great mix of the stability of a recreational boat, and the speed of a touring boat. If you are looking for faster touring boats that come with a rudder we recommend you consider our Guided Full Day Tour. Please understand that we do label this tour as athletically difficult as you will be actively paddling 12 miles with no assistance of a guide.
Features
12 Mile One-way Paddle

8 Hours on the Water

Adventure at your own Pace

The Hoover Dam

Wildlife Spotting

Sauna Cave

Emerald Cave

Historical Sites

Hot Springs

Cliff Views
Trip includes
All necessary kayaking equipment, such as kayak, paddles, map, and personal flotation device, shuttle to the launch site from Hoover Dam Lodge, return shuttle from Willow Beach to Hoover Dam Lodge, and all necessary park permits.
Trip does not include
Personal items (clothing, shoes, sunscreen, dry bags), lunch, snacks, water and guide.
Additional Terms:
No child rates. Must be 12 years and older with parental permission.
Customer MUST bring government-issued identification on the trip.
There is a $35 change or cancellation fee for any changes or cancellations with a minimum of 48 hours notice. This is to pay for the non-refundable name-specific park permits the company must buy for its guests and guides.
Changes or cancellations with less than 48 hours notice will incur a 100% cancellation fee. This includes no shows for the complimentary shuttle.
The Company will refund 100% of your payment if the Company cancels for any reason.
A $50 per person fee will be applicable if boat and equipment are not returned to Blazin' Paddles at the Willow Beach pick-up location by the specified time.