How can you be safe kayaking?
Posted on:
January 15th, 2023
Although kayaking is generally considered a safe sport, there are still precautions you should take when you embark on a Vegas kayak tour. Novice and experienced kayakers alike will benefit from learning basic safety measures when boating. In addition to learning safety protocols for kayaking, you can also sign up for Las Vegas kayak tours with a knowledgeable instructor to make your experience even safer.
Why is Kayaking Safety Important?
Learning to stay safe while kayaking is vital for various reasons. First, kayaking safely means you will reduce the risk of injury and accidents to yourself and even other people when you're out on the water. You'll also be a more satisfied and confident kayaker when you kayak safely. You may also find that you enjoy the sport more, knowing that you can avoid some safety-related issues and also if you know what to do if trouble does arise. Even simple measures such as wearing a life jacket when you're out on the water can prevent a fun kayaking outing from becoming tragic.
Common Kayaking Safety Hazards
A critical aspect of kayaking is learning to be safe when boating on open water. Kayaking is much different from being in a pool with calm and predictable water. When you are out on a lake, river, or ocean, there are often winds, currents, and other weather hazards that you don't get in a pool. These events can make kayaking more hazardous, so knowing how to work around those obstacles and safely kayak is key.
Injuries can also happen when you're out with friends or participating in kayaking tours in Vegas. That includes sunburns, blisters, and other injuries that can occur from muscle strain or overuse. Preparing for the day's weather and having some base fitness level can mitigate these risks.
Lastly, it's common to encounter wildlife while out in the boat. Water snakes and other animals may be present where you are kayaking, so you'll want to learn to maneuver around them.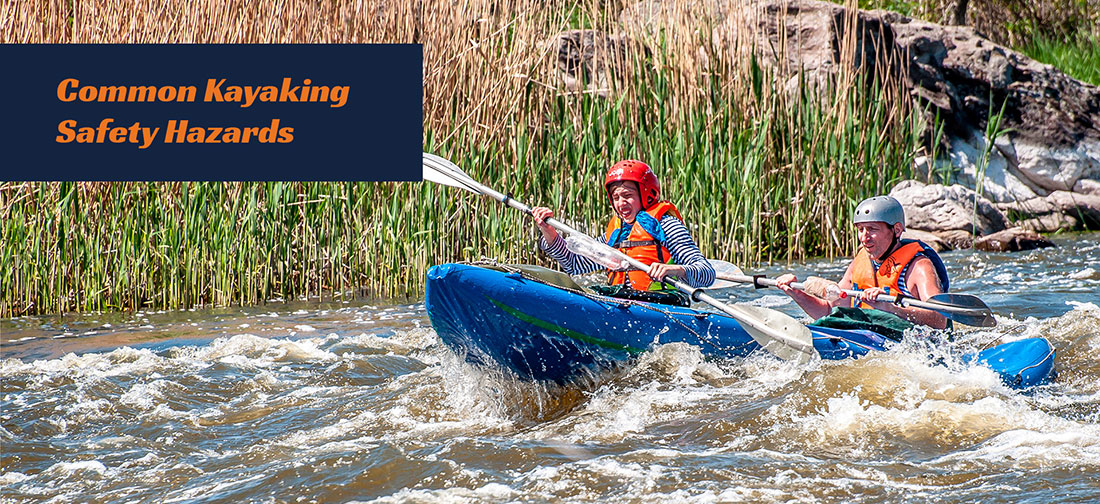 Know the Weather and Water Levels
To make the most of your kayaking tours in Vegas, learning how to kayak safely is essential. That includes knowing the weather conditions and predicted temperature before you start kayaking. Be aware that the air temperature and water temperature can be quite different. Furthermore, the temperature can fluctuate significantly between night and day. The best way to prepare for changing temperatures and conditions is to bring layers. Since Las Vegas generally has sunny and dry conditions, you'll want to wear a hat and sunscreen and bring extra sunscreen on the boat in case you go swimming or capsize and need to reapply your sunscreen. Gloves can keep your hands warm while kayaking and protect your hands from the intense sun.
The water level is another factor to think about. Water currents and wave height can change with the water level. Streams and rivers that may be calm and tranquil at lower levels can develop strong currents when the water level rises. Alternatively, streams and rivers that are normally higher can present new risks to kayakers, such as submerged logs and rocks, if their level is usually high but then drops.
Wear a Life Jacket!
Even if you are planning to go kayaking in Vegas on a clear, sunny day with calm water, you can never go wrong wearing a life jacket to prepare for the unexpected. Sadly, Washington State Park reports have shown that up to 84% of kayaking fatalities involve people not wearing a life jacket. Waves from a boat, a sudden storm that arises, or trying to navigate rivers and rapids beyond your capability are just a few mishaps that can arise when you are out kayaking. Wearing a life jacket is ideal for preparing for these unexpected situations. Furthermore, in some places, you may be required by law to wear a life jacket when you're kayaking. If you have questions about wearing a life jacket kayaking or need assistance choosing the right one, the staff at Blazin' Paddles will gladly help.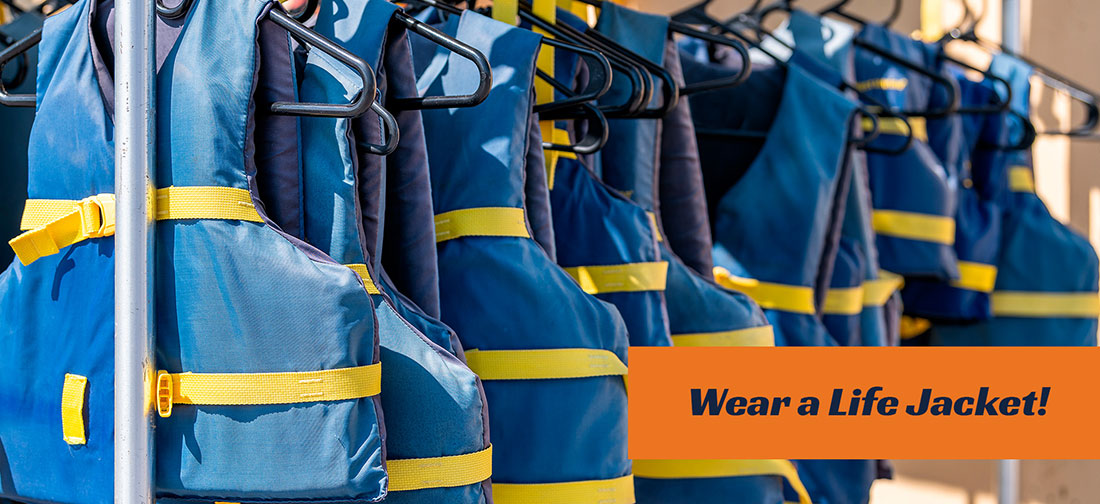 Dress Properly
Depending on when you go kayaking in Vegas, you may also need to prepare for seasonal temperatures. During the winter, for instance, it can get quite cool at night and in the mornings. So if you're leaving early for a day trip, you'll want to bring along clothing for cooler temperatures, including layers, socks, and gloves. It's also a good idea to pack or wear layers such as a jacket that can ward off the wind, and you will want to have a bathing suit handy or wear it if you plan to stop and swim on your kayaking outings, such as an Emerald Cave kayak tour that stops at a beach or hot spring. If the water temperature is forecast to be 60°F or less, you are at risk of developing hypothermia with extended time spent in the water. If the water is at that temperature or lower, wear a wetsuit, so you don't get too cold in case you fall in.
Common Kayaking Mistakes
While it's tempting to think you can go off for the day and have fun out on the water, there are some basic precautions to keep in mind before you leave, including:
Don't kayak beyond your capabilities
Remain visible
Go with a group
Tell others your plans
One mistake people make is kayaking beyond their capabilities. If you've only tried kayaking in a pool or calm body of water, it will be a big adjustment to a boat in a location with waves. Before attempting a different body of water or a river with stronger currents, make sure you have mastered all the necessary kayaking paddle strokes and rescue techniques.
Remaining visible when you're out on the boat is also essential for your own safety. If you are kayaking in a place with other boat traffic, especially motorboats, wear bright-colored clothing and lights. Stay as close to the shoreline as possible to avoid getting in the path of fast-moving boats.
Going out with a group is a much safer option, especially for novice kayakers. Even experienced kayakers can encounter problems out on the water, so no matter your skill and experience level, it's always safer to go with at least one other person. If you are out in a group, make sure that everyone stays as close together as possible. This will make you more visible to others out on the water, and if someone needs a rescue or help, they will get assistance much faster if other group members are within earshot and sight.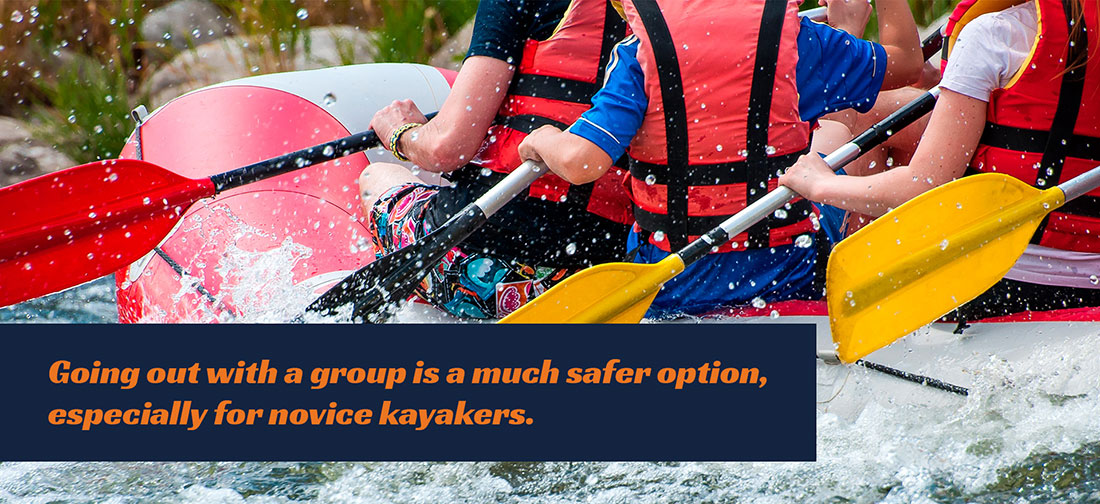 If you venture out independently, tell others about your plans, including when you expect to return and where you will be going. Carry a phone with you in case you need to contact someone when you're kayaking and keep it in a waterproof bag for safety when you're not using it.
Along with the precautions above, be sure to bring any medications you may need and a first aid kit.
For more tips and information on safely kayaking in Vegas, contact Blazin' Paddles today.